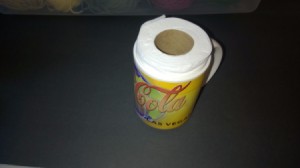 I collect mugs all year and then send them to my people for Christmas. They use them for their intended purposes. But some like them for pen holders, votive candles, for their art brushes and crochet hooks, etc.
Sometimes, it's a challenge to keep them safe along the way. Today I was washing a mug in the bathroom sink (my disposal is being replaced).
I looked down to my TP storage post and saw a partially used roll.
Then it hit me. It was the perfect size to put into the mug (mine is slightly larger) and will help to protect the mug during transport.
Inspiration comes in all forms, I guess!