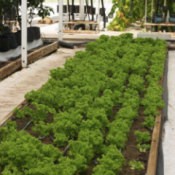 The exact definition of "hydroponics" is a little tricky. While the Greek words "hydro" and "ponics" means "water" and "labor," respectively, the art of hydroponics has to do with soil-less gardening; but not necessarily in water.
An Age Old Technique
The concept of hydroponics is nothing new, having been used centuries ago by the early Aztecs, Chinese, and Babylonians. Modern day American scientists, however, have only been experimenting with soil-less gardening since around the mid 50's. Other countries have followed suit and also look to hydroponics as the agricultural wave of the future.
No longer limited to large hi-tech commercial growers, hydroponics is being considered by a growing number of farmers and private home gardeners as a viable means of producing healthy, higher-yield food crops; and why not?
Growing Plants Without Soil
Hydroponics conserves water resources, does not disrupt top soil or deplete soil nutrients, and requires fewer pesticides than ordinary gardening. In addition, harvests are bigger, and plant growth more rapid than those grown in soil under the same conditions.
In hydroponics, various plant growing mediums other than soil are used; water being but one of many options. Hydroton, expanded shale, perlite, sand, Rockwool, vermiculite, pumice, gravel, haydite, and coconut fiber are all common growing mediums.
Each medium heralds its own advantages and disadvantages. Rockwool, for instance, while holding 10-14 as much water as soil, at 7.8 has a high pH not compatible with all types of plants. Perlite and vermiculite do not affect the pH, but hold so much moisture gardeners must be careful to select only those plants that are tolerant of the same.
In addition to a variety of planting mediums used in hydroponics, various hydroponic methods are also employed. Some plant mediums work better than others when using a specific method. Hydroton, for example, is light, airy, and fast draining; this makes it perfect for the hydroponics ebb and flow system.
Nutrients and pH
Important to all methods of hydroponic gardening, or any type of gardening for that matter, are nutrients and pH. Nutrient considerations in regards hydroponic gardening vary little from conventional gardening; most of the same principles still apply. Most nutrient solutions used in hydroponics are highly concentrated, and contain all the elements that a plant would normally get from the soil. Nutrients, or fertilizers, can either be natural (organic), or chemical.
The pH in a hydroponic system is much easier to check and alter than that in soil. Most plants grow within a pH range of 5.8 to 6.8; a 6.3 level considered best. Kits for testing pH for hydroponic gardens are readily available and cost very little.
Though easy to test and alter, pH testing is essential in a hydroponic system. If the pH is too high or too low plants will not absorb certain nutrients and will show signs of deficiencies. PH can be raised by adding soluble potash; or lowered using phosphoric acid.
Hydroponic gardening has become a popular hobby for many novice gardeners, and "mini gardens" in school classrooms have proven an effective teaching tool for children. Many farmers have begun to utilize this type of gardening for bigger, better crop yields; for commercial as well as private use.
On a grander scale, the use of hydroponics for mass production of plant food sources has the potential to literally feed the world. It is not improbable, then, that the joys of hydroponic gardening could very well become the standard for future agriculturalists world wide, and soil gardening a thing of the past.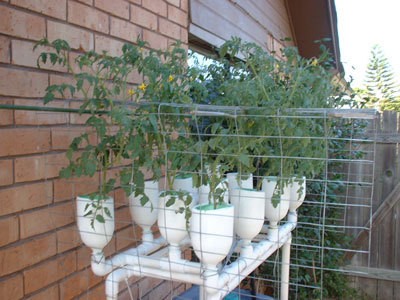 Comments
Read More Comments