EllenB
Gold Post Medal for All Time! 858 Posts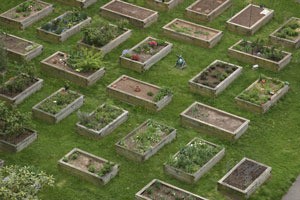 Square foot gardening is a concept so easy, yet so overlooked in lieu of more traditional row or mound gardens. It is less time consuming, less physically demanding, and uses less space and water. About the only tools required are a pencil or small piece of dowel (for making seed holes), and a lightweight, inexpensive trowel. It's also the one gardening technique that allows those physically challenged and wheelchair bound the opportunity to garden independently - without help from others.
Good for Small Spaces & Bad Backs
With square foot gardening there is no need to till the garden spot before planting. Gone are the days of back breaking labor in the hot sun hoeing and weeding. Compact and versatile, a square foot garden is even possible for those living in a high-rise apartment, as long as they have an uncovered patio or balcony. The average square foot garden for a family of four uses only 160 square feet. They are perfect for the physically challenged or infirm, and great as a class project - whether public, private, or home school. For persons with limited time, stamina, or space, a square foot garden can't be beat!
Constructing a Square Foot Garden
First, select an easy to access site for your garden. Edibles should receive at least 6 to 7 hours full sunlight each day. Your square foot garden can be located in the yard, beside the house or work shed, or even on an uncovered balcony or patio. It's best to keep it as close to your house as possible for ease and convenience.
Using untreated lumber, build a frame; use deck screws to secure the sides together. If your garden will be located in your yard, start out with a 4 X 4 foot. This will give you a total of sixteen 1 X 1 foot squares of gardening space. Your garden frame will need no bottom if it is placed directly on the ground.
If you opt for a patio or balcony garden, a smaller, 2 X 2 foot frame may work best. This still offers 4 squares of gardening space. If you need more space, build two small frames instead of one large one so the garden(s) will be easy to maneuver around.
Add a bottom to your frame if necessary. Use 1/2 inch thick plywood and securely attach it to the frame from the bottom using deck screws. Important: Drill a 1/4 inch drainage hole in the center of each square foot; add an extra drainage hole in the corners of each square.
Frames for the Physically Challenged
A good size garden for wheelchair bound persons or those otherwise physically challenged is 3 X 4, or 3 X 5 foot frame. It will be easier to span across when reaching, and provides a manageable 12 or 15 squares of gardening space.
Again, using 1/2" thick plywood, secure a bottom to the frame and drill drainage holes using the same directions as those for a patio garden. Place the frame on a table that will bring the garden up to a convenient height so that bending is not necessary.
To complete the garden frame, place a grid made from twine on across the top of each frame that divides the box into 1-foot squares. If you prefer, small, foot square cardboard boxes can be inserted into the frame instead, or pieces of cardboard can be used to section off the inside of the frame.
Planting Your Garden
Now you are ready to fill your garden frame with soil. If you have your own soil that's great, but there are some advantages to using commercially prepared potting soil. Regular garden soil can contain insects, larva, weed seeds, diseases, or too much clay or sand. Using a quality commercial potting soil mix means the soil will stay loose and friable. Not only will plant roots breathe better, but the soil will stay workable so you will be able to plant seeds or transplant seedlings without effort or tools other than an inexpensive trowel and pencil (for making seed holes).
Larger plants, such as cabbage and cauliflower, should be planted one plant to a garden square. Grow plants such as lettuce 3 or 4 to a square; beets 8 or 9 to a square; carrots and radishes up to 16 to a square.
Make a slight saucer shaped indention at each plant site; use a pencil or dowel to make a hole in the center for the seed; follow depth directions on the seed package for each plant. When transplanting seedlings, make a saucer-shaped indention for the plant; dig a hole for the plant in the center using a trowel.
The saucer-shaped indention around each plant will keep water at the plant itself when watering, instead of running off to the sides of the square. This helps conserve water and insures that the roots of plants get enough water.
Caring for Your Garden
Water your square foot garden in the same way you would water a conventional garden. Use a hose or watering can to give plants at least 1 inch of water per week during the growing season. As plants mature, harvest them. Work the old soil under with the trowel, and then top with new soil. Replant each season with a different type of crop. Because the beds are raised, you can expect the soil to warm up more quickly each spring.Mix things up by growing vegetables in some squares, and herbs or flowers in others.
Comments

April 24, 2009
0

found this helpful
Love this idea! My property has so much gravel that I can't get anything to grow well. Not much topsoil at all. This would work great for me.

April 24, 2009
0

found this helpful
I put in one large raised bed garden and think it is a better use of resources - both space and supplies. It measures just less than 4 feet wide by about 24 feet long. I also filled the spaces in the concrete blocks with compost and soil and planted flowers and herbs.
Within six weeks of laying the first concrete block, I am overflowing with salad fixings.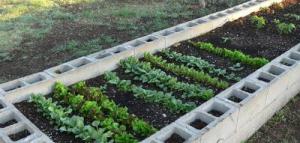 April 27, 2009
0

found this helpful
I'm love my raised beds. When you go to the lumber supplier like Lowe's or Homedepot, know before you go what size you want it to be, then pick out your piece of lumber, whether its 16ft x 8 in. to make a 4 x 4 bed or whatever shape & height you decide on and have them cut it, they will do it for free (in about 5 mins.) and it saves you a lot of time and blisters. These 3 beds are surrounding the 6 x 8 regular garden area. I measured space in between so the lawn mower would fit through. The one on the right is garlic, the middle is cucmbers and carrots and the left is tomatoes and peppers, also marigolds to help keep the bugs away. In the big part of the garden are the herbs, since herbs don't need as much water, the boxes make it so i only water the veggies when needed and I'm not drowning my herbs.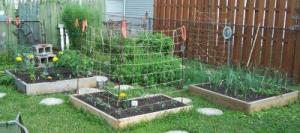 April 27, 2009
0

found this helpful
Thank You. I've been thinking about something like this. Thank You so much.
Read More

Comments