Kelly Ann Butterbaugh
8

found this helpful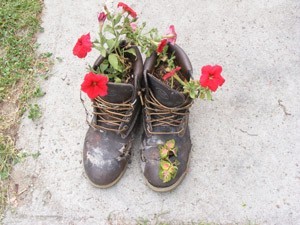 Generations ago, our grandparents threw away nothing. Only the very worn and useless items found their ways into the trash. They repurposed everything. Yet, today our things have become disposable. We replace and purchase too often, cluttering our garages and emptying our wallets. When it comes to plant care, our wallets donate a great deal to the maintenance and decor of plants. Instead, do some creative repurposing and recycle while you save.
Protect Your Plants
Every summer my houseplants are under the attack of squirrels. Whether they're digging the plants out of the pots or outright eating them, the plants would probably be happier staying in the house. However, I have learned that small pet cages keep animals in, but they also keep wild animals out. Now, my plants can enjoy the summer sun and rain without fear of attack.
For plant protection, try scouring flea markets for used bird and critter cages. Don't go to the pet store and pay for new ones. The cages can be bent or even broken; you'll probably take them apart anyway. Spray paint your cages a flat black, a bright white, or even a metallic silver to make them attractive for your patio decor, and then place your houseplants inside. This is a great way to make a window sill sitter into a hanging plant for the summer. It also protects them from bothersome critters.
If your garden plants are under attack, try taking the bottom off of a large guinea pig, hamster, or rabbit cage to leave only the wire top. Then, place it over the top of the plants when they are still young. It saves the effort of fencing in the entire garden for one plant or a set of seedlings. Rabbits eat all of my tender young shoots, so protection during the sprouting phase is all I need.
Keep the Harvest for Yourself
Another pesky problem we have is with our raspberries. Birds are quite attracted to the red ripe berries, and often they're gone before I come out in the morning. With some clearance or yard sale curtain sheers, I can keep the harvest to myself. Use them to cover plants such as raspberries, cherries, or other blooms that the birds feast upon. Simply lay the sheer on top of the plant, allowing light to get in but requiring the birds to stay out. They won't fly underneath the get at the snacks, and the sheers help to keep the fruit out of the birds' sight.
Drip Style Irrigation
For those individual plants like tomatoes or potted plants, drip irrigation is wonderful. Instead of expensive drip hoses or store bought contraptions, go with the original idea that inspired the contraptions. Save two liter bottles and wash them. Then, carefully drill a small hole through the middle of the cap to allow a drip to flow. Fill the bottle with water and cap it. Then, dig a small hole in the ground so the neck of the bottle fits inside to allow water to drip through the hole. You could also bend wire around the bottle and fasten it to a stick to create a stand if you're handy.
Repurposed Planters
Whenever anything breaks, evaluate it as a creative planter. A few years ago the rage at the country stores was to plant in old work boots. Today, trash to treasure is still in vogue. Try using old coffee and tea pots for larger plants. Just drill a few small holes in the bottom for drainage. Any chipped or cracked tea cups or coffee mugs work well for small houseplants. Yard sales are filled with these types of items for less than the price of a plant pot. I once cracked my crock pot crock and found that it made the perfect home for a dish garden; the crack that leaked my food was a perfect drainage duct for the plants.
Does anyone have any tips for green gardening? Thank you.
Hardiness Zone: 9b
By Linda Cheatham from Whittier, CA
Answers
March 31, 2018
0

found this helpful
the best tip are to find plants that are appropriate for your zone, whether vegetables or flowers, so that you have to rely less on artificial watering, pesticides, and fertilizers.
THis is a good site that determines the hardiness of plants. "The 2012 USDA Plant Hardiness Zone Map is the standard by which gardeners and growers can determine which plants are most likely to thrive at a location.
The map is based on the average annual minimum winter temperature, divided into 10-degree F zones. " planthardiness.ars.usda.gov/
you can also look at permaculture techniques, which are a way to plan a garden with the seasons and the landscape in mind. permacultureprinciples.com/
April 1, 2018
0

found this helpful
If its vegetable gardening, Square Foot Gardening by Mel Bartholemew was an excellent source.
Answer

this Question

...