December 15, 2011
1

found this helpful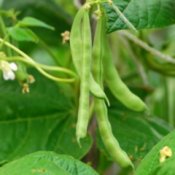 Green beans are an easy garden crop to grow. They don't require shelling, because they are eaten pods and all. Commonly referred to as "snap beans" or "string beans", some cultivars may also be yellow in color (wax beans), or have purple-colored pods (purple beans). Varieties of green beans that grow on short vines are called "bush beans. Varieties that grow on long vines are referred to as "pole beans."
Bush Beans vs. Pole Beans: Which Type to Grow?
There are advantages and disadvantages to growing both types of green beans. Bush beans grow and produce crops more quickly and tend to be harvested all at once. They are "self-supporting" and grow low to the ground in rows. Because bush beans mature more quickly, they are a good choice where summers are short. Pole beans take longer to produce, and have a climbing growth habit that requires stakes or trellises for support. Pole beans produce heavier yields over a longer season, and take up less room so they are a good choice for small gardens. Many gardeners grow both bush beans and pole beans-it all depends on your personal preference.
Site and Soil
Plant beans in a spot where they will get full sun and good drainage. They do best in a light, sandy, well-drained soil with a pH of 5.5 to 6.8. Early crops of bush beans will benefit from soil that warms up quickly in the spring-like the soil in raised beds. Make sure to choose a spot in your garden where the beans will not cast shade on other crops.
Beans like plenty of organic matter added to the soil, but because they are "nitrogen-fixers" themselves, they don't need a great deal of feeding. If you're gardening in heavier soil, work compost into the top 6 inches of soil before planting. To speed up growth, you may want to side dress with a fertilizer such as 5-10-5 after planting. This isn't necessary for bush beans, but can be beneficial for the more long-bearing pole bean varieties. To reduce the incidence of disease, avoid planting beans where other legumes have recently been grown.
Planting
How much to plant: For fresh eating, plan on 10 to 15 bush bean plants per person; for pole beans, plants three to five hills per person. For canning or freezing, a quarter pound of seed will plant a 50-foot row and produce approximately 25 quarts of beans.
Bush Beans: Plant seeds directly in the garden 3 to 4 weeks after the last frost, or when the soil temperature is at least 60-65 F. If you live in an area with mild summers, you can sow new plantings every two weeks to spread out the harvest. If summers are hot in your area, beans may drop their blossoms at high temperatures, so if you live in an area where summer weather gets very hot, repeat sowing is not a good strategy. Sow seeds for a fall harvest 7 to 12 weeks before your first expected frost. Plant bean seeds 1 inch deep, 2 to 4 inches apart, in rows 18 to 36 inches apart. Seeds spaced about 4 inches apart will not have to be thinned later.
To start seeds indoors, plant them in individual peat pots 4 weeks before your last predicted frost date. Provide seedlings with plenty of light, keep the soil moist, and the air temperature around 55 F. Seedlings should germinate in 7 to 14 days. Harden seedlings off before transplanting them outdoors. Bean seedlings are fragile, so handle them with care.
Pole Beans: The "when" to plant pole beans is the same as it is for bush beans. The "how" to plant them depends on what kind of support you are going to give the vines. You need to install a trellis, teepee, or other support for pole beans before sowing seeds. In general, space pole beans as follows: 1 inch deep and 4 to 6 inches apart.
On tepees or "bean trees": Use three poles for each tepee. Tie them together at the top. Plant six seeds at the base of each pole, and then thin to three plants per pole.
On a vertical trellis: Build a frame using pressure-treated 2 x 4's (or use a pre-made trellis). Sink each side of the frame 2 feet into the ground. String vertical wires across the frame 4 to 6 inches apart. Grow one plant per wire.
Training: Pole bean seedlings sometimes need a little training to begin climbing. When the plants are still quite small, gently guide them around their supports. Once they are in contact, they will start climbing on their own.
Beans in Containers
Bush beans and pole beans can both be grown in containers. Choose a high quality potting soil rich in nitrogen. Place the pot in full sun and keep the soil moist, but not soggy. For pole beans, insert the stake or growing support at planting time.
Seasonal Care
Feeding: To give pole bean crops an extra boost, spray plants with kelp in mid-summer. Providing you started with good soil, bush beans should not need additional fertilizing after planting.
Watering: Maintain consistent soil moisture, especially as the pods start to develop. Keep the soil evenly moist but not soggy. Over-watering can cause the plants to drop their pods, whereas under-watering can disrupt pod development.
Mulching: After the seedlings appear, mulch around them with 3 to 6 inches of grass clippings. Mulch is good for beans because they are shallow rooted and can easily be damaged by cultivating and weeding. They also are more prone to disease when wet, and mulch cuts down on the need for watering.
Weeding: To avoid competition, remove any weeds springing up near young plants. Cultivate the soil carefully as the seedlings' roots will be shallow. Don't work around wet plants, as bean diseases are easily spread through the film of water covering wet leaves.
Fall Protection and Cleanup: When temperatures are predicted to fall below 45 F, protect plants by covering them with row covers. After the crop has been harvested, pull up the plants and compost them. Destroy disease or pest-infested plants, and grow a different crop in the same location next year.
Pests and Disease
Beans are susceptible to a variety of diseases, but most are seldom a problem as long as you select disease-resistant cultivars. When the plants begin to flower, watch for Mexican bean beetles (they look like large brown lady bugs) and Japanese beetles. Both can be picked off by hand. If aphids become a problem, simply spray them away with a jet of water from the garden hose.
Harvesting
Green beans should be picked while they are still young and tender. Wait until they are about the width of a pencil, but before the beans inside the pods have become lumpy. The pods should snap when you break them in half. Be sure to keep picking every day or two, otherwise the plants may slow down or stop producing altogether.