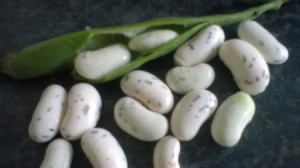 If you have left any green beans (such as runner beans or French beans) too long on the plant, they will be too tough to eat. However, they need not go to waste.
You can remove the beans from the pods and boil and eat them on their own. You can save a few to grow next year.
The tough pods can be boiled and the water use for soup stock. After boiling, strain the water and put the cooked pods on the compost heap
If the pods are dried up and turned brown, the beans will most probably be dried out too, but they are still edible. Use them like any dried beans, peas or lentils. Keep them in a jar to use throughout the winter by soaking them overnight and then boiling them.