Green Christmas Tips
Solutions
Share on ThriftyFunThis guide contains the following solutions. Have something to add? Please share your solution!
How I saved a lot of money this Christmas and helped save the planet while I was at it:
First, in October, I bought 40 lbs. of apples on 'after Harvest' special and made nearly 2 gallons of applesauce and apple butter. I bought canning jars/lids on clearance since it was just past harvest season. I didn't need to buy all the "usual" canning supplies, I just used what I already had in my kitchen, including two big stockpots. I composted all of the apple scraps.
Next, I collected the ingredients and supplies to make my own "gourmet scone mixes" which included white whole wheat flour, poppy seeds, and walnuts. Some ingredients are usually expensive at the grocery store, so I bought some online in bulk to save some money. The "plastic" bags I used for the scone mixes, I bought in bulk online and are compostable cellophane bags.
Last, I made my own "Christmas Morning" tea blend just for my family. I packaged them in recyclable/compostable brown Kraft bags (30 cents each).
For each "house" in my family (instead of each individual), I put together a special Christmas Morning breakfast package. I included one jar of apple butter, a scone mix, and a bag of tea. I reused boxes and packaging that had been shipped to my house that I've saved up all year. I used any heavy brown packaging paper to wrap the boxes and had my two year old daughter color in the "wrapping paper" with crayons and markers.
To save money on shipping (a lot of money, since one side of my family is in California and the other half is in Vermont!), I shipped packages together to families who still live close together and would be seeing each other during the holidays anyway. I sent three-in-one to Wisconsin, two-in one to California, and another three-in-one to Vermont, and voila! Christmas was done!
The only con was this process was very time consuming - but putting all of that love and energy into each gift is what makes Christmas giving so much fun!
By Brandy from Little Rock, AR
Do you have a frugal story to share with the ThriftyFun community? Submit your essay here: http://www.thriftyfun.com/post_myfrugallife.ldml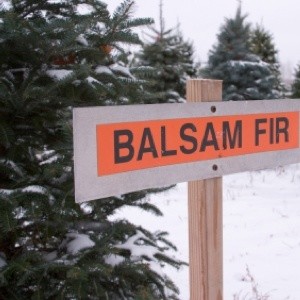 Not everyone likes the idea of sacrificing a living tree for the sake of celebrating a holiday, but it doesn't change the fact that trees harvested for the Christmas tree industry are a renewable and sustainable resource. In an effort to dispel some of the biggest and most long standing misconceptions consumers have about Christmas trees, The National Christmas Tree Association recently launched what is calls the "Great De-Myth-ification Campaign." Here are four "green" facts about Christmas trees they want you to know.
Real Christmas Trees are Not Cut From Forests
This may have been the case at one time, but not anymore. The vast majority of real Christmas trees come from tree farms. What's the exception? The Bureau of Land Management and the U.S. Forest Service issue a limited number of "Cut Your Own" permits each year in National forests throughout the United States. Of the 30-35 million real Christmas trees sold in the U.S. each year, the number of trees not grown on tree farms amounts to only a few thousand.
You Don't Save a Real Tree by Using a Fake One
There are 21,000 Christmas tree growers in the United States. Trees are an agricultural crop in an industry that provides jobs for more than 100,000 people. For the 30-35 million harvested and sold each year, 40-45 million new Christmas trees are planted.
Using a Fake Tree Does Not Save Resources
Manufacturing a fake Christmas tree uses far more natural resources than are needed to produce a living tree. In fact, eighty-five percent of fake trees are manufactured in and shipped to the United States from China. They are made from plastics, PVC, metals and contain petroleum by-products (non-renewable resources). On the flip side, live trees are grown and shipped within the United States (often locally), they are a renewable resource, and they produce oxygen, remove carbon dioxide from the air and provide a home for wildlife while they grow.
Live Trees Reduce the Amount of Waste In Our Landfills
Christmas trees are 100% biodegradable, and according to the University of Iowa, ninety-three percent of real Christmas tree consumers recycle their tree in community recycling programs, or use them in their garden or backyards for mulch, compost, or winter protection. Recycled trees have been used to make sand and soil erosion barriers and placed in ponds for fish shelter. Fake trees are used an average of 6 to 9 years before ending up in a landfill. Unlike real trees, they do not biodegrade, they cannot be recycled, and they last for centuries in a landfill.
My family always has a chore of finding correct size boxes for Christmas gifts, and then having to break them down afterward for the recycle bins. This year, we have pledged to "soft wrap" every gift. There will be no more boxes, and no chore we all dislike. Let us all save planet Earth!
By Avis from Boulder, CO
While reading my ThriftyFun newsletter and leaving an answer for someone regarding less expensive Christmas shopping, an idea popped into my head. If your family would be willing, check it out now, how about a recycled Christmas? Everyone has something in their home that they never, or seldom, use. Give it as a 'white elephant' Christmas gift.

In my apartment building some of the tenants draw names for a secret Santa gift exchange. Many of the gifts turn out to be 'recycled' or homemade. Most of us are retired seniors with limited income.

What you can't use, probably someone else can.
Here are some great tips on having a planet friendly Christmas. You can reduce your carbon footprint a lot by using just one of these ideas. We also need to think about changing our habits. Going green can save you a lot of money.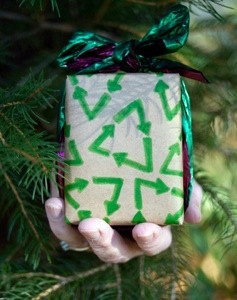 Read More...
January 8, 2008
0

found this helpful
Wrapping Christmas gifts is easy for me, I started using cloth bags. I sewed them from Christmas cloth purchased after Christmas a few years ago. I made several for all my gifts in different sizes and shapes, used draw string in top to close them.
Read More...
With the endless holiday festivities, American's waistlines aren't the only thing expanding during the holidays. Our landfills are, too. We throw out a staggering 25% more garbage during the period from Thanksgiving to New Years.
Read More...
Related Content