EllenB
Gold Post Medal for All Time! 858 Posts
With the endless holiday festivities, American's waistlines aren't the only thing expanding during the holidays. Our landfills are, too. We throw out a staggering 25% more garbage during the period from Thanksgiving to New Years. If you're going to be hosting parties during the holiday season, follow these tips for entertaining with sustainable style.
Think Eco Logically
For many of us, half the fun of entertaining is planning for the big event. Sustainability is a frame of mind. Think about each aspect of entertaining and how it can be made more sustainable.
Electronic Invites
Today's technology makes it easier than ever for people to communicate. When extending holiday invitations, do it electronically. Send a holiday-themed e-card, text a cleaver message, or leave a singing invitation on someone's voicemail. Create one invitation with all the details and send it to everyone via fax. Sending invitations electronically saves more than paper, it also eliminates using the resources necessary to process and deliver mail.
Encourage Your Guests to Arrive Sustainably
When extending your invitations, encourage guests to walk, carpool or use public transportation to get your party. Keep bus and train schedules handy and offer suggestions on who could pair up together and carpool or share a taxi.
Let guests know that if they are considering bringing you a host/hostess gift, you would prefer they bring an item to donate to the local food shelf.
Turn Up the (Body) Heat
Conserve energy when hosting holiday parties by turning down the thermostat before your guests arrive. Your guest's body heat will warm up the room nicely. If you feel like you need to turn up the heat after guests arrive, turn up the music and encourage guests to dance.
Rent Your Formal Wear
If you're throwing a black-tie celebration, consider renting or borrowing your formal wear or buying it from a consignment shop. Buying new or expensive clothes that you will seldom wear is only is a waste of physical and financial resources.
Break Out the Good Dishes
Skip the paper plates and disposable flatware. Use the good stuff. Regular dinnerware, stemware, and flatware will use fewer resources and keep paper out of the waste stream. Cloth napkins will give your party more style while reducing paper waste.
Eat, Drink and Be Sustainable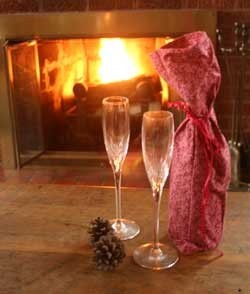 Serve your guests organic fruits, vegetables and cheeses and select meats that have been raised on organic feed and allowed free range and avoid serving fish species whose populations are currently in trouble. If you're feeling daring, add in a few exotic dishes made from foods you and your guests don't normally eat.
If you're planning on serving alcohol, organic spirits, including wine and beer, are becoming widely available. There is even a vodka on the market made from soybeans.
Great organic non-alcoholic options include ciders, juices, eggnog, and cocoa. And organic teas and fair trade coffees are now available in a variety of flavors and blends.
Plan food portions wisely to minimize waste, and after the party be sure to compost any leftovers. Keep the recycling bin where guests can see it.
Decorating
Use holiday lights made with LED (light emitting diode) technology. These are now widely available and use significantly less energy than standard lighting systems.
If you buy a Christmas tree, make sure you recycle it after the season. Better yet, buy one in a pot that can be planted in the spring or throw some lights on the ficus or potted palm tree.
Use soy or beeswax candles. Paint soup or tuna fish cans make great candle holders. To make a dramatic path to your front door, put a soup can inside of a coffee can and fill the space in between with water. Set the cans outside overnight to freeze. On the eve of the party, run cool water over the coffee can to dislodge it from the ice. Fill the soup can with tepid water and remove it from the ice. Now you're left with a beautiful ice sconce. Place a small votive candle in each "sconce" for a beautifully lit outdoor walkway.
Incorporate dried fruits, berries and materials like winter plants, downed branches, and pine cones into your décor for a more natural look. Browse thrift stores and consignment shops to give seasonal décor a second use. Group small pots of rosemary or thyme together for a centerpiece or decorate them individually, use them as place cards and give them away to guests as party favors.
Comments