EllenB
Gold Post Medal for All Time! 858 Posts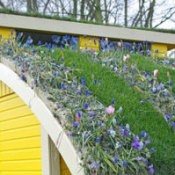 One of the fastest growing green building trends in the U.S. and Canada is the installation of green roofs. That is, systems that use living plant materials as roofing. The idea of green roofs isn't new. The earliest green roofs are thought to date back as far as 500 B.C. However, technological advances are now making the installation of green roof systems practical and affordable for both commercial builders and homeowners alike.
Intensive vs. Extensive
Green roofs can be broken down into two basic types of systems: extensive and intensive systems. Extensive green roof systems are generally designed to be lighter in weight (averaging 10-50 lbs. per square foot), while maximizing building and environmental performance. They typically feature low-lying plants like sedums, mosses, and native grasses, and require only 1-6 inches of soil. Most residential applications are composed of extensive green roof systems.
Intensive systems feature deeper soil designed to support a wider variety of plants. These systems are much heavier (from 80 to more than 120 lbs per square foot) and typically harder to maintain. Intensive systems are typically used in commercial buildings and are designed to be accessed and enjoyed by the public.
The Benefits of Green Roofs
Green roofs provide multiple aesthetic, environmental, and financial benefits-to both homeowners and communities.
Aesthetic benefits:
pleasing to look at
creates green space in urban environments
attracts wildlife
Environmental benefits:
reduced noise
water conservation
reduced storm water run-off
creates habitat
heat mitigation in urban areas
fire prevention
improved air quality
Financial Benefits:
extends life of roof (2 to 3 times)
reduces energy costs
reduces storm water fees
Components of a Green Roof*
the roof deck substrate
waterproof membrane (to keep water out)
root barrier (keeps roots from damaging the membrane)
insulation (acts to insulate both the plants and building)
drainage/retention layer (designed to keep excess water off of the roof)
filter fabric (this layer keeps the growing medium from washing away)
growing medium (lighter than soil, designed for green roof plants)
living plant material
*(listed from the bottom up)
The Costs
The initial costs for research, design, and materials of a green roof system will vary depending on its size, but you can expect to pay 2 to 3 times more than a conventional roofing system in upfront costs. Additional operation costs also need to be considered, although when the increased life-span of the system and savings from reduced energy costs are factored against overall costs, green roof systems are on par with many of their traditional counterparts.
Learn More:
Comments
Read More

Comments