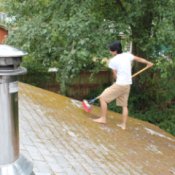 I recently had my mossy roof sprayed with Spray and Forget and now have a roof covered with dead moss. How do I get this off? It looks worse than when it was green, even though I know this is better. I'd like to know how to get rid of it. Thanks.
By Joan from Rangeley Plantation, ME
Answers

October 12, 2010
0

found this helpful
This is from the Popular Mechanics website: www.popularmechanics.com/home/improvement/outdoor.../4217233
They suggested killing the moss then get on the roof with a pressure washer and starting at the top of the roof, spray down the roof

October 12, 2010
0

found this helpful
I need to add a warning on killing the moss. Do not use Tide or bleach as these will shorten the life of the roof considerably.

November 24, 2015
0

found this helpful
Bleach is what most, if not all, roofing shingle manufacturers recommend using on their products, what you don't want to use is elbow grease... and careful not to sweep away any granules which keep the shingles doing their jobs, if your not exactly sure on how to deal with moss on your roof, hire someone who does.

February 13, 2017
0

found this helpful
Do not pressure wash a composition roof! It will ruin your roof. First kill the moss, next sweep lightly or use a leaf blower, pain in the butt, yes, but cheaper than a new roof.
Next time, do not let moss build up.

March 9, 2017
0

found this helpful
If you look at the website for this product you need to brush off the dead moss next....www.askmediy.com/.../ ...That said I would if you are older like me I would do a test section first...choose an area and hose off that area and then let dry and then if needed sit on the roof and brush downward...never upward. The same direction information is for hosing also...notice I did not say pressure washing, since usually pressure washing reduces the lifespan of your roof. This maintenance is just like any other...if you have let it go for too long then it will require several applications. If you are really lucky most of the dead moss will be removed with the hose nozzle without having to brush a lot.
Answer

this Question
I have a three tab asphalt composition shingle roof. If I use Tide with bleach and spread it by hand all over my roof, I understand it will damage my roof. However, how long will it take a week, month, year, or one to four days to get rid of the moss?
By Ed
Answers

December 3, 2011
0

found this helpful
First of all in order to grow moss the roof must be staying damp and dark so I would trim up any trees hanging over the roof, especially on the north and east sides.
Second, moss requires an acid environment to live so your best bet would be to sprinkle some agricultural lime on the roof to cut the acidic condition.
Are you by chance mistaking mold for moss?
Answer

this Question