Answers: Storing Toilet Tissue
Read answers for this question below.
Not the prettiest thing but you can store several rolls on the handle of your bathroom plunger. Takes up hardly any room.
If you don't have one you can go to a yard sale and buy a metal sugar/flour can that is big enough for a roll of toilet paper. You can put this on top of your tank for decoration or on the floor under the tank for emergency.
You can hang a rope near the toilet and using a larks head knot you can slip a dowel threw. A curtain rod hung on the wall, a macrame pot holder you can get at the thrift store, hang a multi candle sconce on the wall and stick the tp on each holder section.
I have a toilet paper hanger that holds two rolls that you attach to the tank of the toilet and as you can see fits in tight spaces. It is decorative and very handy! This picture shows one roll in the holder so you can see more of the holder itself.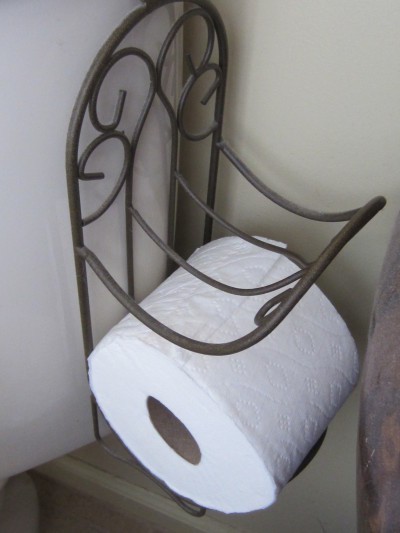 Answer This Question
Add your voice to the conversation. Click here to answer this question.