Herbal Remedies for Fleas
Answers: Herbal Remedies for Fleas
Read answers for this question below.
I've heard raw garlic can make cats/dogs extremely sick and even result in their death, so be aware.
That flee tea is too expensive, and does not list what is in it, you should do thorough research before ever using herbs on pets as some are toxic even to humans, and could make them sick or even cause death. Furthermore, here is a simple remedy you can make at home. Thinly slice one whole lemon and add it peel and all to one pint of water and put into a pot of water on the stove, bring just to the boiling point and turn it off, then let it sit over night. Then add to a spray bottle and spray while massaging into your pets fur and skin until damp, not drenched but damp. This is a natural flea killer and only needs to be done once a month.
I am an herbalist, faith believer of God, and a Certified Kundalini Reiki Master/Teacher, amongst other things, so I know what I am telling you is excellent advice.
Sat Nam, ~(-_-)~
Piper
P.S.
Check out my blog where I explain aspects of the human mind and depression, as well as the subject of hope.
http://piper-of-pipers-lair-blog.blogspot.com/
This is my web site
http://www.piperslair.com

Just check with your vet before you dose your cats etc. Also young kittens can be poisoned with some of these remedies. The cheap flea stuff at Walmart has made my cats sick. Bottom line be very careful. If it is harmful to pregnant women etc, what will it do to your cat? Now I keep my two cats in the house and fleas are not a problem.
I just bathed my feral kittens then rinsed with vinegar. Do not rinse the vinegar off - just dry them - put in bathtub - vinegar does not kill fleas it just gets them off the kitten. I went in every 5 minutes and picked up the fleas (flushed them down) after 15-20 minutes remove kittens and clean tub (washing fleas down the drain). Will have to repeat but this can be used on young kittens - keep kits from draft until completely dry.
Add nutritional yeast to their food (sprinkle it on) and also pill them with a small pill sized piece of garlic once a day. Then you won't need any other treatments.

Pennyroyal oil is great; you put a dab of the oil on the base of the tail and under the neck,but it's ery strong smelling and will make the pets' eyes water and yours too. If they lick it, they will froth because it's "hot" like fresh cinnamon oil. It is not to be used around pregnant women as it can cause miscarraige.

By the way, pennyroyal oil works to repel termites as well so if your neighbors have a problem, sprinkle it around your house.
You could try a spray bottle with some Olive Oil and add a couple drops of Peppermint or Lavender essential oil. Mist the animal a couple of times and then rub the oils in with your hands. For some reason fleas and ticks don't like Peppermint or Lavender.
before flea drops came out I always put a capfull of gum spirits of turnpentine in my mop water and used D.E. were my animals slept and kept them away from other animals that had fleas and I never had any problems. I'm not using anything now and still don't have any fleas.
we used to make necklaces out of balls from euculyptus trees and put the leaves from the trees
in the beds of our pets. good luck.
Questions
Here are questions related to Herbal Remedies for Fleas.
Herbal Home Remedy for Fleas on Cats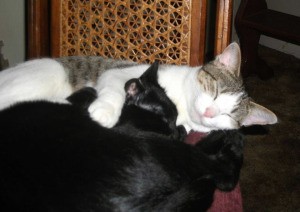 Did I read somewhere that rosemary oil mixed with lemon juice was a good flea deterrent? If so, what are the amounts of the two to mix together? Has anyone else heard anything about this herbal treatment? Please help if you can. Ever since I put Hartz Ultraguard on them they seem worse and haven't stopped scratching or licking. They do it constantly.
The black kitten I took in because she was either in a fight or a car had hit her. One of her eyes is out and her ear torn up, but the vet said that she was going to be fine. My other cat took her in and has really accepted and loved her.
Anyway, these fleas are driving them and me, crazy. I'm also treating my carpet with borax, salt, and daily vacuuming.
By candybones from Stuttgart, AR
---
Most Recent Answer

By hoote175
06/05/2011
It's probably the worst smelling idea but it actually works almost instantly. We were infested with fleas one hot dry summer. Our poor animals, no matter what we did were just swarmed with them. Our vet actually told us to spray them down with vinegar. Also, since they were house pets, we sprayed the carpets, curtains, anything we could with vinegar The smell goes away in a couple of days but it does work.
Hope this helps.
Natural Flea Deterrent for Cats
Does garlic or variation like powder work on cats? I have a boy who sprays so is out most of the time and is allergic to fleas and Frontline, etc. Midnight looses most of his fur in warm months and breaks out in scabs. I mostly see dog solutions, but my guy is 11 pounds and clearly a feline.
By SueBob from Midlothian, VA
---
Most Recent Answer

By fuzzytufts
01/13/2012
SueBob I have a Persian who stays outside in the summer and gets the same thing you have stated and I use paramite dip; 1 tsp to gallon of warm water Dip him in it or squeeze bottle it on and let it dry. The scabs go away and it is a mite that attacks him not fleas. Same as ones that attack dogs. keep it out of his eyes, I use a wash rag soaked in it for mines face.

This also kills fleas but I find not as good as the advantage11 and use once a month. Keep in mind advantage will make the scabs better but won't clear him up but the paramite dip will. You have to get it from the vet.

Some vets sell it premixed and if that is the case just use as is. Your tom goes out of your yard and you can't control that unless you neuter him then he will stop (most of the time) spraying but will also stay around home all the time. Most all states have a help with spaying and neutering and it should be reasonable. wait 2 weeks after using Paramite dip to put Advantage11 on so as not to over do the medicines. This works on cats and dogs. Order it on line and the one I found most reliable was Petcarerx google it. and compare the price.

You can be over concerned about natural and not pesticide and the natural will kill your cat first. I have 9 cats 5 outside with the dogs and they are flea free. Kill fleas in yard in spring and enjoy the summer with your pets unless they go to the neighbors house.
Is There an Herb That Will Repel Fleas on Dogs and Cats?
Does anyone know of an herb that works to keep fleas off dogs and cats? I have 9 cats and 9 dogs and live in the south.

By fuzzytufts from Folkston, GA
---
Most Recent Answer

By Pixiedust7
05/11/2011
Years ago we fed our cats & dogs brewers yeast tablets to help combat fleas. After a a week or so on brewers yeast, the animals' blood tastes terrible to the fleas & they look elsewhere. Not all the pets liked the tablets, so they had to be crushed into the food, but I had one cat that liked the tablets so much, she would pick it off her food & eat it first! It's worth a try. Brewers yeast is available in tablets or powder at health food stores.

You will also have to take measures to eliminate the fleas from the house (rugs, crevices, etc.). There are some plug-in traps that help with this, that are not terribly expensive. I've seen them in mail order catalogs, like Whatever Works (www.whateverworks.com). Good luck!
Answer This Question
Add your voice to the conversation. Click here to answer this question.