I have a house roofed with maroon iron sheets. Which wall color will match with the roof? If possible send me photos with this type of roofing and walls painted in suggested colors.
By Mama Eliya from Tanzania
Ad
---
Recent Answers
Here are the recent answer to this question.

By Mike Williams11/07/2014
I think you should go for the light yellow color, it looks good as it is contrast color and also matched with the roof. Have a look at the picture with the same combination. I hope you will like it. Get more info at - http://www.beyondthebrushpainting.com/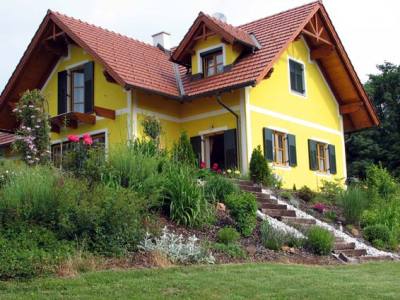 By Paula Jo C. [7]11/30/2009
A warm but muted soft yellow would be very, very pretty. Some folks up the street have theirs painted that way and it looks outstanding from all of the other homes.

By Dena Roberts [31]11/26/2009
A warm tan would look good.

By Barbara Lindsley11/26/2009
A lighter Yellow would look good. Ask them at Professional Paint stores, cause most likely they would know.

By Jean [2]11/24/2009
Another good option would be some shade of gray.

By Suntydt [75]11/23/2009
I would just sugget a beige or tan. It looks good together as clothes. I wear a Maroon dress shirt and beige pants to church all the time. :)

But in all seriousness if you don't have one borrow a digital camera and take a picture of your house. Load the digital picture into your PC. Use a program like paint shop pro (MS Paint might do the job too) and load the picture. Use the fill tool to change the colors till you have a match you like. Print out the pic and go to your paint retailer and ask them to try to match the color you chose.
Answer This Question
Add your voice to the conversation. Click here to answer this question.