With the craziness of the holidays, a New Year's Eve party that requires pajamas to pass the dress code sounds inviting. This year, try a family party with family fun. It will be less fuss and more fun!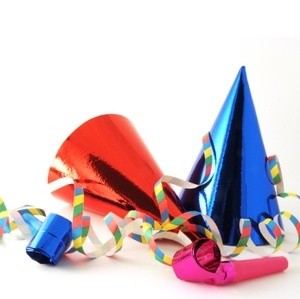 Invite the friends and family. Make the guest list a family affair. Keep it informal and don't be rigid about the RSVPs. The more the merrier, the fewer the more fun! Use word of mouth invitations to save money and time.
Set a dress code. Try a pajama party, but don't let some guest ruin the fun and come in clothes. This works well for the little ones (and sometimes not so little ones) who fall asleep before the ball drops. If jammies make some adults uncomfortable, remind them that lounge pants, sweatpants, shorts, and t-shirts are all forms of pajamas. Why spend the money and time dressing in partywear?
Feed them well. Keep food simple; it will save on your energy and checkbook. The tried-and-true pretzels, chips, and dips are good for starters. Keep the vegetable and fruit platter well stocked, and offer something hot that can keep in the crockpot all evening.
Entertain them. Create envelopes for each hour of the party. On every hour (Borrow a chiming clock to help the guests keep track of time.) have a child open the designated envelope. At that time all other activities must stop, and the activity on the card must be done. In the meantime, set out board games, pop in a classic movie in one room, and offer a social setting for party chatter. Your guests will find their ways to the activities they most enjoy.
Sample hourly activities are:
6 PM: The party has officially started. Have everyone introduce him/herself and tell an item that begins with the same letter of his/her first name. (For example: I'm Kelly and I have ketchup.) Then, the second person introduces herself and then repeats the person before her and the item. (I'm Cathy and I have caramels. Kelly has ketchup.) Keep going, adding a person to each introduction. Guests will have fun trying to remember the names and the items; even those who may know one another will have to jog their memories.
7 PM: Take a picture of the entire party. Remember to bring a camera with a timer and a tripod. Then, take family/group photos of the guests. Mail copies of the pictures with your thank you cards.
8 PM: Everyone needs to state his/her resolution for the upcoming year as well as something that was accomplished in the past year.
9 PM: Begin a board game competition with elimination rounds. The game depends upon your guest list and their interests and skills. Fun large group games that can be played in teams include: charades, Pictionary, and trivial pursuit, but the list can be endless.
10 PM: Get out the fondue pot! Surprise guests with yummy dipping to get them through the late hours of the night.
11 PM: Make an anagram poem for the month of January. "Jumping in snow, Always cold, New year begins"
12 PM: Kiss the ones you love and have a Happy New Year. Invite guests to sleep over, or wish them safe driving on their ways to their own beds.
About The Author: Kelly Ann Butterbaugh is a freelance writer who regularly contributes to a variety of magazines and has written a history book for middle readers. Visit her website for writing help, lesson plans, history fun, or work for hire at http://www.kellybutterbaugh.com
Comments
By guest (Guest Post)
Flag
December 20, 2008
0

found this helpful
Thanks for the great ideas! I have a New Years Eve party every year. It started with just 4 couples with the kids. Now we have about 40 people including kids! So much fun. With the expense of going out to dinner, our friends and family welcome a place to go with the kids. To cut the expense down, I make a punch to drink and bake a big ham. Everyone else brings a side dish, appetizer or dessert. Not a lot of work for me and everyone has a great time and we don't send alot of money.
Reply
Was this helpful?
Helpful?
Yes
Add your voice! Click below to comment on this post or add your answer to this question. ThriftyFun is powered by your wisdom.