There is a white haze on my green resin chairs. How can I get rid of it?
By Shelia from Spotsylvania, VA
Ad
---
Recent Answers
Here are the recent answer to this question.

By skribly06/15/2015
I tried the Mineral Oil. It does work, but it doesn't dry. So little by little, it comes off on your clothes until the chair needs to be oiled again. The second time I used Linseed Oil, which is a drying oil that you can get at any art supply store. It takes a day or two to dry, but it works just as well and it doesn't comes off on your clothes. Others say to use car wax, but I haven't tried that.

By park.tom08/30/2013
The plastic is dry. Mineral oil and even Vaseline jelly will renew hard plastics. Wipe it on, wait an hour and wipe. Great for black sunglass frames.

By Joanie [1]06/22/2010
The Magic Eraser may work to take off the dirt, but it doesn't make the furniture shine. You'd need more than 2 erasers to clean one chair. The mineral oil costs about $1.62 a bottle. In the long run, the oil works better, easier than rubbing the 'eraser' and costs less. :-)

By Joanie [1]04/22/2010
I just tried rubbing some mineral oil on the arm of a red plastic Adirondack chair. It makes it look nice and shiny right away, not sure how it will weather.

UPDATE: It has been weeks since I 'oiled' my other 2 red chairs. I need to do two more...Now that I know this really works.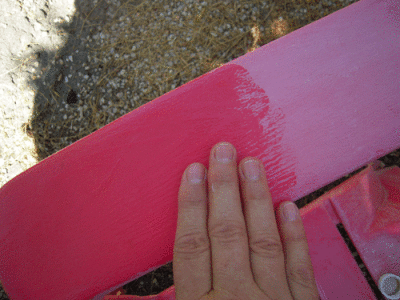 By Suzanne Bergholz [2]05/19/2009
I think that the Magic Eraser by Mr. Clean will remove dirt, and anything else (like the haze) on plastic lawn furniture. It is worth the try for about $2.00 for 2 erasers. I hope this helps.

05/12/2009
We have had this question in the past, one person said they tried several different things to remove the haze but nothing worked.

I don't know how well it works because I have never tried it but I have seen ads on TV for Krylon Fusion spray paint for plastic. In the ads, they claim it will stand up to the outside elements, and they claim no prep, except of course that the item has to be clean. If you decide to paint the chairs, you might want to try it first on a small, cheap trash can or something and leave it outside for a few days in direct sun and maybe hose it off a lot, rub it, etc. to see how it holds up before you paint the chairs.
http://www.krylon.com/products/fusion_for_plastic/
Archives
Thrifty Fun has been around so long that many of our pages have been reset several times. Archives are older versions of the page and the feedback that was provided then.
My dark green Adirondack plastic resin chairs have developed a white haze on them this season. They are not faded, and this haze seems to be from exposure to the elements, since they are not located under any type of rooftop. What is the best cleaner to get rid of the haze and restore these chairs?
Thanks for your responses!
Victoria
---
RE: White Haze on Colored Plastic Chairs
I have this problem also, I wonder if a vinegar wash would work? (08/13/2005)
RE: White Haze on Colored Plastic Resin Chairs
I also have the white discoloration on my previously dark green Adirondack plastic resin chairs. I tried vinegar, I tried vinyl siding cleaner & I tried scrubbing them in between each treatment with a stiff bristle brush. So far, nothing works. I was told at the store where I purchased the siding cleaner that I would probably have to prime them & then paint them. I have 9 of them & I really don't want to do that. I hope someone has a better idea. (07/13/2008)
By Debbie
Answer This Question
Add your voice to the conversation. Click here to answer this question.