Flower Pot Bird Bath
I really wanted to have a bird bath in our yard, but every time I found one that I liked it was so expensive. I decided to try and make my own using stacked flower pots and saucers.
Approximate Time: 2 hours
Supplies:
3 flower pots (small, medium, and large)
1-2 saucers
white primer
spray paint, any colors
E6000 glue
clear coat
Instructions:
Spray all of the pots and saucers with primer. Let dry. Apply a second coat if necessary.
Spray the pots and saucers whatever colors you have chosen. Apply as many thin coats as necessary to achieve the desired coverage and color. As I was painting my pots I found that I liked the varying coverage, it had almost a weathered look to it, so I did not continue painting to achieve a perfectly uniform color. Allow to dry.
Once all pieces are dry, apply glue to the bottom edge of the largest pot, then stack the medium sized pot onto it. Apply glue to the medium pot and stack the small pot onto it. Allow these to dry according to the package instructions for the glue.
Apply glue to the bottom edge of the small pot and center the large saucer onto it. I chose to not glue the small saucer on (so the I could clean both saucers easier), so I balanced it on the edge of the large saucer and used a rock to support it. Allow glue to dry.
After all of the glue has thoroughly dried and the bird bath is strong enough to be moved, you can spray it with a few layers of clear coat. It is now ready to go outside for the birds to enjoy!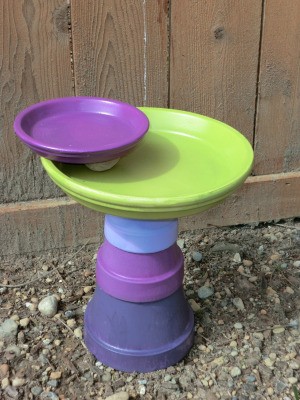 By Laurel from Port Orchard, WA
Feedback
Read feedback for this post below. Click here to post feedback.

By
05/03/2012
My only question is: Is the paint safe for the birds or will chemicals leach from the paint into the water? Love the colors you chose.
Post Feedback
Add your voice to the conversation.
Related Guides
Related Posts