Ducks for Eggs
Don't be a chicken - raise a chicken! Seriously, if you can, own a couple of chickens in your yard and have fresh eggs daily. We have a duck and use duck eggs.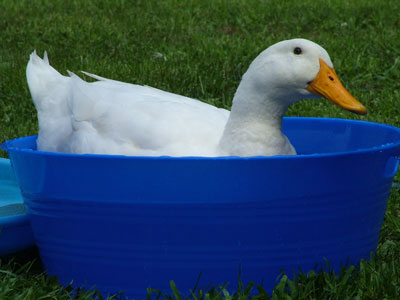 By Holly D.
Feedback
Read feedback for this post below. Click here to post feedback.

By Mad Minx (Guest Post)
07/09/2005
I really need to get some infomation about ducks and thanks to Holly D because i now know what could happen!!

By Paula W (Guest Post)
04/03/2005
Thanks, Holly D. you answered all my questions about having ducks in the backyard. Thank you so much for taking the time. We have a small pond, very small, but deep enough that I think we might try for a couple and see how they take to it. We have an old dovehouse to keep them in at night. Thanks for answering my questions! PW

By Holly D. (Guest Post)
04/03/2005
Duck eggs are much larger and slightly stronger. I prefer chicken eggs but fell in love with the personality of ducks at a 4H fair. We started with 2 but one was killed by a wild animal when it was a year old. It was very traumatic for us and the remaining duck. We now have a cover over the entire top of the pen because owls can be a problem. Ducks love water for bathing and it must be fresh--not necessarily clean but fresh daily. The water MUST be deep enough for them to completely submerge their bill and face. It is so peaceful and relaxing watching a duck play and bathe in the water and they love it so much that I think it would be cruel to own duck without a good place to swim. We have a small natural pond behind our house which is perfect. That's why I suggested chickens for others. Less water chores! If you do a web search you'll see fancy lovely chicken coops in small back yards in England. Some of the coops look like victorian houses.

By Lori Montgomery (Guest Post)
04/01/2005
Cute picture - cute picture! I had ducks when I was little and will definitely get more when my husband and me get some land and a pond!

By Paula W (Guest Post)
03/31/2005
How do duck eggs taste compared to chicken eggs? Do they (the ducks) have to be protected from raccoons at night? How much water do they have to have? In other words, how high maintenance are they? I've always wanted to have some kind of egg laying fowl about but have been told they are a lure for predators out here in the country. By the way--great picture.
Post Feedback
Add your voice to the conversation.
Related Guides
Related Posts