At the time this picture was taken, we lived off a very busy highway. It was the norm to see animals that had been hit by cars, and it always upset me.
Well, I found a litter of feral kittens in the woods behind our house and I had no doubt that, with time, all of them would get hit by cars and die. So I decided to be a good person and rescue them. I thought I would take them down to the Humane Society, and they would be put in a foster home, bottle fed, and given a real chance at life.
Well, there were no foster homes available, and I was sent home with bottles, formula, and instructions what to do.
The week before, someone brought over two kittens they found and, sadly, they didn't make it through the night. I was pretty upset about it which is probably the reason I was determined to save this litter of kittens.
Once over the shock of bringing them back home, I was very determined to do the right thing for the 5 kittens. I set up a huge dog crate and faithfully fed them every few hours.
At the time we had 2 dogs. Parker just took to them like he was their mother. They climbed all over him, and he licked them cleaned. If one cried, he beat me to them.
When they were old enough to go back to the Humane Society, though there were many other kittens, mine got adopted out within days because they had been raised around a dog.
For a 135 pound dog, Parker was incredible with them. I don't know who missed them more, me or him.
By CPJ from Madison, AL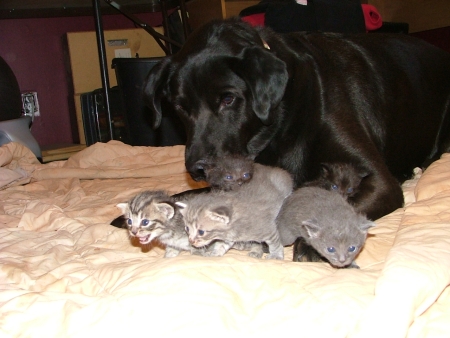 Comments
Read More

Comments

Our daughter was on her way to our house, on I-40 near Wallace, when she saw this little kitten under the overpass. Every time a car would pass, he would run around in circles. Being the loving person that she is, she could not leave him there.
She had to stop and pick him up. The kitten was howling it was so terrified. It took a while to get him settled down. She gave him some water and he went fast asleep and slept the rest of the way.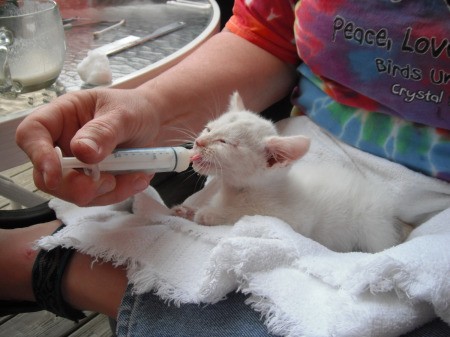 Read More...