At the time this picture was taken, we lived off a very busy highway. It was the norm to see animals that had been hit by cars, and it always upset me.
Well, I found a litter of feral kittens in the woods behind our house and I had no doubt that, with time, all of them would get hit by cars and die. So I decided to be a good person and rescue them. I thought I would take them down to the Humane Society, and they would be put in a foster home, bottle fed, and given a real chance at life.
Well, there were no foster homes available, and I was sent home with bottles, formula, and instructions what to do.
The week before, someone brought over two kittens they found and, sadly, they didn't make it through the night. I was pretty upset about it which is probably the reason I was determined to save this litter of kittens.
Once over the shock of bringing them back home, I was very determined to do the right thing for the 5 kittens. I set up a huge dog crate and faithfully fed them every few hours.
At the time we had 2 dogs. Parker just took to them like he was their mother. They climbed all over him, and he licked them cleaned. If one cried, he beat me to them.
When they were old enough to go back to the Humane Society, though there were many other kittens, mine got adopted out within days because they had been raised around a dog.
For a 135 pound dog, Parker was incredible with them. I don't know who missed them more, me or him.
By CPJ from Madison, AL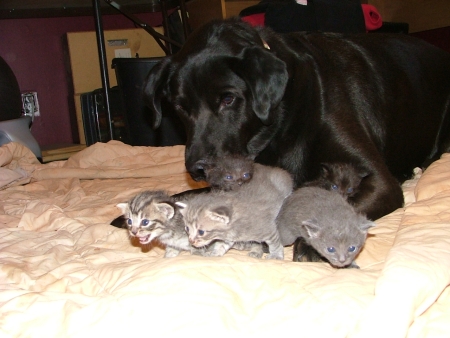 Comments
August 14, 2011
0

found this helpful
Top Comment
What a beautiful story CaroleeRose. You have a very lovely way of writing, and I truly enjoy your postings.
We once had a miniature poodle named Penny who did basically the same thing. She also helped raise one baby squirrel. My little Rocky Pig squirrel would tangle his tiny hands in her curly fur and ride around on her back or neck for hours. We'd have to find Penny to feed the squirrel until he was big enough to leap off and come a'runnin' when I called "Rocky Pig"
His name came from my first granddaughter who was only 4 years old and was given a guinea pig. Somehow, her guinea pig and our Rocky got mixed up in her little mind, and all small animals like hamsters, guinea pigs, squirrels etc became Rocky Pigs. The name seemed appropriate for the squirrel as he grew large and round. LOL
There is something so special about animals who help with other species of baby animals. They just endear themselves to me and I love them most of all.
Our Sir Catty Kit is such a nurturing male cat that I sometimes wonder how do they get that way? What is so different about their lives that makes them gentle and tender to other baby animals. It is a precious quality though.
Thank you so much for sharing your Parker with us. He obviously is one in a million too. Parker is getting my vote. I wish I had a photo of Penny and Rocky Pig to share, but sadly, I do not.
Pookarina and Sir Catty-Kit who helps us make Christmas wreaths too. :-)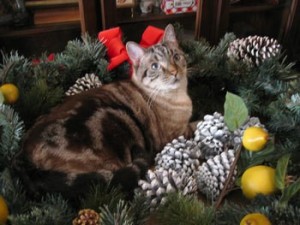 August 15, 2011
0

found this helpful
Top Comment
Somehow, we expect humans to have that spark of humanity in them, but when we see it in animals as well, it makes me wonder if maybe they are becoming more like humans, then I pick up the newspaper and read where there are still humans killing other humans in horrible ways, and I think the animals may be a lot further ahead than those humans.
Thank goodness there are still people like you who keep the human spark of humanity in us alive. For all of us here, thank you for being a really kind and caring person. We loved your story. Parker is a kind and generous fur-baby, and he has a great human mom.
HokeyPoke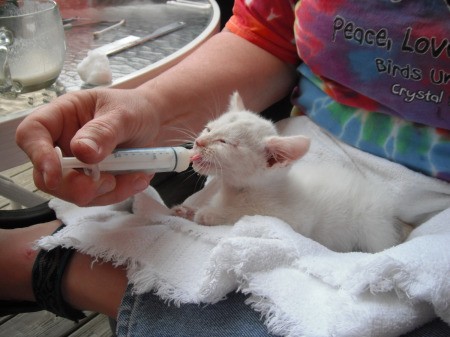 Your Pet's Age
approximately 6-8 weeks
How and when did you get your pet?
Rescued May 31, 2019
Do you have anything else to share about your pet?
I got a call from our daughter telling me that she was coming home to tend to some business. She would have lunch with us, but she had to head back. She lives 3 ½ hours away. The temperature was in the 90s.
On her way to our house, on I-40 near Wallace, she saw this little kitten under the overpass. Every time a car would pass, he would run around in circles. Being the loving person that she is, she could not leave him there. She had to stop and pick him up. The kitten was howling it was so terrified. It took a while to get him settled down. She gave him some water and he went fast asleep and slept the rest of the way.
He was pitiful. He was exhausted, dehydrated, dirty, had puncture wounds, and was full of fleas. We had to give him a bath and get the fleas off of him. We got everything set up outside where it was warm.
We put him in a bucket of warm water and used baby shampoo to bathe him. When finished, the water was dirty and red from blood. We switched him to a bath pan filled with warm rinse water. Using tweezers, we picked the fleas off.
It was time for her appointment so I took care of the kitten while she tended her business. I wrapped him in an old towel to dry and held him close to keep him warm. Using a syringe, I fed him some kitten formula, a little at the time. He was shivering so I wrapped him in a warm dry towel. In a few minutes he stopped shaking and slept while I held him.
By the time she was ready to head back to her place, the kitten was dry and had a full belly. I had grown attached to the kitten and it was hard to part with him, but I knew I could not keep him. We put him in a box with a soft bed and he slept all the way home.
The next morning, the kitten was feeling much better and was taken to Carolina Beach Animal Hospital where they took him into their animal rescue. He will be cared for and if he checks out well after a couple of weeks, he will be put up for adoption.
She named him Wallace because that's where he was rescued.