VeronicaHB
Bronze Post Medal for All Time! 107 Posts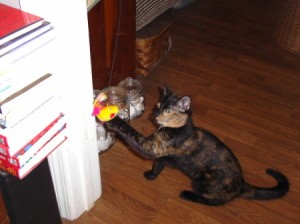 I strongly recommend that anyone who is wanting to add a kitten or cat to their life, do so by adopting one from a shelter or rescue organization. I have done this often and have found the following tips helpful when bringing home a cat or kitten from a shelter. I am offering these tips, not as a professional, but as someone who has provided a forever home for numerous shelter animals.
When you bring your newly adopted cat or kitten home, have one room of your home set up to be its personal domain. Have food, water, toys, and a litter box in that room. Allow the cat or kitten to become comfortable with you and with its new living quarters before allowing it to explore the whole house.
In some cases, a cat or kitten may hide immediately after you release it into the room. Rather than frantically trying to remove it from its hiding place, let it come out on its own. Speak softly to the cat even if you can't see it. Sit in the room quietly reading or watching TV until the cat comes out and approaches you. There have been times when I've had to visit quietly in the room with a cat numerous times a day for several days before a really frightened cat would make contact with me. It has always been worth the patience it required.
Once the cat is allowed to explore your home, let it find a place of security and always have that space available to it. Set limits and rules as the cat begins to explore your home. It's easier to set rules than to break inappropriate behavior that you have allowed to go on for a while.
I personally believe every cat should have a scratching post. Each time they start to scratch on furniture, redirect them to their scratching post. Sprinkle catnip around the post to attract the cat's attention.
Kittens are playful and should be given a selection of toys to keep them occupied. Playing with the kitten is a great bonding opportunity.
If you have other pets in your home, introduce the cat to them slowly. Never leave them together unsupervised until you know they have bonded or accepted each other.
The rewards for saving a shelter animal's life are immeasurable. It's as if these animals know that you did indeed give them a second chance by providing them a safe, secure, and loving forever home.
By VeronicaHB from Asheboro, NC
Read More

Comments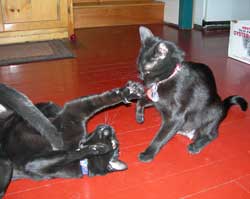 This is Midnight and Diamond. They were rescued from the shelter. Their names were given to them by their previous owners. Does it matter if I change their names?
trkrsteve
Answers

May 2, 2006
0

found this helpful
Awww! They are really cute! How old are they? If they are young, I am sure you can. Just talk to them and use the new names as often as possible until they get used to it.
I have known people to change the names of animals they have rescued without problems.

Kelly
Bronze Feedback Medal for All Time! 233 Feedbacks
May 2, 2006
0

found this helpful
No, it shouldn't, I had one named Cleopatra, and I adopted her at 6 months and changed her name to Lupe because she was from Mexico and needed the protection of The Blessed Mother! I think cats listen more to their owner's voice, because I had a special whistle and call for her, it got so that my MIL's birds repeat it, even after she has passed on for two years!
By katvn (Guest Post)
May 2, 2006
0

found this helpful
A rose is still a rose by any other name...
By Ellie (Guest Post)
May 2, 2006
0

found this helpful
I don't think it matters at all, after all nearly every cat/kitten gets its named changed. You don't think so? Consider.. a proud owner calls the new kitty a grand sounding name like my own cat Grania (an Irish name) but she now answers to Bunny, Pie, Pretty girl, Babushka, Minch, 'Well, I guess you get my drift!
It's the sound of your voice they get to know, and the way you talk to them.

May 2, 2006
0

found this helpful
Gorgeous shiny kitty kats~ How cute~
I'd go with what Katieandjeffy said repeat the names often and they should get it. I always felt it
was giving all a fresh start!

Carrie
Bronze Feedback Medal for All Time! 174 Feedbacks
May 3, 2006
0

found this helpful
If you haven't already called them lots of different names like cutesypoo and sweetie pie, it would really surprise me. One more name would hardly be any different.

May 3, 2006
0

found this helpful
It won't matter. I have three adopted cats and they all got new names. I think they learn that that's what YOU call them! It took a little bit for them to get used to (as with everything else around the house) but they all respond to their new names just fine.
JOAnn

May 3, 2006
0

found this helpful
If children can do fine with new names (we adopted two and changed their names) then I don't see why cats can't. I mean sometimes people take in an abandonned animal that probably already had a name and new owner gives a new name.
By Kathy in colorado (Guest Post)
May 3, 2006
0

found this helpful
If you adopted these kitties they may not like their old names anyway because they were given up by those people.
They may have bad feelings about their former people and would enjoy a totally new start.
Answer

this Question
I am going on a missionary trip to Nicaraugra in January and I am looking for ideas for fundraising. Does anyone have any ideas?

By Calvert

Answers

November 13, 2013
0

found this helpful
Any type of dinners go over well, such as spaghetti with and without meatballs, turkey, ham, chicken, fish. Have the main item, a salad or cole slaw, a bread, a dessert (or a choice), milk, water or lemonade, and coffee. Take part in a walk or run (or basketball shooting) and ask people to pledge whatever they want per mile (or basket), $1, $5, $7, $10 or more per mile.
Hold a garage/bake sale. Have a concert with someone/people who will volunteer their talent. Good luck and God bless you and your mission.
Answer

this Question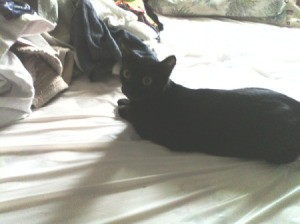 My kitten Brody is 6 months old now. Whenever it's time to lay on my lap, he curls up and begins to suck on his stomach, begins kneading my leg, and purring very loudly. He does the same thing at night when we go to bed, he'll lay on the pillow above my head and do the same thing except he kneads my head or the pillow.
That's the only time he does it, he doesn't do it when he's laying on the chairs by himself and sleeping. So I'm wondering if he was too young when I got him? He was 8 weeks old, and since I've had him I've had him neutered and he's had all his shots. He's very happy and playful, loving and healthy.
By Terry R. from Kent, WA
Answer

this Question