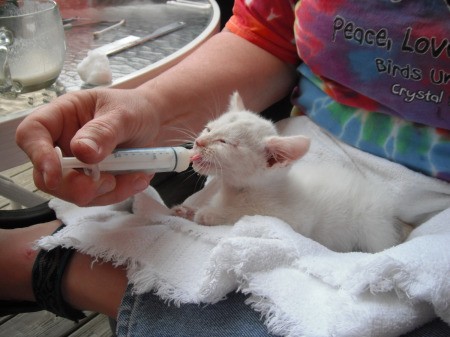 Your Pet's Age
approximately 6-8 weeks
How and when did you get your pet?
Rescued May 31, 2019
Do you have anything else to share about your pet?
I got a call from our daughter telling me that she was coming home to tend to some business. She would have lunch with us, but she had to head back. She lives 3 ½ hours away. The temperature was in the 90s.
On her way to our house, on I-40 near Wallace, she saw this little kitten under the overpass. Every time a car would pass, he would run around in circles. Being the loving person that she is, she could not leave him there. She had to stop and pick him up. The kitten was howling it was so terrified. It took a while to get him settled down. She gave him some water and he went fast asleep and slept the rest of the way.
He was pitiful. He was exhausted, dehydrated, dirty, had puncture wounds, and was full of fleas. We had to give him a bath and get the fleas off of him. We got everything set up outside where it was warm.
We put him in a bucket of warm water and used baby shampoo to bathe him. When finished, the water was dirty and red from blood. We switched him to a bath pan filled with warm rinse water. Using tweezers, we picked the fleas off.
It was time for her appointment so I took care of the kitten while she tended her business. I wrapped him in an old towel to dry and held him close to keep him warm. Using a syringe, I fed him some kitten formula, a little at the time. He was shivering so I wrapped him in a warm dry towel. In a few minutes he stopped shaking and slept while I held him.
By the time she was ready to head back to her place, the kitten was dry and had a full belly. I had grown attached to the kitten and it was hard to part with him, but I knew I could not keep him. We put him in a box with a soft bed and he slept all the way home.
The next morning, the kitten was feeling much better and was taken to Carolina Beach Animal Hospital where they took him into their animal rescue. He will be cared for and if he checks out well after a couple of weeks, he will be put up for adoption.
She named him Wallace because that's where he was rescued.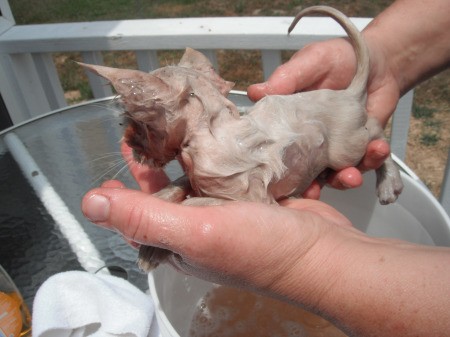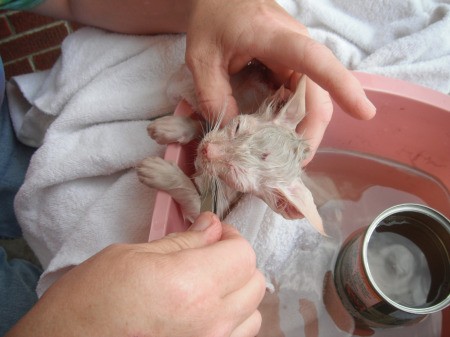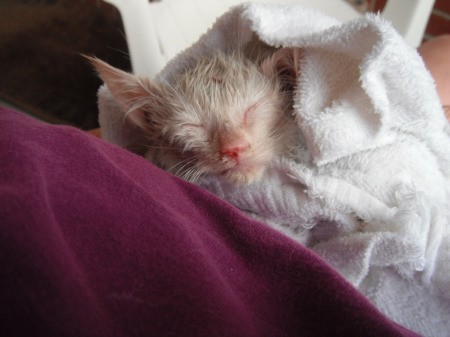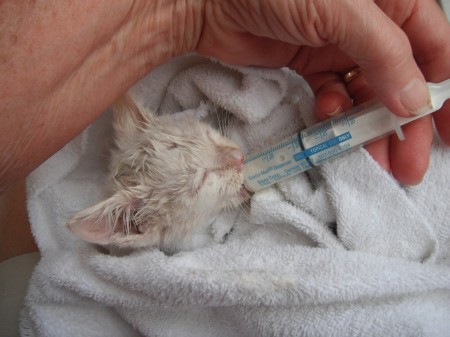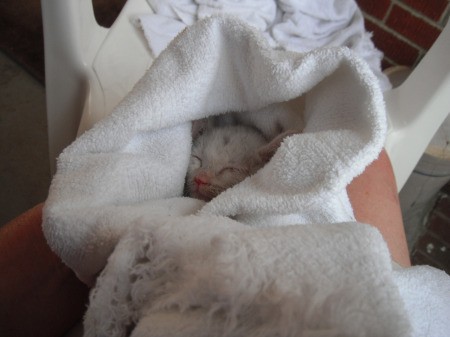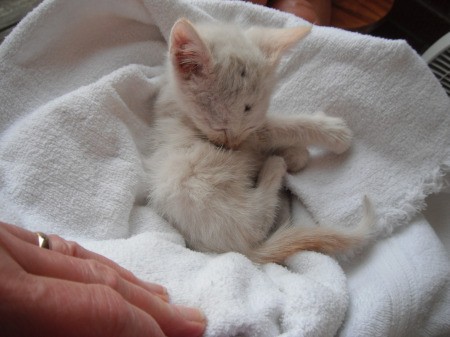 Add your voice! Click below to comment. ThriftyFun is powered by your wisdom!

June 5, 2019
4

found this helpful
He's adorable! A few years ago my dad brought home three rescue kittens. Poor things hadn't opened their eyes yet and their eyes were full of puss. We worked on that first and on bottle feeding them, just like the way you did. Got them cleaned up and fed round the clock until they were old enough to be weaned.
My dad kept the one he bonded with and his co-workers took the others home. Our little Fanny is one of the sweetest, most playful cats you could imagine. She also has a bit of tortitude!

June 5, 2019
3

found this helpful
Thank you. The vet says he is 6 weeks old and they are keeping him in isolation for 2 weeks and checking for rabies. I never thought of that. I can just picture him being picked up by a hawk and got away somehow.
I hope that is what happened. We just might make that 3 1/2 hour drive to the beach to see him. I want to see him so badly.

suz1230
Silver Feedback Medal for All Time! 451 Feedbacks
June 5, 2019
3

found this helpful
littergitter,
The pictures of Wallace are as sweet as can be.
Thank you and your daughter for saving and giving that sweet little life a chance.

June 5, 2019
2

found this helpful
Thank you but it's my daughter that gets the credit. She could have passed him by on that busy Interstate. I think he will be a lap cat and afraid to go to the road.

June 9, 2019
3

found this helpful
We needed a trip to the beach and wanting to see that kitten so badly, we made the trip. Just a couple more days in isolation and then he can be put with some other kittens. I know he will love that.
He's doing fine and they don't think he has any health issues. She told us he is so sweet, a lot of people are going to want him.
He was quiet and waited patiently to be taken out of the cage and held. We were not allowed to hold him because he is in isolation. I got some pictures.
After he was put back in the cage and realized he was not going to be picked up again, he got in his bed and looked up at us.
I can't help but wonder what kind of ordeal he went through before he was rescued.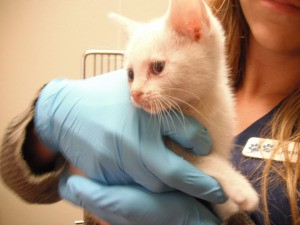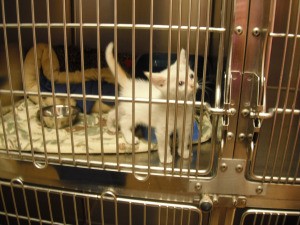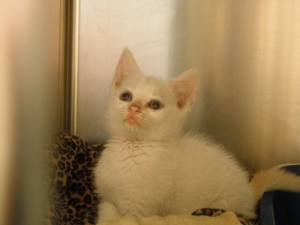 June 13, 2019
3

found this helpful
A picture of Wally the day after he was rescued before he was taken to the animal hospital and a picture of Wally today, out of isolation. He is doing great. He's so sweet.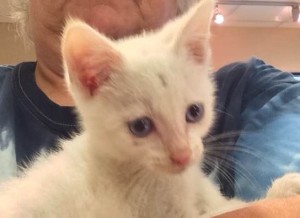 June 13, 2019
2

found this helpful
What a sweetie! He's so little still. I hope he finds a wonderful home very soon.

June 13, 2019
2

found this helpful
Everyone at the animal hospital has fallen in love with him. He has to weigh 2 pounds before he can be tested for diseases that can be transmitted to other cats so it will be a while before anyone can adopt him. I can't get him off my mind.

June 13, 2019
2

found this helpful
I sure wish you or someone you know can adopt him so you can keep watching him grow.

June 14, 2019
1

found this helpful
I would adopt him but I can't be bending over due to back fusion so it would really be best for me not to have him. I'm sure he will get a good home. There are many people that want him.

June 14, 2019
3

found this helpful
He's precious! Bless your daughter for picking him up and bringing him to you, and bless you for taking such good care of him.
He'll make somebody a great companion. Our two kitties who were raised by a kitten rescue are now over a year old, and they are the light of our lives. Harvey weighs 15 pounds, and Starr (she won a beauty contest here, you know) weighs about 11.
This was a beautiful story with a happy beginning for sweet Wally.

June 14, 2019
2

found this helpful
Our daughter, that rescued him, lives close to Carolina Beach Animal hospital where he is. She has been to see him several times. I asked her if he is cuddly and she said he climbs up on her chest and tucks his head under her chin. He is very loving. She does not have to wear gloves now to hold him.

June 14, 2019
1

found this helpful
Starr is a beautiful cat.

July 16, 2019
1

found this helpful
Thank you! Her brother Harvey is a very handsome kitty, too.

June 26, 2019
3

found this helpful
Wally is really growing and is so sweet. He has come a long way from when he was rescued. I dreamed last night that I wanted to adopt him and adoption fee was $3000.00. That's when I woke up.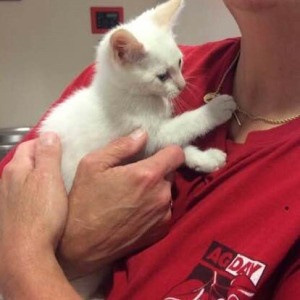 June 27, 2019
3

found this helpful
He is white with light orange on his ears and tail. His foot may have to be amputated. I hope not. I'm hearing that someone in our family is thinking about adopting him.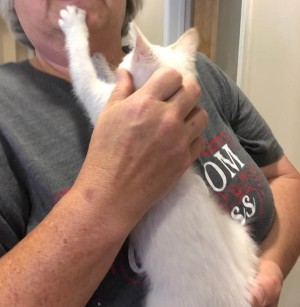 July 21, 2019
1

found this helpful
Bless you and your beautiful daughter for saving this kittens life. It is people like yourselves that make life worth living, knowing that you care so much for defenceless animals, and you both put yourselves out to ensure that this precious little one had a fighting chance.
Thank you both for caring.
NatNat from Australia

July 22, 2019
1

found this helpful
I want to thank Thriftyfun and everyone for all the sweet comments and all your votes. I'm taking the $50.00 that I won in the contest and donating it to the Carolina Beach Animal Hospital for their Paws Rescue organization.
Wally is doing great. With all his injures he also had a broken leg as well. At one point, the doctors thought his leg would have to be amputated but it has healed and growing like it should. He will be walking a little different but rarely ever walks as he is so energetic and playful.
Wally, a flame point Siamese mix, is now 12 weeks old. He is up to date on all his vaccinations, has been neutered and is ready for adoption by a loving family. I think he will make someone a very sweet pet.
It's been such a pleasure watching this baby grow.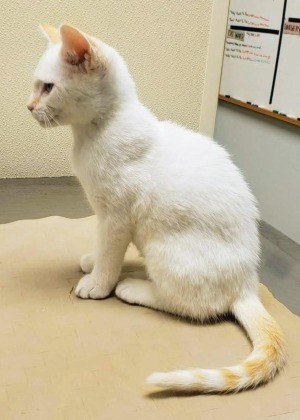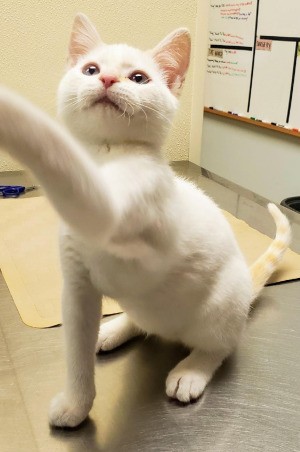 July 24, 2019
1

found this helpful
Such a sweetie! I wish I could adopt him but I'm sure he will find a special familiy.

July 24, 2019
0

found this helpful
I would love to have him too but with his energy, I think he would wear me out. I'm sure they won't have any problem finding a good home for him.

July 28, 2019
1

found this helpful
Wow. She really made the world a better place because of her kindness.

August 5, 2019
1

found this helpful
Wallace says "STOP! No more applications. I've found my furrever home!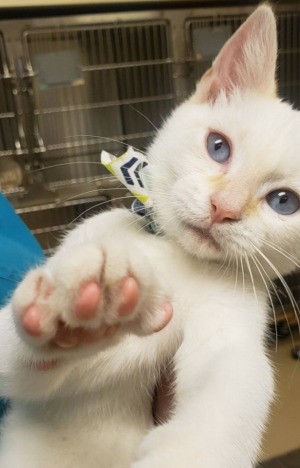 October 19, 2019
0

found this helpful
This is Wallace is his new home. He loves to cuddle with the dog. I knew he was going to turn out to be a great cat!!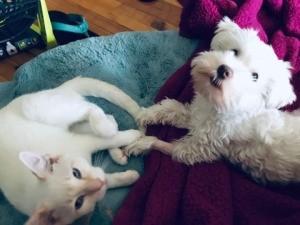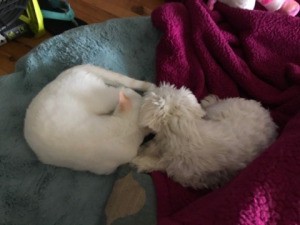 Add your voice! Click below to comment. ThriftyFun is powered by your wisdom!