Voldo is a 7 year old Shepherd, Chow, and Wolf mix. My husband had him when we first met. He got him from a friend at work. He loves to play with his squeaky ball. He will catch it then try to hide it by putting his paws over it or he will hide it in his food dish. Voldo is a very loving and protective dog. He loves to lean on me and my husband when we go out to play with him.
By Judy
Add your voice! Click below to comment. ThriftyFun is powered by your wisdom!
Add your voice! Click below to comment. ThriftyFun is powered by your wisdom!
Voldo was a 7 year old Shepard, Chow, and Wolf mix. I am resubmitting my picture of Voldo. He was in the pet photo contest a few months ago and has since passed away. He was a great pet. We are not sure why he died, but he was a part of our family and we miss him so much.
My husband took it very hard. He had a dream a week ago that Voldo was playing in a field with a bunch of other dogs and came up and gave him a kiss on the cheek. I believe that was Voldo's way of saying, "Daddy, I'm OK I'm in Doggy Heaven."
By Judy from Waterloo, IL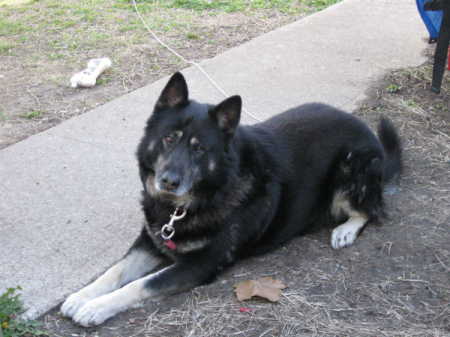 August 19, 2011
0

found this helpful
I'm sorry to hear that Voldo has crossed the bridge. He was a lovely dog, and I can see how happy he was! He is playing with the all of mine who have since gone over the bridge and we will be reunited with them one day!
Blessings,
Robyn
August 20, 2011
0

found this helpful
Aww...
Voldo had such a handsome face. I know that your heart is broken and you miss your fur-baby terribly. We have gone through the same thing with our pets because they are true members of our family. I know he is running and playing now that he has crossed the Rainbow Bridge. Please take care of yourselves.
August 20, 2011
0

found this helpful
One look at your Voldo and anyone can easily see what a magnificent dog he was.
It's never easy losing a much loved pet and it's very clear how much he was loved. It's a shame our pets have fairly short lives but even so their memories will last a life time and when your life time is over, you will once again be together.
All dog owners feel your loss because it's something we all go through with our own pets. Always remember that he left his paw prints on your heart!
August 20, 2011
0

found this helpful
This has to be a very difficult time for you, but if you can believe there is another life waiting for us, then you already have some consolation in the truth of being reunited with a very happy and healthy Voldo one day.
We've faced this too many times, but our hearts are full of holes like a sponge and they are able to soak up more love each time we face it again. Thanks for all you've shared with us.
August 21, 2011
0

found this helpful
My deepest sympathy goes out to you. I remember when Voldo's story was posted a while back, you got my vote then, as now. I understand what you are feeling as I have been through this many times, too. He will always be in your hearts. May you find comfort in happy memories. Sincerely, Rose
April 21, 2012
0

found this helpful
I'm so sorry to hear of Voldo's passing. Our beloved pets bring so much joy when they come into our lives. The grief is profound when they leave us. Rest in peace, sweet Voldo. I know my Kato the Wonder Dog and sweet girl, Maggie May, were there to meet you at The Bridge. Hugs to your family.
Grandma Jan