How can I make a white cake mix into a chocolate cake?

Trish from CT
By VOcarlton
Ad
---
By (Guest Post) 05/20/20080 people found this helpful
Check out the answers on this post:
http://answers.yahoo.com/question/i ... qid=20080103194501AAzZIx8&show=7

and for an estimate on how much cocoa to add check this:
http://busycooks.about.com/od/homemademixes/r/cakemix.htm
it says: Chocolate Cake

Add to the batter after initial blending:
2 Tbsp. milk
3 squares unsweetened chocolate, melted
3 Tbsp. cocoa powder

On the Duncan Hines site it says to add 3 sifted Tablespoons of unsweetened cocoa to the mix..but they were referring to Angel Food White Cake to choc.

I have added strong brewed coffee in place of the water called for on cake mixes and it seems to boost the chocolate flavor. I haven't used a white cake mix for years...I usually get a yellow mix so I don't remember if they use egg whites only...but I would use the whole eggs if you do a choc version...most full cake mixes call for 3 eggs.

I think those recipes that you also add a box of instant pudding to the cake mix...usually for bundt cakes...would up the chocolate factor too. Let us know what you do and how it turns out. I might try it with a Yellow mix sometime. Good luck!
By KL 3 554 05/21/20080 people found this helpful
sorry...that post below (or would it be above?) was me. didn't know I wasn't logged in.
By Trish (Guest Post) 05/21/20080 people found this helpful
Thank you so much for your feedback. Unfortunately, I had to have this ready for last night, so I just had to wing it. I had some sweetened bakers chocolate in the cabinet so I knew I could use that I just wasn't sure how much. I was afraid to make the whole cake chocolate because I didn't really know how it would turn out. I ended up making the white batter per the box directions, then I melted 3 squares of chocolate and combined it with 1 cup of the white batter. I dropped it in clumps, 1/2 cup into each pan, and then swirled it with a butter knife to make a marble cake. It came out beautifully, thank goodness. This was a birthday cake for my nephew, and it was delicious.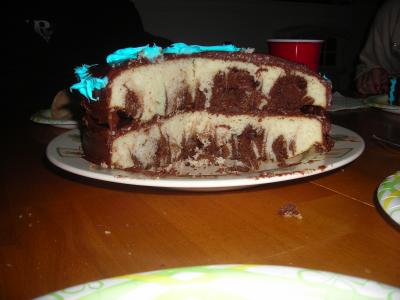 By Fay (Guest Post) 05/21/20080 people found this helpful
Try using a 3 oz. box of dry chocolate (not devils food) instant pudding mix to your batter. That works for me.