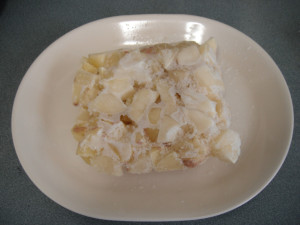 I have yellow potatoes laying out in my garage and we have 3-4 inches of snow on the ground and they are all frozen. I need to know if I can just keep them frozen and put them in bags and into the freezer. I really don't want to waste them. The cold weather kind of just came on faster then I was expecting.
By Stacey from South-West VA
Answers
Best Answer
I had a sack of potatoes that was left in the car, when they were brought in they started to get soft and because I didn't want to throw them away I put on a kettle of water and cooked them. Because they turned out good I don't see any problem to put yours in the freezer for a short time. I would not let them thaw out before boiling though. I could not tell the difference after they were boiled in their skins. I was so very glad. I hope this helps

December 12, 2010
3

found this helpful
Best Answer
Yes, you can just put them in your freezer and take out what you need as needed. It's not really any different than buying already frozen potatoes at the grocery store.
Or, you could cook them, mash them for mashed potatoes, and then freeze them in serving sizes and use as needed.

January 2, 2011
2

found this helpful
Best Answer
Potatoes frozen one time can be used. After frozen more than once and rethawed they turn mushy grey and taste terrible. Best to cut them up while still semi frozen, blanch if not going to use them right away, dry them quick and freeze loosely on cookie trays as french fries, homefries, etc. Place pieces in bags and freeze right away. Mash and freeze immediately. Don't add anything else to potatoes.
January 21, 2016
3

found this helpful
Best Answer
Same thing happened to me. I used them for mashed potatoes. Peeled them cut them and boiled them mashed them. Put the rest of them back out side and tomorrow make potato bacon soup with cheese.
Don't let them thaw or they will be bad.
Answer

this Question

What can I do with raw potatoes that have accidentally been frozen for about four months?
Answers

March 27, 2017
2

found this helpful
Best Answer
First - do NOT thaw as this will make them unusable.
Second - you do not say what type of potato or if they are clean so if they are unwashed then scrub them while still frozen but have boiling water ready.
You can drop them in boiling water for the amount of time (keep checking) they need to cook according to the size. These can be used in many ways; mashed, hash browns/home fries, soups, stews (just remember they are already cooked).
If the size is correct, you can cook them in a 400-degree oven (frozen) for about the same length of time for an unfrozen potato. This will work and the potatoes usually turn out very well. Just remember to place something under them as they will drip and could make a mess.
msjodiwms
Bronze Feedback Medal for All Time! 182 Feedbacks
March 31, 2017
2

found this helpful
Best Answer
Boil the potatoes in salted water, allow to cool, peel, then mash the potatoes, add 1/4 chopped onion, one beaten egg, one love minced garlic, 1/4 cup flour, 1/4 cup cornmeal, salt and pepper to taste. Form into patties and fry in saute pan in 1/2 cup pil until golden brown on each side, drain on paper towels.
Enjoy with fried chicken, bbq meats or breakfast meal of bacon or sausage, eggs, stewed apples. Enjoy....
Answer

this Question

I froze a bag of potatoes by mistake. Can I use them?
By deb from Bismarck, ND

Answers

January 27, 2010
0

found this helpful
Best Answer
Raw potatoes or potatoes in combination dishes such as soups and stews do not freeze well. Upon thawing and reheating, they tend to disintegrate. If you are preparing a combination dish for freezing, omit the potatoes and add them instead during the thawing/reheating process before serving.
You might try making mash potatoes with them.

(Guest)
Gold Post Medal for All Time! 846 Posts
January 29, 2010
1

found this helpful
Best Answer
You most certainly can still use them! Cook and mash them and re-freeze in individual containers for future use for potato pancakes, dumplings, seasoned mashers, etc, etc!
Answer

this Question
I left a 15# bag of potatoes in the car and they froze. I brought them into the house and they thawed and now are leaking fluids and are spongy. Are they still edible for mashed or frying?
By Dianna E.
Answers

Mina
Bronze Feedback Medal for All Time! 146 Feedbacks
January 17, 2014
1

found this helpful
Best Answer
This happened to me once too. I cut them in large pieces, microwave cooked them with the skins on, drained the excess water then peeled them. I puree'd them and froze several bags, each one enough to use as the base for a creamed soup. Worked fine.
Answer

this Question