September 19, 2008
0

found this helpful
This could be due to loose stools when she goes number two. If you are feeding your cat wet cat food, try adding more dry cat food. Try to avoid milk.
Your cat may have a lot of fine hair around that area and so the cat is prone to getting poop stuck to it. The cat would probably really appreciate it if you were to help the cat out by possibly combing it out if it isn't stuck to close to the cats skin.
Sometimes this occurs with my dog and if it isn't a lot and is simply stuck to some of her hair, I will comb her, carefully by holding the base of her hair closest to her skin and start the combing at the end of the hair and back.
I have cut out poop that was stuck in her hair. It was a small enough amount that the cut hair wasn't even noticeable.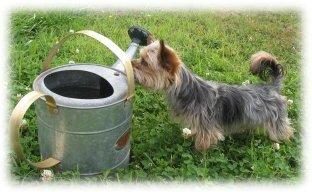 September 19, 2008
0

found this helpful
My cats have had the same problem lately. My husband has been giving them milk even though I have told him not to. I take a wet wash cloth and wipe their bottoms. Sometimes it takes several time. Sometimes you just have to cut it out. Either way they do not like it!!