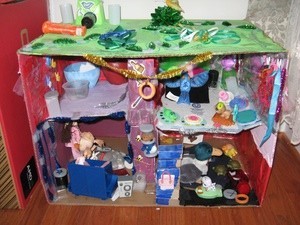 My daughter, Eryn, created her own recycled doll house out of recycled items from around our home. Large cardboard box for the house, cereal boxes as dividers for the rooms, lids, wrapping paper for wallpaper, bows, glitter glue and paint, plastic applesauce containers for a table, medicine box for a bed and cotton balls for pillows and many other cool ideas. Recycling is contagious!

By Wendy S from Coopersburg, PA
By Wendy Somers
Ad
---
Feedback Forum
Feedback about this article is posted here. Want to contribute? Click above to post feedback.

By Connie P. [26]08/30/2009
I lived in Indiana and went to a one room school house for 3 years. Our teacher had 6 grades to teach and it was during the late 40's and times were hard. She made us a doll house out of cardboard and we loved it. This reminded me of her. Thanks for the memories. Connie

By Spideywomanrg (Guest Post)11/13/2008
Wow! That sure beats buying from the store! I wanted to make something for my 3 years old and my 9 years old. Now I got almost everything that I see in the picture, I'm ready to make it really pretty for them for Christmas! Go Frugal!

By (Guest Post)11/12/2008
I think those little plastic things they put in pizza boxes sometimes would make a great table! Very cute house!

By Kerry Browning [2]11/12/2008
So creative. Your little girl will probably never say, "I'm bored." The photo stimulated many fond memories of doll houses constructed out of boxes. Wash cloths made great bedspreads on beds made of stacked books.

By Pat M. (Guest Post)11/12/2008
How adorable! My sisters and I did the same thing when we were children back in the 60's! We used discarded checkerboards for the floor of a room; tape dispensers lying on their side as record players..along with gum machine prize "records" to play on the record players, individual cereal box "beds", etc. What fun we had and what creativity was fostered along the way! I'm so glad to see children still doing this!

By (Guest Post)11/12/2008
I love it, I love it, I love it! I used to do this with my kids when they were young. They grew up to be very creative and innovative adults. Kudos to you!
Post Feedback
Add your voice to the conversation. Click here to share feedback.