Harlean
Bronze Post Medal for All Time! 148 Posts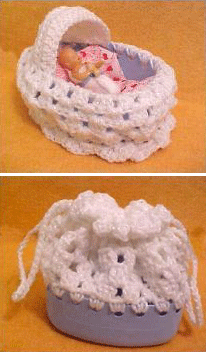 This is also sometimes called a Church Purse. It is crocheted using a dishwashing detergent bottle for a base. Any oval bottle will work. When it is closed it is a purse, and opened it is a baby cradle.
Supplies:
Detergent bottle, oval shape
3 ply yarn, baby or sport
3 inch baby doll or size to fit
Scrap of fabric for a blanket
Heavy Duty Shears
1/4 inch paper punch
Crochet hook size F
Instructions:
Remove label from bottle and cut 2 inches above the bottom with heavy duty scissors. Punch holes around edge of bottle, approximately 1/4 inch apart.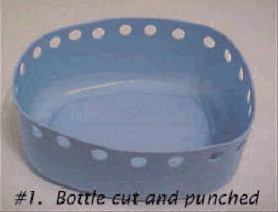 Using crochet hook, size F, crochet the "Bonnet" first.
Ch 2. Make 7 HDC in first Ch. Ch 2 and turn. (Ch 2 counts as first HDC in next row).
2nd Row: 2 HDC in 1st st. 1 HDC in next 4 sts, 3 HDC in last st. Ch 2; turn.
3rd Row: 2 HDC in 1st st. *HDC in next st. Repeat from * across, ending with 3 HDC in last st. Ch 2; turn.
4th Row: HDC in each of first 3 sts. 2 HDC in each of next 6 sts. HDC in each of last 3 sts. Ch 2; turn.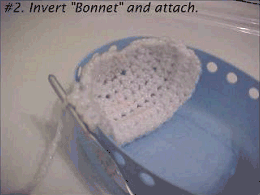 5th & 6th Rows: 1 HDC in each st across. Ch 2; turn.
7th Row: 1 DC in each st across. Do not end off.
Invert the bonnet into bottle as show in photo. Make 2 SC in each hole around the edge of the bottle, catching the edge of the bonnet as you go. Join with a Sl St.
2nd rnd: Ch 2, 2 DC in first st. * Skip 2 sts; 3 DC in next st. Repeat from * around. Join with Sl St to top of first shell. This row is the base row for the shell st pattern.
3rd, 4th, & 5th Rows: 3DC in each space between shells. Repeat ending each round with Sl St to op of first shell.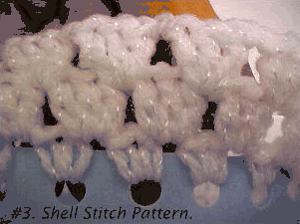 6th Row: (Beading Row) Ch 3 *sk 2 sts. HDC in next st; ch 1. Repeat around. Join with Sl St to top of Ch 3.
7th Row: in first ch 1 space make 1 SC, 1 HDC, 1 DC. In next ch 1 space, 1 DC, 1 HDC, 1 sc. Repeat around. Join with Sl St.
Make 2 Drawstrings: Ch 85 and end off for each one. Thread through the beading row beginning each string from opposite sides, and knot the ends. You may attach pompoms to hide the knots if you wish.
Click here to download PDF instructions.
By Harlean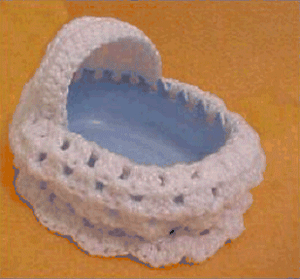 Read More

Comments

I am looking for a pattern. White Clorox gallon jug cut out on top to make a doll cradle. It had a draw string skirt so it could be closed to look like a hand bag? Any help out there?

Answers

August 13, 2007
0

found this helpful
hi, did you try googling it?
By Dolly (Guest Post)
August 15, 2007
1

found this helpful
I make these doll baskets and have had many requests for them. i use any plastic bottle. Just cut bottle about 2-3 " up from bottom. Punch holes about 1/2 " apart. Crochet into the holes and all around then double crochet till it is approx.
3 - 4 ". Put in draw string in from each direction, I use the narrow satin ribbon, as it pulls easier for little hands. the hardest part and most time consuming is getting the label off, any suggestions. jesylalso at yahoo dot ca
By (Guest Post)
August 22, 2007
0

found this helpful
Any pictures> LOL I can't wrap my head around this.. but it sounds cute!
By Melba (Guest Post)
January 20, 2008
0

found this helpful
There is an actual pattern that was in a Magazine at one time I believe. Not sure which issue of the magazine, but I made several of them and they made up very cute. You can contact me through sending me an email via the web page www.teddybearstolove.com Fill out the form for contacting us. I would be glad to look for the pattern and send it via email to you.
Just go to the web site and click on Contact us. Fill out the form and in the message area tell me that you want this pattern, click submit and then click on done and I will send it back to you via email with instructions and a photo. Only email request for this will produce an actual written request and will get processed. Hope this helps.

February 16, 2019
0

found this helpful
Hello, a small gain fabric softener bottle is a perfect size and the label is paper over a white base, it is very sturdy, smells great, and is a bit bigger than an ivory dish soap bottle, an easy way to get the sticky off of a bottle is to mix vegetable oil with baking soda and make a paste, use a damp cloth and a scratch free scrubbie the blue ones made by scotch brite.
Answer

this Question