Can someone tell me what that plant is in the picture with the old boot planter. I know it's a type of cacti but from there I'm stumped. Here's the picture.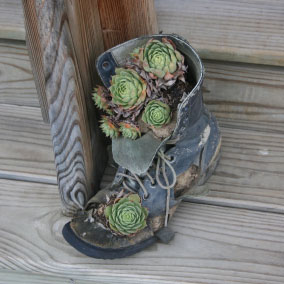 I'm an artist and I did a tryptich of cacti plants. I'll add the a pix of the drawing. Here's the drawing.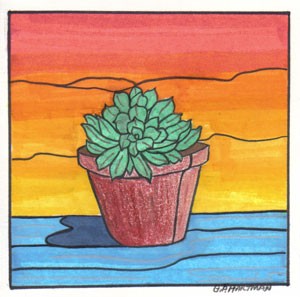 Thanks,
Gayle from Queen Creek, AZ
By Gayle
Ad
---
Recent Answers
Here are the recent answer to this question.

By sue (Guest Post)11/05/2008
What do I do with them for winter there in a hens and chicks planter? Thanks

By (Guest Post)08/17/2008
Can you take the babies off and put them in dirt?

By PEGGY ROGERS. (Guest Post)07/17/2007
I HAVE MANY OF THESE PLANTS. I HAVE ANOTHER TYPE OF HEN AND CHICKEN . I HAVE ALWAYS CALLED THEM HEN AND BITTIE. I SAW IN A BOOK THAT YOUR TYPE CAN GROW REALLY,KEALY BIG . REALLY BIG. I HAVE ONE PLANTED IN MY YARD NOW.JUST TO SEE HOW BIG IT WILL.GET.

By kseahag (Guest Post)03/13/2007
It's called hens & chickens

By Ann (Guest Post)03/13/2007
Just alittle laugh My son "watered" my mothers hens and chickens with gasoline. They still thrived
By Penny Stoehr [29]03/13/2007
Guess you know by now their Hens and Chickens. They thrive ANYWHERE. I love them.


By Valora (Guest Post)03/13/2007
The plant is called hen and chicks and grows really good in St. George, and Arizona.

By Ariela [33]03/12/2007
its true you cant kill the Hens and Chicks plants. A friend gave me a box full and I forgot and left the box under the back steps all summer, and boy it was hot! Well in the fall there they were all grown up together with NO dirt around them, and up thru the center grew a new moma plant just as pretty as you please. So I put then box in the shed and plan to plant them here in a couple weeks lol

By (Guest Post)03/12/2007
Hi Melody, It is indeed Hens & Chicks from the Stonecrop family, just one of the many interesting Stonecrop varieties that thrive in drought tolerant locations.

By melody_yesterday [228]03/12/2007
like everyone else said already : hens & chicks :) very cool planter too !
http://davesgarden.com/pf/go/54606/index.html

By Michelle Anglin (Guest Post)03/12/2007
We've always called them hen and bitties! They are practically kill-proof.

By Mary Ann. (Guest Post)03/12/2007
It appears to me to be hens and chickens. It will reproduce small ones out to the sides hence the word chickens

By (Guest Post)03/09/2007
Chick & Hens are what we call them also. You can't kill them. Go ahead-try! My brother dug some up from his yard for me and left them by my backdoor in a 5 gallon bucket. They sat there all through a New England autumn and winter. I puled them out from under 6 inches of leaves the next spring and there they were-ready to go! I've always had them at every house I've lived in. They'll grow practically anywhere.

By Paula [14]03/09/2007
I, too, have always called it Hens and Chicks. When I Googled, I found the latin name: Sempervivum Tectorum...I would much rather ask at the local greenhouse for Hens and Chicks, much easier for me to say. They are a succulent, evergreen perinnial, and they grow well in very poor conditions like sandy soils and hot areas. I have had them at every house I have lived at (seven) and if they weren't planted by the previous owner, I planted my own. They are a good plant to have for someone that doesn't have much time to care for plants, or someone that doesn't even have a green thumb!

By Michawn [18]03/08/2007
Looks like what most people call Hens and Chicks. It's actually a succulent more than a cacti. Now you would think that I would know more about it since Cacti is the only thing I can really grow. Either way, you can make more of them by snapping off one of the newer growths and placing it in Cactus potting soil or even sand.

I know that wasn't specific, but I am upstairs my cactus books are downstairs and I am off to bed! But if you don't have any answers tomorrow I'll check up on it for you!
Answer This Question
Add your voice to the conversation. Click here to answer this question.