How do I make a cross stitch pattern bigger so instead of doing it on 18 I can do it on 14?

Joyce
By guest (Guest Post)
Flag
September 24, 2008
0

found this helpful
Both of the other answers are correct. As long as you make sure you have enough fabric for the design to fit with extra around the sides for framing, the pattern remains the same no matter what size fabric you use. Make sure you use two threads so that the design will fill in nicely.
Have a relaxing time on your project.
September 24, 2008
0

found this helpful
If you take the number of stitches in a pattern (200X200) and divide each number by the count of your fabric you will get the size of your finished project. 200 divided by 18=11.1 X 11.1". Divide the 200 by 14 and you get a project that is 14X29" x 14.29". When you cut your fabric make sure you add the extra inches on each side for framing purposes.
September 24, 2008
0

found this helpful
You can make any cross stitch pattern the size YOU want it to be. That is where your own individuality shows. :) Change the color of your fabric, and still use the colors designated for the Floss. It will look entirely different from the pattern. Darker fabric really does look good.
Your pattern will give general guidelines about the size of the fabric. Choose the fabric that has the "count" that you want. The larger the number, the smaller the per inch count . The 18' fabric will make a smaller picture than say a size 12" fabric. If this is difficult to understand, either ask someone who does Cross stitching at JoAnn's, or another crafting store. Or find a book that can explain things easier. Sometimes SEEING how things are done, makes more sense to me.
Take the Fabric, fold it in half, crease the fold well with your thumbnail. Then fold it again, ( now its in 1/4ths) crease the fold very well using your thumbnail.
Unfold the fabric......you will easily see where the center of the fabric is. Place your hoop there. Start your pattern in the middle.....middle of the fabric and middle of the pattern.
Hope this helps you......
September 25, 2008
0

found this helpful
The thing you most have to be aware of is, as has been said, when you change your fabric size down, ie changing 18 count to 14 count for example, the size of the finished project will bigger. Therefore the piece of fabric in the different thread count will have to be bigger. Go by the size of the project, usually given as so many stitches wide by so many stitches long. I love cyberstitchers.com as you can get great advice there and they even have printable graph paper in common thread counts so you can design your own cross stitch and an area where you can download a picture from your computer to graph paper in a thread count you like and print it as a cross stitch graph.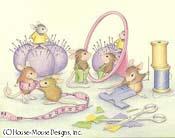 By guest (Guest Post)
Flag
January 31, 2009
0

found this helpful