Organizing your sewing thread can reduce the clutter in your craft area, help you keep track of the colors and types you have, and help you prepare for your next project. This is a guide about organizing sewing thread.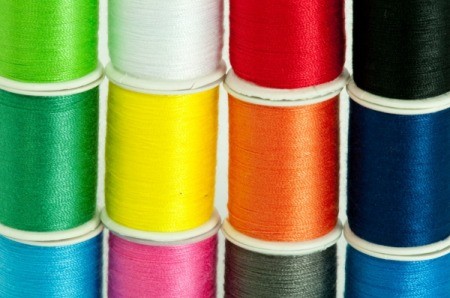 Debra Frick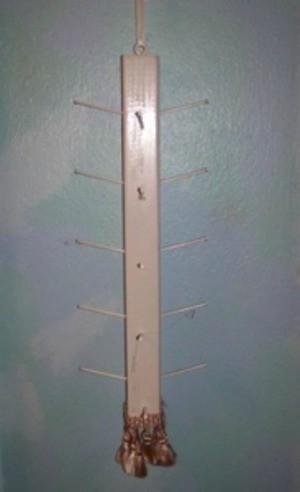 Here is a nifty gift for the sewer that has everything. This thread tree hangs flat on a wall and can be hung up above a worktable or a sewing machine. It took my husband about 20 minutes to build and it will become a great gift for my friend Susan who does a lot of sewing in her drapery business. For drapes she uses big spools of thread, but for the hand sewing of hems and repairs she always has lots of little spools that she never quite knew how to keep handy. I know this will do the trick. Also if you want to make several check your local cut off bin at Lowe's or Home Depot. I figure this one cost me about a $1.25 to make.
Materials
1 13 inch piece of 2 by 2 lumber
15 2 1/4 finishing nails
1 eye screw
spray paint and trim
ribbon
Tools
Instructions
With a saw, cut a 2x2 into a 13 inch length.
With drill, drill holes 2 1/2 inches apart at a slightly downward angle.
Gently hammer in your nails.
With drill, drill a start hole for your eye screw. Screw in your eye screw.
Next you spray paint and then you can then add a trim to the top or the bottom your choice.
Run your ribbon through the top in your eye screw and you are done.
I need a solution for organizing thread and keeping it untangled.
By Denise
---
Most Recent Answer
By Frugal Sunnie 11 1,695 Flag
September 22, 2011
I've got mine organised into shoe boxes. I use a twist-tie from bin liners to attach the bobbin to the spool of thread, and try to organise the colours by shades with a card taped to the end of the box for quick selection.
---
Keep spools of thread out of the way, but in plain view, by making this easy wall organizer. Cut a piece of plywood to the desired size and attach wall hangers on the top of it. Then cover the plywood with 1 1/2 inch headless nails (finishing nails work great). Position the nails at an angle so the thread spools don't slide off. Draw a grid to space the nails evenly.
By HerkDia 35 132
I love to sew and have quite a collection of threads. My previous boss retired after she discovered she had breast cancer. To help her through the loss of hair from chemotherapy, I made her head scarves of various colors and designs.
To do this, I increased my supply of serger thread cones and needed a way to manage them since the serger uses 4 cones of thread. I just purchased a plastic storage box from the local office supply store and the cones fit in perfectly. Now they are organized by color and in a covered, see-through box. My smaller spools of thread are also now in a smaller plastic, covered box for easy access with colors matching.
By HerkDia from Baltimore, MD
I have my thread organized by color in antique thread drawers from an old dry goods store. Before this, however, I had them in clear plastic shoe box containers, also organized by color. Either way works well because I can easily see when I'm running low on a specific color.
Also, in my studio space, I have old wooden soda crates nailed to the wall in which I store my cone thread. It is protected somewhat from dust and lint and still quite visible and accessible. It also adds visual interest to the wall!
By Romi from Norwood, NY
To keep your cross stitching, embroidery, or other craft thread from tangling up when not in use simply cut up a plastic milk jug into small squares, put notches on the sides, and wrap your thread around. It keeps your thread together and you reuse your milk jug.

If you cut the squares small enough, you can store them in old, unused slide boxes.

By Heidi