Does anyone know how to 'MAKE' a bath scrubby? (those kind you use to wash yourself with) I just want to make my own because all I find around are too
small! Thanks.

Ruth P. from Greeley, CO
Answers
Please be sure to rate the answer which works best for you. Do you have a better answer? Click above to answer this question.

By MCW04/27/2011
http://www.associatedcontent.com/ar ... de_bath_and_shower_puffs.html?cat=69

I wanted to know how to make the shower puffs myself and found this pattern on the internet.

By Wanda (Guest Post)04/30/2008
Get some material & cut it into strips & then crochet it into the shape that you want your scrubbie.

By thriftmeg04/30/2008
I agree with Linda, get a few of the smaller ones and attach them together, best way would probably be by hand sewing using some thread that is waterproof like fishing line or a double length of dental floss. Or failing that, get some dollar scrubbies, undo them and sew the lengths of fabric together at the short ends, then do a basting stitch along one of the long sides(knot each end, do it loosely) Then grab one. knotted end and pull until it gathers. Once it is puffy enough for you, tie your ends with a couple of good knots.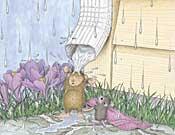 By Linda (Guest Post)04/29/2008
I don't have an exact answer for you, but have you considered taking 2 or 3 of the smaller scrubbies and hooking them together somehow?
Answer This Question
Add your voice to the conversation. Click here to answer this question.