Does anyone have a pattern for knitted or crocheted booties for a dog? Thank you
Ad
---
Recent Answers
Here are the recent answer to this question.

By Diane Sturgess [2]02/23/2011
For knitting patterns try the sister site:
http://knittingpatterncentral.com/directory/pets.php

By Faith Holcombe09/25/2008
Cast on 20 stitches of 4 ply yarn on size 7 needles. Knit the middle 10 with double yarn. Knit in garter stitch for 2 1/2". Tie off 2nd strand of yarn. Knit 1" in stockinet. Cast on 10 more stitches to make a tab. Knit 6 rows with these stitches added. Bind off those 10 stitches. Knit 2" . Cast on 10 stitches for 2nd tab and knit 6 rows. Bind off those ten. Knit one more inch and bind off. Place the two sides together at the bottom and attach to the middle of the bottom row. Sew up to the beginning of the stockinet stitches. Sew Velcro on tab ends and on bootie to fit your dog. This fits a Sheltie sized dog and is an original design of mine since I could not find one on the internet. Faith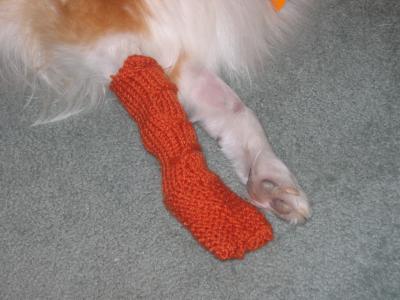 By Janice C. [18]10/02/2007
The crochetpatterncentral website is adorable, but will a dog leave the booties on for long? Please send us a photo when you get them made.

By mcw [80]09/30/2007
http://www.crochetpatterncentral.com/directory/pet_items.php

Crocheted dog booties are on the website.

Marge from NY
Answer This Question
Add your voice to the conversation. Click here to answer this question.