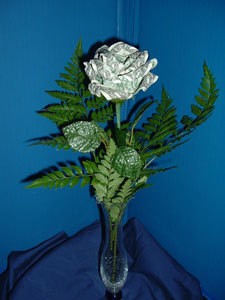 A single rose is an elegant gift, no matter what the occasion. I have been making these since the early '70s.
Materials
5 or 6 new dollar bills (depending on how full you want the rose to appear)
24 gauge wire
wire cutters
short length of 1/4 inch dowel
floral tape
rose stem
rose calyx from an artificial rose
Instructions
Fold all bills in half.
Assemble the center of the rose. Fold each half of the dollar bill over 1/4 towards the middle of the bill. (See photos 1-3). Pinch the bill from the outer edges in an accordion style. (See photo 4). The bill should look like a bowtie. Secure the center by twisting a 4 inch piece of wire around the center. (See photo 5). Gently bend fanned bill edges towards the center. (See Photo 6). Gently roll corners towards the center of one side to form a fluffy cone shape. (See photo 6-7). Shape other side of bill around cone to form a rose center. The rose center is now completed. (See photo 8).
Create the rose petals. For the rose petals, hold the corners of the GREEN side of the bill. Tightly roll each of the corners around a 1/4 inch dowel. (See photo 9). Roll each of the 4 corners of the dollar towards the dollar center, crimping each corner as you go. (See photos 10-13). Pinch the center of the bill into an accordion style, then secure with a 4 inch piece of wire. (See photos 13-15). You'll need to cup each of the rose petals, and keep them very tightly secured. (See photo 16). Begin with the center and add petals around the center. Make sure that the base of each dollar is very close to each of the other twisted wires. (See photo 17). Make 4 or 5 more petals, depending on how full you would like the rose to be.
Making the rose stem. Place the rose calyx over the wire into an upright position. Place the artificial rose stem alongside the wire and wrap with floral tape. Your rose is finished.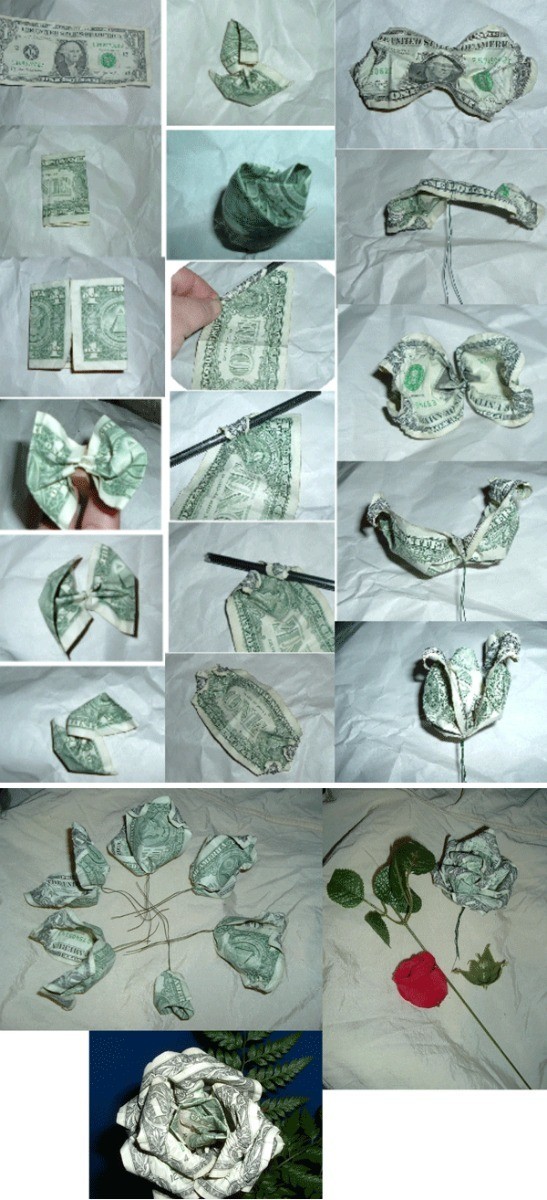 By Babbie from Lemon Grove, CA
By guest (Guest Post)
May 9, 2008
0

found this helpful
Awesome project! Thanks for the idea
May 9, 2008
0

found this helpful
This looks like a great project for gift giving. My aunt made something similar (tree) for her grandsons for Christmas. I will send her this one for her grand-daughters. Thanks,
May 9, 2008
0

found this helpful
Who knew? I really am amazed.
By guest (Guest Post)
May 10, 2008
0

found this helpful
Don't know if i have time to do this for my mother before tomorrow, but if I don't, I will try to do it by her birthday on this coming Wednesday. She's stuck in a nursing home, but had a good life with lots of money, and
had most everything she ever needed/ wanted including every known flower (fresh, silk, exotic, dried, potted, cut, you name it) except a dollar-bill flower!
I have so little money that I really could not buy a single decent gift for either occasion, and yet I'm crafty/ artistic and may be able to sacrifice a few "one" bills for her. She will be absolutely amazed since she is not at all crafty, having been busy earning her money all of her life. She has never appreciated what she called, "home-made" crafts my grandmother and I made her, but this one, under the circumstances, will be a great solution for the one who has had most everything under the sun. God bless you. : )
May 10, 2008
0

found this helpful
The instructions and pictures are a little hard to follow. Here's another site for reference:
May 13, 2008
0

found this helpful
Lynda
I hope you were able to make the rose for your mother. I've been doing these for so long they take me less and 20 minutes per rose.
Jack
I make my rose a little differently than that website. Be sure to push your rolled corners together so they crinkle. Trying to put
Action into words is not as easy as you think.
This bouquet had $380.00 in it.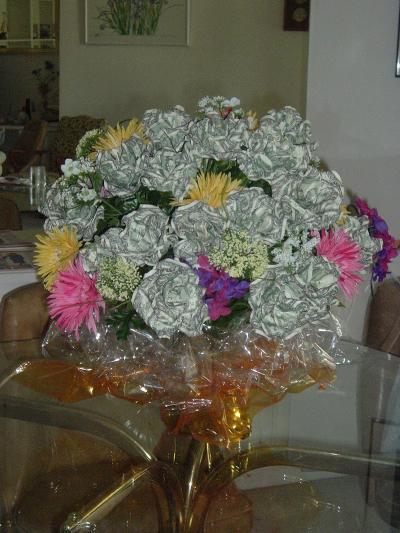 By guest (Guest Post)
May 13, 2008
0

found this helpful
I just made two of these as class gifts for my son's teachers. I tried some of the other instructions which are available (including the one listed below), but did not like how they looked in the center. This one is much better. If someone is having trouble following the instructions, it might help to go to one of the websites that has a video of how to make one (such as http://www.lisa /rose/index.html). After watching it, these instructions should make more sense. Thanks for sharing your awesome dollar bill rose.
By guest (Guest Post)
December 31, 2008
0

found this helpful
I haven't got started yet. I'm going to buy the material I will give you the feed back when I'm done. Have a great day.
By guest (Guest Post)
January 24, 2009
0

found this helpful
It is so amazing and looks really hard but it is not.
March 25, 2009
0

found this helpful
Nice idea, and pretty. I would just worry about how much trouble it would be to take apart if someone wanted to spend their money gift. Maybe making a tree would be easier. If anyone has an idea for this please let me know. Thanks!
Read More Comments