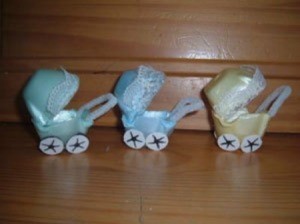 This baby buggy is made from styrofoam egg cartons and only costs pennies to make. You can sit them on the tables at your baby shower and fill them with mints or little candy.
This craft project only takes about 2 minutes or less to complete. Once you get started and get the hang of it it will take less time.
Approximate Time Two minutes or less
Supplies:
Styrofoam egg cartons cut apart
lace
pipe cleaner (less than 1/2)
heavy cardstock (wheels)
marker
hot glue gun and hot glue
scissors
Instructions:
First cut the egg carton apart. You need 2 egg holders for each buggy so you'll get 6 baby buggies from 1 egg carton. Trim the excess around the top of the egg holder.
Hot glue the lace on the top egg holder. Then hot glue the egg holders together on 1 side. Next bend the pipe cleaner so it looks like a handle for the buggy and hot glue the pipe cleaner on the bottom egg holder. The nice thing about these egg cartons is there are little indents for the pipe cleaner to fit perfectly inside the holder.
Trace small circles on the white paper and cut them out. These will be your wheels. Draw spokes on the inside of the tires with the marker. Hot glue them onto your buggy.
I only made boy friendly colors because my sister is having a boy this fall. I think pink buggies would look cute too.
By luv2craft from Normalville, PA
By guest (Guest Post)
July 11, 2007
0

found this helpful
These are so adorable! What a wonderful and clever idea!! Thank you for sharing it with us.
By guest (Guest Post)
July 11, 2007
0

found this helpful
I loooooove this idea! Thank you so much!
July 12, 2007
0

found this helpful
Very cute, easy, and affordable. Thank you for sharing.
July 12, 2007
0

found this helpful
Cool idea....simple and supplies are easy to get! Very cute and thanks for passing the idea around.~ Holly
By guest (Guest Post)
July 12, 2007
0

found this helpful
Such a cute and adorable idea, It looks so easy, thanks for sharing. Jamish
July 12, 2007
0

found this helpful
absolutely adorable
July 12, 2007
0

found this helpful
They TRULY are precious. At first I thought they were satin because they shine, but when I read they were egg carton crafts, I was surprised.
(Since you plan to eat something out of them that's not cooked, just be very careful to wash them well with 1/4 cup bleach to 16 oz. water and let it sit in them 10 minutes BECAUSE Salmonella is common among egg growers who claim to spray the eggs, but
they aren't perfect and you wouldn't want anyone to get that terrible illness that requires complete bed rest and lengthy antibiotics to cure IF they recognize it and get to it fast enough, within a day or so. I've had it, I know! It causes the worst cramping anyone can imagine, and almost uncontrolable bowels!) I have been saving colored cartons wondering how I might use them, often cutting them into tiny squares and adding to potting soil for drainage improvement, but I like this little craft BETTER !
God bless you. : )
May 11, 2013
0

found this helpful
They are so cute, I tried 3 times to cut & trim the eggs like the directions. I am not sure what I did wrong, but it does not look right at all. I have every one in my family saving egg cartons for me to do this project, but I may have to find a different favor to make. lol