Quilted Coasters
Make quilted coasters from 4 1/4 inch fabric scraps.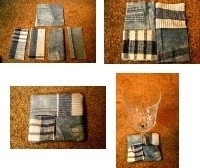 Approximate Time: 30 minutes
Supplies:
5 4 1/2 inch scraps of material
pins
sewing machine
if by hand, needle and thread
Instructions:
This can be done by hand or with a sewing machine.
Cut five 4 1/2 inch scraps of material. (Three of one color and two of a contrasting color.)
Lay one square right side up.
Fold the four remaining squares in half.
Pin two down with the fold to the center. (These pieces will meet at the center of the square.)

The two remaining squares will be woven in with all four "squares" meeting in the center.

Sew around the edge and turn inside out.
Your glass stem will fit inside the center opening.
When you see your results, you will sigh. They are cute, but I'm not sure how good your guests will be at using a coaster! Cute or not.
By Tedebear from San Jose, CA
By Tedebear
Feedback
Read feedback for this post below. Click here to post feedback.

By
11/04/2009
Love these! I just sent this link to my step sister who is a quilter and hinted that I thought these would be a nice Christmas gift ;-)
Post Feedback
Add your voice to the conversation.
Related Guides
Related Posts