I have a bad back and needed an easier, lighter way to water and feed my plants. I recycle my 1gallon plastic milk jugs for my garden.
I cut the top of the jug just wide enough to fit my hand in and punch four holes in the bottom of the jug. To hold the jug in place, use a twig or stick picked up from the yard and push it through one of the holes into the soil near the plant. Works great as I can add fertilizer to the jug and fill it to 1 gallon (the exact amount in the directions) and NO carrying or lifting water pails!
I do all my veggie gardening in recycled 5+ gallon buckets, which means more watering per plant. I can fill the milk jug to the top and move to the next plant knowing I've given the plant one gallon of fresh water that will slowly leak to give the root time to "drink" as needed.
By txrosee from Montgomery, TX
By tx
Ad
---
Recent Answers
Here are the recent answer to this question.

By Allison08/05/2010
I tried this for a slow watering concept, but the squirrels kept knocking them down!
Solutions: Using Milk Jugs in the Garden
Read and rate the best solutions below by giving them a "thumbs up".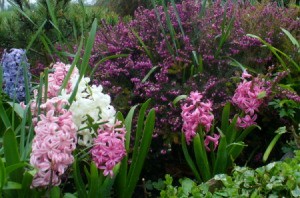 In the summer months, I have always kept plastic milk containers filled with water hidden behind group planters, so I do not have to go far when I water the pots. Now that we have a hosepipe ban, this is a good idea. That's why I want to share it with you. Fill if you want to with old washing up water or just add some feed.
Source: Keen Gardener
By ROZJUNE from UK
Give a "thumbs up" to the solution that worked the best! Do you have a better solution? Click here to share it!
Archives
Thrifty Fun has been around so long that many of our pages have been reset several times. Archives are older versions of the page and the feedback that was provided then.
I have found a very cheap way to water plants and vegetables. I cut off the bottoms of all plastic bottles, dig a hole next to the plant and set the bottle (neck side down) into the hole. Now when watering, or if it rains, it will fill up with water and water the roots at the same time. Thought this might save on water bills. Also we are not filling up the landfills at the same time.
By Jodi from Texas
---
RE: Use Milk Jugs For Garden Water Reservoirs
That is an excellent idea! I am out here in Oklahoma and during the summer months, it is very difficult to water the garden enough to get a thorough soaking down to the roots, which is where the plant needs it the most for optimal growth. I will start doing this from now on, thank you! (05/06/2008)
By Gina
RE: Use Milk Jugs For Garden Water Reservoirs
I just completed a crafts project today - I used plastic water bottles and had several left over. I was wondering what to do with them, and this is the perfect solution! I'm ready to start tomorrow, and thank you for the absolutely wonderful tip! I'm hoping I'll be able to post something just as useful as this at some point. (05/07/2008)
By KBlueyes
RE: Use Milk Jugs For Garden Water Reservoirs
Thank You! I have a small area about 4 feet wide the entire length of my garage that is on a slight slope. Just enough slope to make the water run downhill instead of seeping into the dirt. I give quite a few milk jugs to recycling each week. Now I can use them for this. Can't thank you enough! (05/07/2008)
By Debbie T
RE: Use Milk Jugs For Garden Water Reservoirs
Great idea! I live on a houseboat and we only have container gardens. I reuse my bath water for plants. I secured 2 hoses on my 2nd story balcony which go down to my ramp below. The hoses go into plastic buckets (old kitty litter buckets I liberated from the recycle bins), I use a funnel on top of the hoses. I reused (again) old kitty litter plastic containers to transfer the water to my balcony. (05/18/2008)
By Carolyn
RE: Use Milk Jugs For Garden Water Reservoirs
You are most welcome! This is just a small way to pay back all the good ideas that I have gotten from this site. I do rate this site above a 10. Each day I can't wait to see what everyone has written and I have learned so much from so many people. I also have started taking off both ends of my can goods (some you can not remove), and now have started putting those out in my garden also. It really does not matter what size of cans or plastic bottles you use. I am so glad I was able to pass on my idea and help some of you. Another idea that we try to do when planting a tree or shrubs, is to plant a pipe into the ground next to what you are planting. Leave enough sticking up so you can take the hose and fill it up to also get the roots watered. (05/19/2008)
By jodi.
We drink a lot of bottled water and I hate to throw away the plastic gallon jugs, it seems such a waste. Can anyone give me any suggestions for recycling them into something usable? I do have a vegetable garden and maybe they could possibly be used there?
By Samsonskola from Branson, MO
---
RE: Use Milk Jugs For Garden Water Reservoirs
Topsy turvy tomato planter: http://www.ehow.com/how_4857044_build-topsyturvy-tomato-planter.html
How to use plastic jugs in the garden: http://www.ehow.com/how_2108175_use-plastic-bottles-garden.html
Fix a rusted gutter with a milk jug: http://www.ehow.com/how_2276392_fix-rusted-gutter-using-plastic.html
Make a self-watering planter: http://www.ehow.com/how_4858175_watering-planter-old-milk-jug.html
More ideas for using milk jugs: http://www.ehow.com/how_4770509_plastic-milk-jugs-home-garden.html (04/28/2009)
By Anonymous
RE: Using Milk Jugs in the Garden
I know lots of people that use these jugs for gardening. Some as a protectorate for seedlings during windy weather and others as hanging garden planters. (05/02/2009)
By ctfagan
RE: Using Milk Jugs in the Garden
wintersown.org
Winter sow seeds in containers. It's a fabulous complimentary hobby to gardening. (05/02/2009)
By editornj
RE: Using Milk Jugs in the Garden
I have a use for the jugs, but not in the garden. We have had several storm related power outages this year and were without power for several days. Our water supply is from our well, so when the power is out, the pump can't work, so we have no water supply. We buy grape juice in clear gallon jugs, and I wash the jugs well, and fill them with water. I stash jugs in our bathrooms, kitchen, and in our pump house in out of the way places--like under the sink. I refresh the ones in the kitchen from time to time, so they are good for cooking and drinking, but the others are stored for flushing the toilet, washing dishes, washing hands, etc.
As they say, you never miss the water until the well runs dry. But I am prepared for that day. (05/02/2009)
RE: Using Milk Jugs in the Garden
I like to use mine for drip watering. Remove the top with a serrated knife so you can pour water in more easily Poke a couple of holes in the side, just above the bottom and partially bury the jug in between plants or rows. Fill with water and it will slowly seep out beneath the soil, keeping the roots watered without overdoing it. This works especially well during a long, rainless week.
You can also remove the top of the jug and turn it upside down over tender plants if the forecast calls for a cold night before the seedlings have been sufficiently hardened off. (05/05/2009)
By pollylev
RE: Using Milk Jugs in the Garden
Rather than use all our gallon milk jugs for the garden, hubby has used about three as homemade bird feeders. He cuts out the rounded thingie that's about halfway up from the bottom so the birds can get in there for the food. Then he uses a piece of wire to either attach the feeder to the fence (high up,) or to hang it from the tree. We can't figure out how to keep the squirrels out, but the birds are pretty good at chasing them off, lol! (05/05/2009)
By JustPlainJo
RE: Using Milk Jugs in the Garden
Use them as mini plant protectors in areas where frost is likely in the spring; cut the bottom out of the milk jug and cut open the top and bottom part of the handle. Place the jug over the plant and secure the jug from blowing away by inserting a long stick or dowel through the handle and into the ground. Keep the lid off on warm days and cap it for cold nights. This allows you to get the plants in the ground earlier and the extra heat really helps them get more established. (05/06/2009)
By karilynn
Answer This Question
Add your voice to the conversation. Click here to answer this question.