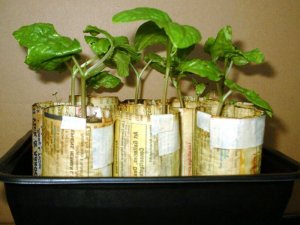 I find that egg cartons and pudding snack containers do not provide enough space for proper root formation of indoor seedlings. I make my own containers with no more than pages from an old phone book and masking tape.
The size I want the finished "cell" to be, will determine whether it will be 1, 2, or 3 pages thick. It will also determine what I choose to wrap the pages around before taping edges and formed bottom together, and then sliding off. The finished cells are placed in suitable containers such as frozen food trays, filled with my homemade potting soil, planted with seed, watered, and placed where they will receive as much sunlight as possible.
Pros:
You can make a variety of sizes.
All components are free.
Plastic is kept out of the landfill.
Easy to do.
Container and all can be planted (break open bottom a bit first).
You feel good about what you've done.
Cons:
There are none.