Riley (Bernese Mountain Dog)
Riley is our 5 year old Bernese Mountain Dog (possible Mix) and was rescued by a local animal shelter. He was neglected and starved (weighing only 55 pounds and completely bald on his belly). We adopted him 6 months ago and he has been an amazing addition to our family - we love him!
He LOVES to go on walks and play hide-and-seek in the house. Now that Riley has joined our family, he is a happy and healthy dog. He has long hair everywhere (including on his stomach where he had been bald) and weighs in at a more healthy for his breed 95 pounds. He loves playing with our 2 cats and just hanging out with us, and we love hanging out with him too. How could we resist this adorable face?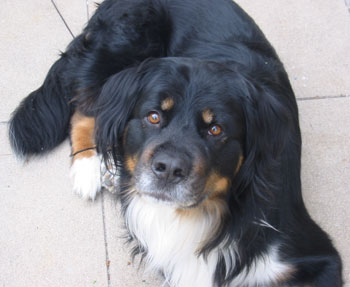 By Caroline from San Diego, CA
Feedback
Read feedback for this post below. Click here to post feedback.

By
08/05/2009
He has an astonishingly switched on look behind his eyes! I'd guess he knows how lucky he is to have you! God Bless you for giving him what he deserves! Ann

By
05/18/2006
Berners are wonderful pets. I see them in all of the restaurants, bars and stores in Switzerland - from where they come.

If you go to Switzerland and apply for one with a breeder, it can take up to two years to get your pup.

What a lucky find for the both of you!

Thank you so much for sharing his story. He does look like a mix, but the Berner is predominate.

Jennifer
Northern Virginia

By Linda, Las Vegs, Nv. (Guest Post)
05/17/2006
Rescued animals definitely make the very best pets. The really appreciate the help and love that they receive. People should take lessons from animals and the term unconditional love. Just love him and he will return it, no question.

By
05/16/2006
Oh what alucky doggie and how pretty. Lucky to be in
my hometown (pacific beach) and to find a loving home

By Mary (Guest Post)
05/16/2006
Riley is a handsome one! The best dog we ever had was a rescue that had been abused. He was so loving after we let him know that he was "safe" with us and we had the joy of loving him and him loving us for 11 yrs. He was a retriever mix. Enjoy Riley for as long as you can.

By
05/16/2006
What a beautiful boy. That picture just makes me want to curl up in his fur. He really is beautiful. I hope you all have many wonderful years together. The cats too. LOL

By Malinda/Pa (Guest Post)
05/16/2006
What a handsome boy. Thankyou for rescuing him. Shelter animals are so special, they seem to know that they got another chance. It is sickening to me how anyone can abuse these poor animals.
Post Feedback
Add your voice to the conversation.
Related Guides
Related Posts