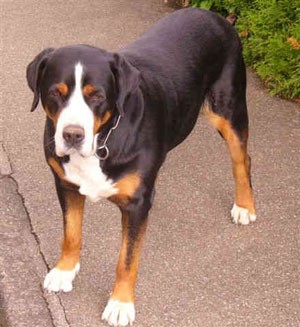 Breed Description:
The Greater Swiss Mountain Dog has a broad, powerful chest, sturdy, muscular body and beautiful tri-colored markings. This good-natured breed was originally developed to help with farm work such as guarding livestock and pulling carts to market. Today, the "Swissy" is noted for its patience with children and its calm and gentle nature.
Group: Working Group
Purpose of Breed: Pulling farmer's carts
Country of Origin: Swiss Alps
Average Size: Ranges from 23.5-28.5 inches and 130-135 pounds
Color(s): Tri-color: jet black with rust and white markings.
Coat Type: This breed is an average shedder and requires regular brushing.
Grooming: This breed requires standard care for eyes, ears, pads and nails.
Exercise Needs: Greater Swiss Mountain Dogs were bred for life in the Alps and are best suited to a cooler climate. This breed is happy living indoors if it is provided ample space and plenty of exercise daily.
Temperament: Watchful and alert, the Greater Swiss Mountain Dog is an active dog with a calm, gentle temperament. They are vigilant watch dogs and will bark to announce intruders (or at neighbors). The Swissy gets along well with other pets but must be taught not to "herd" and chase them. Puppyhood tends to last about three years, which can present several challenges. These dogs are strong physically and can also be strong-willed. This breed prefers family activities to being alone and makes a very good watch dog. Due to their size and energy, they should be supervised when around children.
Common Ailments: Susceptible to hip dysplasia, bloat and epilepsy.
Life Expectancy: Averages 10-11 years.
Trivia: The Greater Swiss Mountain Dog did not become an AKC recognized breed until 1995.
More Information: Great Swiss Mountain Dog Club of America, Inc.