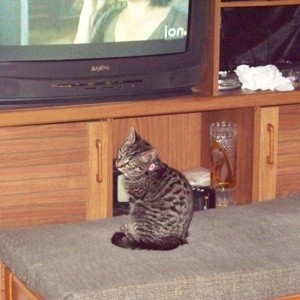 I've been noticing that my 12 wk old kitten smells like poop a lot. She always uses her cat box, without fail. And is fastidious about cleaning herself. Her cat box doesn't smell at all. I found a great litter that absorbs the odor well. What can be causing her to smell so bad? It's not constant, but very often. And not just her rear either, but it seems to come from her skin or fur.
By Cricket from Parkton, NC
Ad
---
Best Answer
This answer has been rated the best for this question.

By Cricket [201]01/05/2010
Thank you everyone for your ideas. I found the culprit. All I did was change her food to a different brand and after about a week she no longer smells at all. I'm keeping the dome litter box because not only is it easier for me, but she likes it too. And no, she does not play in there at all. She goes in, does her business and comes right back out.

And Lionors, I have bathed cats for one reason or another all my life. Your ideas are great and might work for you. But I simply bathe them in the kitchen sink with the sprayer handy. I grip both front paws together in one hand and make sure they can always reach the sink with their hind legs. I've never been scratched this way. Bitten a bit sometimes but never badly. And as long as I continue to talk soothingly to the cat she usually settles down so that we can get the job done faster. Works for me!

But my little Shassy is doing wonderfully now. She's even developing into quite the TV watcher, as you can see in the pic above!
Recent Answers
Here are the recent answer to this question.

By Elizabeth01/05/2010
I know this sounds strange, but try bathing your cat. I know there's a lot of jokes about how impossible that is to do, but I checked with my vet, got a shampoo that won't bother her if she licks it off, and I bathe her every three or four months. This, along with frequent brushing, helps us both. She has fewer hairballs and therefore, less stomach distress. It also helps prevent her tracking litter dust when she sits or climbs on things (the house, is, after all, her domain!) Also, I'm not allergic to cat dander, but her saliva is an irritant. If she's been bathed regularly, I can hold her and pet her without any problems, too.

And, of course, it makes her smell a whole lot better. :)

The trick to bathing a cat (I know this sounds like a joke, huh?) is to wear rubber gloves, like the kind you use to wash dishes. They're flexible enough that you can bathe your cat, sticky enough to give her a good wash and massage, and keep the cat from scratching you. I've been bathing my cat for 12 years with these (I got her from a shelter and had to bathe her initially to get rid of fleas and a lot of dried blood from flea bites, poor baby) and never had a problem.

One thing, though - do not laugh at your cat when she comes out of the bath. My cat will forgive the bath, but gets *really* annoyed if she knows you're laughing at how she looks...she wouldn't speak to my husband for a week after he laughed at her. ;)

Re: the food - do not give your cats any food that's colored red. The red food dye irritates their stomachs and makes them sick. Tip from the coordinator of the cat rescue group for whom I volunteer. :)

By Patricia L. Greer01/01/2010
Grains in cat food will cause gas. Cats are true carnivores and need more meat. If you must feed commercial food try feeding canned only and adding about 25% meat, or buy a grain-free food. No cat should eat kibble or dry food, too much grain.

By Beth [25]01/01/2010
If you really need high walls to keep litter from flying out, try using a storage tote with a "U" shape cut out of one end as the litter box. You can leave the lid off. Or cut the opening and place your regular litter box inside. I have a giant cat and this is the only solution for me. Even jumbo litter boxes were not big enough. This way the only place litter comes out is from the front, and that is a big help!

By Cricket [201]12/30/2009
Her first litter box was open and I had to very quickly buy a dome one. When she covers her business she sends the litter flying a long ways in every direction! LOL I was having to vac 6-8 times a day! LOL
Think I'll try changing her food. Maybe that's the problem. Thank you all for your suggestions!

By Shan12/30/2009
Are you using a dome or hood litter box? Try switching to an open air litter box. There are also all natural spray scent you can spray on your cat that are natural and help with the smell.

By Beth [25]12/30/2009
I hadn't thought of the gas problem, but now that someone else mentioned it, my cats had that problem too until they adjusted to the food I was feeding them. My first thought was food. I know other animals can develop odors from their food. Maybe you could try changing brands or ask your vet if that is possible. They've seen and heard of just about everything after all.

By Carol Swanson [17]12/30/2009
My very much older cat (14 yr) passes gas that smells the same as your described. It seems to come from her skin as you say.

By Denise [6]12/30/2009
She might be rolling or rubbing in her litter box. Maybe try changing the litter type? One of mine did that for about a year and then quit! She smelled like poop too. Changing litter type to a less dusty one helped (I was using a wood pellet that breaks up into sawdust). Also, try shampooing her. That will often make a cat take better care of her fur. Good luck! (She looks so much like one of my cats that I showed my daughter the pic and she said, "What's Paulette doing there?")

By Dana [1]12/29/2009
It might be the food she's eating, maybe she's not digesting it properly. Can you switch her around, a week at a time? Try all dry one week, then all wet, then a mixture? It could also be the brand of food. Try switching around, see if that helps.
Answer This Question
Add your voice to the conversation. Click here to answer this question.