Is keeping carpet that was SOAKING wet SAFE or should it be replaced for HEALTH reasons? My mom said that inhaling the mold it could cause could make us very ill even kill us. Replacing it isn't really an option though. Is this true? What should I do??

CARRIE from Trenton, MO
July 16, 2007
0

found this helpful
Best Answer
Personally, I would rip it out and not take the chance of growing mold. If you don't have flood insurance and can't afford to replace the carpet all at once, believe me (speaking from Katrina experience) you can live with throw rugs on bare concrete for a long time while working a room at a time to put down new tile, wood or carpeted floors.
By guest (Guest Post)
July 20, 2007
0

found this helpful
Best Answer
This has worked for me. Use your carpet shampoo machine to extract the water. Be persistent with extracting the water, do it many times, and have fans blowing over the carpet.
I never had mildew.
July 7, 2007
0

found this helpful
We have flooded areas here and they are having to remove the carpet, and tile. I don't know why your carpet was soaked, but the floor under it needs to dry. I would think it could cause mold if it wasn't dryed. It's not worth taking the risk of your families or your health. Good Luck.
July 11, 2007
0

found this helpful
They are now saying that all the hoopla and huge scare about molds has been over-emphasized (figures). There are some molds that can be dangerous, most are not. Still - I would say follow your nose. Does the room smell moldy or mildewy? How about when the air is damp? How about if you put your nose to the carpet?
IF the carpet was well dried quickly, you may not have any mold (same as if you hung clothes on a line to dry vs. leaving them wet in a washer for a couple of days).
AND, you can check for mold by pulling up a corner or edge where it was wet and looking underneath.
Another thing to consider is that molds NEED moisture to grow and flourish - is your floor a concrete slab? If so, a trick a painter taught us was to put a plastic bathmat over the concrete, leave it for 24 hours, lift it and see if there is moisture, or a darker area of concrete under it. If there is you have moisture coming through the floor. If not, you have no moisture and a lot less likelihood of mold growing.
July 12, 2007
0

found this helpful
Please listen to what my daughter went through. She moved into a nice home, freshly painted and very clean. A month later my grandbabies were getting sick, staying sick with what we thought was colds and stomach virus', etc. One day, I was over and went to use the rest room. I noticed a little smell I could not figure out what it was, then as I was in the hall, I notice the paint color was a little different. I told my husband about it and we went back over. He looked all around and sure enough the walls in the house were damp. I called our Dr. and spoke with him about it and was told to move my daughter and grands out ASAP. She did and our grands were better instantly. The landlord took her court and she won because he refused to replace the damage to his house and he placed these kids in a dangerous home. I called the health department and told them of this problem after I saw this landlord moved in another family as soon as my daughter moved and even after court, he moved in people without fixing the mold problem. Now the house is boarded up .Yes mold and mildew is very toxic. It can get in the lungs and cause more illness' and even death. Please don't take a chance with the carpet.
July 12, 2007
0

found this helpful
I've had three flooded rooms, all separate times, water extracted and only one room's padding removed, and no one's dead yet. This was over eight years ago with the last flood. I learned to add chlorine to the overflow pipe for the Central A/C, which reminds me to do it again as soon as I've submitted this> LOL
If you were not able to extract any water, remove the padding and IF YOUR CARPET WAS EXCEPTIONALLY DIRTY AT THE TIME IT GOT WET, chances are mold is under it.
However, one of my floods was over a period of a year's leaking from an outside slow water dripping until we began sloshing instead of walking on the carpet. That's when we learned of it being wet, even into one closet.
However, my opinion about mold/mildew, although I do have a sensitivity to it, is that it's been around since the Garden of Eden, and is a part of life. If it smells bad, it's likely needing to be replaced, BUT bleach/treat the floor beneath the new floor covering, whatever it is, and let it dry well. I'd use 1/2 cup/gallon of water, then open the windows, leave the house for a day until it has fully dried and the fumes are out. A little smell of light chlorine will not destroy your lungs or sinuses
unless you have a serious sensitivity to it. I don't use it too much, and only when absolutely necessary, maybe once a month.
New carpet is a judgment call. If you can afford it, replace it rather than take a chance with children nearer the carpet than you are. Good luck. May God bless and help you make the right decision. : )
May 15, 2011
0

found this helpful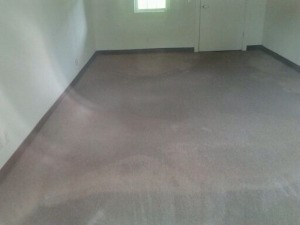 How hazardous is it to be confined to a office that has half of the carpet still partially wet and smelling like mildew? It has been wet for 48 hours now from a rain flood?
By Teri C. from Snellville, GA
May 15, 2011
0

found this helpful
Best Answer
It can be very dangerous especially if you have any kind of allergies. My sister once moved into a house that had mildew in the walls from a leak in the roof. She ended up in the hospital twice before someone realized what was causing the problem.
If the office is rented ask the owner maitenance to fix it. If the office is assigned to you request another office until that one is cleaned up. If they give you a hard time tell them you will contact the board of health and see if they can help convince anyone to fix the problem.
May 17, 2011
0

found this helpful
Best Answer
Not only are you at risk for bacteria and mold, you're also at risk of an electrical shock if you're using any kind of plugged-in equipment! If this is an office in your home, you'll need to get someone like Servpro to clean it up; if it's a regular office, they're violating OSHA regulations in providing a safe, healthy work environment.
May 17, 2011
0

found this helpful
Call Stanley Steamer. They will get the smell, mildew and dampness out.