My Pomeranian has dry itchy skin. She just had blood tests run and everything was ok. The vet gave me some shampoo for her but I'm wondering if I should be adding some oil or something else to her diet to help also. She is 10 years old. She eats mainly dry dogfood.

Karen from Bakersfield, CA
Recent Answers

By maureeniebeanie05/09/2012
Please, dont feed your dog avocado. Avocado contains a toxin for dogs known as persin and this causes excessive vomiting and diarrhea. Please, research all foods prior to allowing your dog access to them.

By KaytleeJ12/16/2011
HI - Great article and question. My Mom has a Pomeranian and she uses a Petite Pet Omega 3 - ( I think it's called Packenzie?). It's very small and I have seen her just give the pill to her little Pom and she takes it without doing anything! no cutting or disguising the pill. Her irritated skin is gone and her fur feels great. (BTW I love my mom's dog, she comes with me sometimes when I go out to see friends. ) She's so cute!

By Renee Mahon S.10/10/2011
The corn and wheat in most common dog foods (and dog treats) promotes itching and allergies. If you think about it, did wild dogs eat grain? After a lot of research, I switched my dogs to a grain free food. There are many good ones, but I happened on a sweet potato and chicken flavor, which I buy at Petco.

As always, mix the new food gradually with the old to prevent stomach upset. My dogs love the taste of it. All the grain free foods cost more, but what price do you put on happy, healthy pets, who are not itching and miserable? Be aware that some vets promote dog foods that are not grain free, and they get paid to sell it. This is the same food that caused the itching and allergies in my dogs.

By gbk [45]10/09/2011
Oatmeal bath is expensive so here is a recipe for it that is cheap and the same thing...even for people.
put dry oatmeal in your blender and blend at liquid till like flour and place in a piece of panty hose or cheese cloth and place in the tub or bath. For myself and my itchy poodle I simply throw some in her bath run water and bathe then rinse. Same with myself but I don't rinse. If poodle is bad I save a container to pour over her after her bath.

on the spots where she chews I put an anti fungal agent and that takes care of the raw spots.

By Cricket [201]10/09/2011
Heejin, it sounds like one of two things. Either you aren't getting all the soap out of his hair, which is extremely hard to do with a pom anyway because of all that thick long hair. Or he's allergic to the shampoo. Switch to a different shampoo. And keep switching till you find one that works. Start with an oatmeal shampoo and go from there. If you can't find a dog shampoo that works, switch to a baby shampoo.

But make sure you are getting all of the shampoo out of his hair. That's extremely important. That will cause extreme itching. I used to use a vinegar/water mix on my golden retriever (took a lot for him but won't for your pom). I mixed white vinegar half and half with water. It got all trace of the shampoo off the dog. After that I put a mild leave-in people hair conditioner on him. I also mixed this half and half with water. But I put this in a spray bottle and sprayed it on, then brushed him good.

And since it only happens after a bath, it has to have to do with one of these two things.

By Scott D.12/12/2009
I have a 6 year old Pom & Yorkie mix. We have always fought the itching problem. Vets say allergies and give her shots which help for only a short period of time. She was miserable. I decided to get very serious on her diet, grooming, etc. Here is what I did 3 months ago and the itching is GONE. Diet was an organic mix of sweet potatoes and fish. Bought at PetCo. NO preservatives at all!

Switched her water from tap water to bottled water. No pig ears or any other treat except small milk bones. Twice a day. Bath every 2-3 weeks using Allergen Reducing shampoo & AvoDerm conditioner. Groom every week. No table scraps ! No cat food ! FYI Twice she has gotten tap water while traveling. Both times her itching came back the next day, until bottled water was given back to her. Something in the water does bother her. No Frontline. She is allergic to it and breaks out with scabs on her back.

Last time I used BioSpot and she didn't break out but I did notice it still irritated her skin some. I hear to use Advantage. Haven't tried yet. But flea control every 30-45 days. Still waiting for the long term results but much cheaper then the vets, and she is no longer miserable. It's working !! Good luck.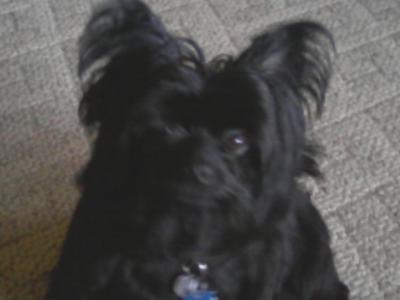 By christie payne11/18/2009
I have a 2 year old pom. that has been itching for about 3 weeks. I have tried everything, benadryl, oatmeal baths, and antibotic ointments. Nothing seems to work. If anyone has any suggestions please let me know.
Concerned pet owner

By david [1]09/27/2009
Please understand I am not a VET or professional advisor. I am replying as it might just help. I have a 6 month old Pom. I read a lot of books and search lots for sites for info on Poms.

What my VET recommended to keep my Pom's skin from drying out was adding a bit of olive oil to his diet on a daily basis. I also feed him Royal Canine for breakfast, Euknaba treats for training and then for lunch and dinner he gets cooked fillet/lamb/chicken - rice/pumpkin/green beans/carrots etc. I have also made him an oxtail stew with veg and lamb stew. I freeze lots of little portions and then just microwave them, cool them and he loves it.

Personally, I read labels and hence decided to go for fresh ingredients. He gets mirra cotte for omega 3 and 6.

I brush him daily, brush his teeth with dog toothpaste, and groom him. I bath him once a week with Wahl's shampoo for white poms, and Wahl's conditioner. I do have other shampoos for fleas and use this once a month. I do add a tiny touch of baby oil to the last rinse. We make sure no shampoo or conditioner is left on his skin.

I have had no problems at all, but do not know whether it is his diet, the olive oil in the diet that prevents dryness, or maybe it is too early. My concern about the suffering dogs made me write this.

I have read that if poms have allergies or problems VETS recommend cooking their food at home with NO SALT at all. Stick to a few ingredients like chicken/rice, veg, fillet/rice veg.

Three different VETS who have checked him for health say he is perfect weight, perfect health. Hope this might help.

By tara07/27/2009
I have 2 poms one black/white, the other all black. Both are about 4 years old . My black one has had very few problems with skin allergies but my poor little party pom has terrible problems. This year has been the worst ever. I've tried benadryl 3x/day. I've tried every dog food- the natural stuff , which they hate and sensitive skin science diet, which they're on now.I've always given them the expensive food and none of it seems to make a difference. The benadryl actually seemed to make it worse. I just started her on predinisone again.The vet suggested that next year I should start it in march. I hate to leave her on it all summer long but it usually goes away in the fall and the vet said that leaving her on the meds , although it has its drawbacks, is the better alternative to having her scratch herself bald. She's miserable! If anyone knows what works. Please share.

By charlie (Guest Post)02/14/2009
I have a pomeranian and we go to the beach 3x a week and she loves the ocean and sand I would bathe her with people shampoo and was told to stop by my vet because our PH levels are different from dogs the only shampoo for humans recommended from my breeder was head and shoulders for dry itchy scalp and not to shampoo her frequently only once every 3 weeks only rinse her I did pick up a special shampoo and lotion for itchy skin for dogs though and I soak her with the shampoo for 10 min. this and changing her diet because I thought she might have food allegies which is common has her stopped itching like she was so now she is happy and so are we.

By Cindy (Guest Post)01/08/2009
Lucy is a 3 yr old pom. She was itching like crazy. Mostly her bottom and chews on her front paws. No fleas, no hair loss. She gets groomed on a regular basis so it is not her glands. I have switched her dry food to Solid Gold, Wee Bites. I brush her daily to get the extra hair out. She is on her 2nd chortizone shot. That works great for about 6 wks. Vet wants to run some allergy tests next. My 2 other dogs are not itching at all - not poms. We do have a pellet stove so I just started using the humidifier to see if that will help. I hate to see her itching so much. It helps to know other poms are itching as well.

By Mia (Guest Post)11/21/2008
I have a 5yr old Pom. She is constantly itching, and we do steriod shots at the vet about every 3 months. It will go away for awhile, then in comes back. Here lately, she has had this bad smell to her, almost like urine. Her skin is very flaky, and she gets a bath with oatmeal, a flea shampoo, and then a conditioner every week. What do I do?

By Gina (Guest Post)10/04/2008
These are only temporary fixes, but they do work until you can change their diet or get to a vet.
Golds Bond medicated powder works wonders and stops itching immediately. More expensive, yet more effective and easier to apply, Bio Oil.

By nordenling AT yahoo.com (Guest Post)07/22/2008
I live in LA, rescued a 10 mo. female Pom. about 5 years ago. She gets almost RAW feet, scratches, from time to time NON-STOP. No hair-loss, temperature, loss of appetite..
The only thing that works is Vetalog injections. Downside of this is sooner or later possible cause of Diabetes. Benadryl works on and off.

I have her on Natural Balance (lamb & rice), Platinum, Organic Shampoo (once a month, followed by a "lion-cut"), Flaxseed Oil, Mixed veggie's, Organic back yard. Don't know what else to do. I'm open for ANY advice.
Thax V!



By Lisa (Guest Post)07/08/2008
Hello. My dog has itchy skin also when I bathe him with shampoo. I have been washing him lately with just white conditioner (Treseme). He has not been itching since I have been doing this. I figure he gets clean from rinsing him off really good with the water and the conditioner does make him smell nice. You could also get him some dog conditioner and just use that. I happened to have the Treseme on hand. Make sure it is clear or white. No colored or dyes in it. Hope this might help. Also, use cooler water at the end of the bath.

By Heejin07/08/2008
I have a pomeranian and everytime we give him a bath, he starts scratching his skin for about a week. We try not to bathe him too often but then he gets stinky, so we can't NOT bathe him. And he keeps scratching all day and goes crazy, he runs around banging himself into walls because of how itchy his skin is. We've went to 3 vets and none of them gave us a decent solution. We've tried the shampoo they'd suggest but it doesn't work. They've also given us sprays to spray on him but none of them work either. It really upsets me to see my dog go through this torture because I love him very very much. I wish he didn't have to go through this and I'm in desperate need of a solution for my dog. How do i carefully use the oil you guys are suggesting, or where can I get these foods. Please help.

By helpme (Guest Post)06/17/2008
The past couple of days my 3 year old Pomeranian has been biting at the base of his tail. I just happened to look at it today because I noticed clumps of fur on my floor, and he has a bald patch the size of a quarter and the skin is raw. I made a vet appt for later on today, but I was wondering if theres a home remedy I can give him to make him more comfortable until he sees the vet.

By Ronnie (Guest Post)05/10/2008
I have a 10 year old Pomeranian and has had itchy skin, I figured out it was just 1 flea of a passing dog when I took her for a walk. Since I have been buying the Revolution selamectin flea treatment that you put on there skin each month, she has now stopped scratching and the skin no longer has that dandruff look on her hair. It's specially for itchy dogs and its very common in Pomeranians. Hope I have helped a little.
Feel free to contact me, I have a mail addy with first part ronnieb (at) iinet dot net dot au

By Anne R. (Guest Post)01/20/2008
We have a 4 yr old that is very itchy as well. This is a first for us, and it has developed over the last few weeks. He just moved down from the north to Texas, so we thought it might be the dry winter weather down here. I have started putting flax and olive oil on his dry food, and a little sprinkle of sea salt to help with taste and water retention. He does love the flax and olive oil, though. No hair loss, just super itchy! I will try an oatmeal soak today.

By guest (Guest Post)01/12/2008
I have a 14 week old pomeranian and her skin has been really dry after she walked into the shower with me. Now she has dandruff. I took her to the groomer to get cleaned and told them of the situation, hoping they would do something for her. She came back worse. I am going to try some of the suggestions here if there are more suggestions let me know. Thanks.

By Silvia09/19/2007
Just want to give everyone a heads up here. I was giving my little Pom fish oil, olive oil and coconut oil for itching and hair loss. Not all at once but obviously way to much. She developed fatty liver but is doing fine now on special food. Just be very careful please don't let this happen to you. Also, have your Vet check the skin by scraping it to make sure it's nothing that a special dip or med can fix. Good luck to all of you.

By guest (Guest Post)08/08/2007
I feed my 1 yr old pom neutro natural choice (lamb/rice) and bathe her about every three or four weeks with oatmeal shampoo. She still chews on her feet daily though they are not red, and she has goopy eyes every day. I add olive oil to her food once or twice a week. I'm wondering if I should vacuum more often (dust mites). Any suggestions?

By Vivian Carpenter (Guest Post)02/25/2007
I have a 10 year old male Pom who has suffered with skin iritation for five years now. I use to take him to the vet every month and he would get a steroid injection to kill the itch and he would be put on antibiotics. He would clear up for awhile but it always comes back. I have resorted to using Head and Shoulders intense shampoo which contains zinc and alternate with Aveno Coloidal oatmeal baths. This seems to help but he still have much custy, scabby places on his sides. I will try adding the olive oil to his skin to see if that helps.

Great website. Thanx. I welcome any feedback

By tiffany palmer (Guest Post)04/15/2006
i have a 3 1/2 month pom and she has dry skin... and she itchies alot. she lossed a little bit of hair by her eyes above them and butt what should i do?? i really dont know thank u

By Holly [350]01/11/2006
I recall adding milk powder to my dog's diet at the recommendation of the vet many years ago. Don't know if it will help in this situation.
But I'd definitely add the coconut oil or the exv oil.

By Laura (Guest Post)01/09/2006
Avocado is also great if your dog likes them. It's a natural way to give them oil and essential fatty acids and nutrients. Not just a superfood for humans!

Editor's Note: Many veterinarians caution against feeding pets avocado where others advocate its use. Avocadoes are especially dangerous to smaller pets, like birds and rodents. Please check with your own veterinarian or do research before adding this to your dog's diet.

By edieparks (Guest Post)01/07/2006
I LIKE ALL the suggestions ( especially about adding some sort of oil to diet). Virgin olive is a good suggestion too. Please dont start feeding only soft food. I think it is good for special treat but starts tartar build up on teeth.

edie

By dotty (Guest Post)01/07/2006
Go to Tropicaltraditions.com and buy some organic coconut oil, give her about 1/8 of a teaspoon with her food, My lhasa-yorkie loves it and her coat seems to glow, and she has no itch problem. It is healthy for humans too.

By linda [45]01/07/2006
It is a proven fact that Nutro Natural Choice dog food has more linoleic content than others and has drastically cured dry itchy skin. I use to part time do demos and had to learn about the product and had all the literature about this. I feed this brand to my cats and their coats are healty and no skin problems.

By Glinda (Guest Post)01/07/2006
We have a Pom/Chi mix, and she had a very bad itchy problem. We got a shampoo from the Tractor Supply Store (TSC) With a conditioner and oatmeal bath in it. I think the oatmeal bath is what does it. It cost a little more, but, it is very good. We bathe her every 2 weeks, and the problem of the "itchies" is gone, plus she is very soft, it also has a "baby shampoo" scent.

By Jennifer Nelson [1]01/06/2006
My indoor Dobies had the same problem until I switched them to Science Diet Sensitive Skin Formula.

Jennifer
Northern Virginia


By Robin (Guest Post)01/06/2006
You should consider changing dog foods if you are not using a very high quality food for her. Quality foods are more expensive, but in the long run, they are very much worth it. You can also mix in some egg and a tablespoon of vegetable oil in the food. Do use the shampoo you got from the vet as well.

By Joyce [4]01/06/2006
I too, have a pomeranian that had itchy skin. I'm trying fish oil capsules. It does help, but, you have to open the oil and place it on their food. I'm also, using moist meals now for her,she's five and 1/2. Hope this helps.
Answer This Question
Add your voice to the conversation. Click here to answer this question.