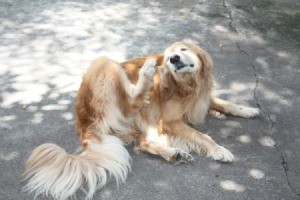 My dog has black tar stuff in his ear and it smells, what is it?

Kim from Eugene, OR

Answers
By SH (Guest Post)
November 29, 2007
1

found this helpful
Best Answer
My black lab gets that too. The vet says it's an ear infection. When she gets this I take her in to have her ears cleaned (I would clean them myself but she is too big and strong for me). If it still smells after that I have some antibiotic drops that help.

December 3, 2007
4

found this helpful
Best Answer
The black smelly stuff is a yeast infection. Dogs get this when they are having some type of allergic reaction (ears, nose, throat are all interconnected).
My 1 year old Golden is under veterinary care right now for this problem. The dog gets a medication in the ear twice a day. Also, we use a special ear wash twice a day to wash and help cleanse the area. That wash is an antifungal/antimicrobial solution prescribed by the vet. After we use the wash, we carefully wipe any of that gunky black stuff away.
Once the ear has dried, we use the medicine which is rubbed into the ear.
Golden Retrievers are one of the dog breeds that are susceptible to this type of a yeast infection. Our vet told us that it'll probably re-occur off and on, so I would imagine this would be true for your dog, too.
If you check your dog's ears every couple of days, you should be able to control the problem before it becomes inflamed and uncomfortable for your dog.

October 14, 2013
2

found this helpful
Best Answer
This is either a yeast or bacterial infection & requires a trip to a vets office. You will need an ear cleanser & antibiotic.

April 14, 2014
1

found this helpful
Best Answer
Just got back from the vet. My plott hound has an ear infection, same signs black tarry looking stuff in his ears and head shaking. He was given an anti histamine shot, antibiotic pills, and drops for his ears.
The vet also gave me a prescription ear cleaning solution to use once a week after we get the current problem solved.
Answer

this Question
I have a 2 year old black Lab Golden Retriever mix and she has this stuff in her ears that is black and smells bad. I tried to clean them with this stuff called Clean Ears and also put 2 different kinds of drops in them. It works for a day or 2, but then the smell comes back. She also scratches them a lot and now the pink part is starting to turn scaly and red. Sometimes the insides of her ears bleed! I cannot afford to take her to the vet, as vets around here cost too much. What is wrong with her and what can I do for this to make it go away?
By Amanda
Answers

March 31, 2013
0

found this helpful
Best Answer
Golden Retrievers are one of the breeds prone to ear infections & the symptoms you mention are all symptoms. I personally would recommend you contact your vet to have the poor dog's ears checked before it gets too far out of hand.

April 1, 2013
2

found this helpful
Best Answer
It does sound like an ear infection, which can be from fungus or bacteria or both. If it is not treated effectively is can result in much pain for your dog, along with loss of hearing or inner ear damage leaving the dog in a state of constant dizzyness for the remainder of its life. At that point you would have no choice but to have your dog euthanized. You cannot afford not to treat this.
Look for a local Vet who will take payments, or has a fund for those who cannot afford treatment. There are several in my area. If you cannot find treatment, take your dog to a local rescue or shelter where it can get treatment. It is sad to not be able to afford a pet, but there are many in that situation these days. It is illegal not to treat a sick pet.
May 31, 2016
2

found this helpful
Best Answer
that is a chronic ear infection. need to clean with organic apple cider vinegar and water. mix 1/2 and 1/2 and apply 10 drops in each ear. massage up and down the back of ear to spread it and then let her shake it out. wipe out anything with cotton ball or kleenix. never use paper towel as it's too rough. do this 2x a day till gone. if it's not cleared up after 2 weeks then go to the vet.
Answer

this Question
My dog has smelly black tar in his ear. I would like to know what it is. How can I treat it?
By gypsygirl

Answers

Stephanie
Bronze Post Medal for All Time! 162 Posts
August 28, 2011
1

found this helpful
Best Answer
My dog had that. It's an ear infection, probably a yeast infection. I got an ear solution from the vet that cleared it right up. Since then, I've seen lots of posts on ThriftyFun from people who've had success with homemade ear washes using vinegar or women's yeast infection treatment.
You could probably try one of those. Just use the google search option in the orange bar at the top of the page and you should find them.

August 29, 2011
0

found this helpful
Best Answer
Go to a feed store, pet store, tractor supply, ect. Buy a cleansing ear wash. It's ear wax that can be caused by an infection, mites, or just getting dirty! I have a Bassett and I clean that out of hers every few days! If they are itching badly or the canal is red you might think about a vet. but since you didn't mention her shaking her head a lot or scratching doggie should be fine, but clean them often.
Good luck
August 30, 2011
0

found this helpful
Best Answer
Most likely a yeast ear infection. My female pugs has had it a few times. You should take her/him to the vet to get a medicated ear wash.
Then after it is treated wash her ears every few days to keep it under control.
Answer

this Question
My neighbor's dog has had this smelly black looking tar like ear infection for about a year now. I don't know why she hasn't taken her to the vet yet. I was curious what it could be and if it can harm the dog?
By Nonname
Answers

May 14, 2013
0

found this helpful
I found these answers for you...I am sad that the neighbor doesn't take the dog to the vet.
answers.yahoo.com/.../index?qid=20080304165800AAr1enu
Blessings, Robyn

May 15, 2013
0

found this helpful
Sounds like this may be a yeast infection or a bacterial infection. If it is a bacterial infection there is a risk that it will go into the inner ear. If it does it can destroy the animals balance mechanism. This cannot be repaired and almost always requires euthanasia because the animal cannot stay upright. I would warn your neighbor that the consequences of ignoring this can be awful for the animal.

May 15, 2013
1

found this helpful
I should have mentioned that you should remind your neighbor that she can be legally prosecuted for not getting medical care for a sick animal.

August 8, 2016
2

found this helpful
All of you are real quick to criticize!!!! I understand her my dog has chronic ear problems and I spend about 700 a year!!!! If someone can help great and if not keep uYour comments to yourselves...
July 7, 2017
3

found this helpful
True while understanding that I have to also say I have six dogs I don't have six dogs because I'm some greedy Glutton Pig I have six dogs because I've adopted them because I'm afraid of them being put down for no reason just cuz they exist. I can only afford minimal care which means I feed them and I do take them to the vet but anything that's several hundred dollars would probably result in having to put them down. I look for home remedies for lots of things I have one dog that is 11 years old another that is 8 years old another one that is 6 years old one that is 2 years old and two puppies.. I do the best that I can none of them have serious medical conditions.. all of them I have had since they were puppies..
so that at least does not say something about the way I raised them and the way that I take care of them I don't know what does I'm very cautious of what they do they do not go outside of the house they are all potty trained to use TT pads. I do so to make sure I limit the cases of my animals becoming severely ill or injured..
So I would have to say just because someone cannot afford to drop several hundred dollars on a dog per visit per case does not mean that they are a crappy person there's plenty of people with a big heart that is trying to save these animals from being euthanized..
Not everybody is bankrolling and if everyone had the mindset that you do there would be a lot more animals being put down if not everyone can afford vet care then all these animals would be dead all mine are rescues..
Read More

Answers

I have a Boxer cross Bull Mastiff dog and he has black tar coloured buildup in his ear. What could this be? He is constantly itching.
Answers

February 27, 2019
0

found this helpful
Best Answer
Hi,
It is an ear infection, and possibly yeast infection, and also possibly ear mites. It is best to see the vet for this type of infection. It will not take a lot of tests to find out what is wrong.
It is likely that if you try to clean your pets ears, yourself, you could get bitten, since an ear infection is very painful. Additionally, the meds that a vet will give you work better and faster than any home remedy.
Sometimes, after this clears up, you might find success in offering your dog grain-free food and often giving your pet boiled chicken.
Blessings,
Robyn
Answer

this Question