September 9, 2018
0

found this helpful
Your dog either has an infection or ear mites. If the dog isnt better, the vet should not be charging you anymore, if it was a misdiagnosis on his or her part. I would discuss it with him or her
September 9, 2018
0

found this helpful
This is just like with people doctors...sometimes it takes a few times to figure out the exact problem and the vet (in this case if he/she is ethical--which I hope he/she is) is starting out with what he/she hopes is a one and done cure...but if it doesn't work, he/she has to try other things.
Sadly I have learned from my own health conditions that medicine is part art and part science and part luck that they can figure out what is what.
If you feel you aren't getting good care (there are unethical, money grubbing vets out there) then ask your friends who they use and if their vet cures things quickly. You said you don't want to have to do that...but if you are having doubts about your vet, maybe that is the best solution. You have to be the voice for your pup as he can't speak for himself!
As for home remedies....those and dog's ears do not mix. I would not try anything from the internet or any home remedy in my dog's ears...ever. Too much of a chance of making things worse, or causing serious damage to the ear drum and causing permanent hearing loss. Not worth the risk. The only thing you may want to think about is trying a different food...but even that I wouldn't do without talking to the vet.
Sometimes chicken and gluten free diets make all the ear related issues go away--in our world doggy ear issues were always allergy driven.
I will send up lots of healing prayers and wishes for your pup!!
September 9, 2018
0

found this helpful
Here is a useful discussion here on Thrityfun regarding tar buildup in dog's ear. It's an infection. www.thriftyfun.com/tf86800369.tip.html
Was a dog ear wash a medication you had? They also sell over the counter ones at the pet store but I would go back to the vet and ask them about it.
September 9, 2018
0

found this helpful
There are some safe home remedies but the biggest problem with them is that most people either do not use them correctly or think that everything should be cured in a day and so they go on to something else.
I really like going to PetSmart as you can take your dog with you and they usually have a vet or a vet's assistant in the store (at least they do in my area) and they have helped with problems like this many times.
Sometimes they even clean the dog's ears and may recommend a wash or cleaner. They can also recommend a special dog food to try just in case it is an allergy. I know that some people are totally against home remedies but not everyone can afford to keep going to a vet while they do test after test and maybe order prescription medicine but sometimes nothing they do seems to help.
I believe that I can purchase a mild cleaner, read the instructions and at least try something on my own. The farm supply stores sell all kinds of home remedy products that people have been using for many years and I truly believe some of them must be helping eliminate the problems - safely.
September 26, 2018
1

found this helpful
My dog makes excessive wax triggered by a fungal infection call malassezia. I've treated it for years without success until I learned from a youtube video that a biofilm is protecting the infection from treatment. The biofilm needs to be broken up first. I'm having great success with an ear wash called TrizCHLOR flush for dogs and cats. It has EDTA which breaks up the biofilm and an antimicrobial.
I bought it from the Chewy web site. If your dogs ear wax is sticking to the fur outside his ear you can soften it with petroleum jelly, and then comb away most of the gunk, then wash away the rest with a dog shampoo. I also give my dog fish oil capsules, one a day. I make pill pockets by cutting a hot dog in three or four pieces, and making a whole in each with a hard straw.
October 18, 2018
0

found this helpful
Try zymox ear solution!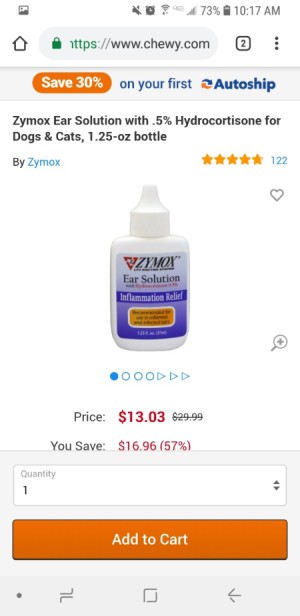 October 26, 2018
0

found this helpful
We've had the same problem for 4 years with a rescue dog. Nothing gets rid of the black tar stuff, we can ease it. Any help would be appreciated
January 31, 2019
0

found this helpful
I used Thornit on my girl after years of ear problems and changed her to a wheat gluten free diet
April 22, 2019
0

found this helpful
My Maltese had this same problem in only one ear but after the Vet treated it and gave me prednisone to give her, she seemed to be well but still had the black tarry stuff in her ear. I cleaned her ear regularly with ear wash for dogs. I dried her ear with cotton balls and q-tips bringing the black stuff out. Now her ear is clean and looks normal. Treatment doesnt get the black tarry stuff out. You have to do that.
June 11, 2019
0

found this helpful
Im a groomer and use DAVIS Boracetic Ear Flush on client dogs that come in with ear infections as well as one of my own dogs ( Golden ) who occasionally will get an infection. I clean away as much of the gunk both before and after bathing with it. Sometimes the gunk is too far down in the canal so flushing and massaging the outside base of the ear to help loosen and break it up so when the dog shakes its head, it will help bring it up to where the gunk can be safely cleaned away. On my dog, if I notice an infection brewing I soak a cotton ball with the cleaner, put cotton ball in ear ( NOT TOO FAR, just enough past the opening ) and gently massage the ear so the fluid gently soaks into canal.
A lot of dogs dont like having stuff just squirted into their ears and it helps if the fluid is lukewarm NOT HOT or room temp. After the ear soak ( just a few seconds ), I remove the cotton ball then gently saturate any tender looking skin on the outside of ear canal with a clean cotton ball and a little more of the Davis cleaner. Usually the infection is cleared up by the next day but I may still do a mild cleaning for another day or so. Hope this helps anyone who may be having issues with their dogs ears. U can order this stuff online if local pet stores dont carry it and it also comes in gallon size. Always clean your dogs ears ears if theyve gone swimming in lakes, rivers etc as theres all kinds of things that live in wild water.