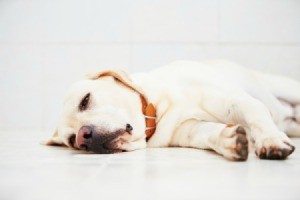 When treating the parvo virus, a veterinarian should be consulted. But for many pet owners, the cost of professional medical care to treat their dog for the parvo virus can be difficult. If you are caught in a situation where you CANNOT see a vet, here are some ideas to treat your dog until you can arrange for the proper medical care. This is a page about
parvo advice for those who can't go to the vet
.
Warning: Parvo is a highly infectious and life threatening disease for dogs. Contacting your local veterinarian or animal shelter should be the first place to look for treatment advice, before trying home remedies.
I have a puppy that is 10wks. today. Last night he started throwing up chunks of food, I didn't think anything of it, till this morning. He was still throwing up and it was getting runnier than at first. He is a little lethargic and has diarrhea and worms.
I have seen parvo many times before so I know that is what it is. I can not afford a $500 vet bill, I know this is what it costs because a few years ago I had a dog that had parvo and I had him treated for it.
I am giving him electrolytes as well as oatmeal water to keep his blood sugar at a normal level, and Kaopectate for diarrhea. Are there any home remedies that really work? So far we made it through day 1.
By crystal from Panama City, FL
Answers
July 26, 2013
29

found this helpful
Best Answer
Hi, I have a beautiful pit bull she is 9 months old I diagnosed her with parvo 4 days ago today. There is hope! I noticed Sasha had parvo on the 3rd day when she was at her worst she was vomiting yellow foam an was pooping puddles of dark brown reddish awful smelling diarrhea. She was so bad off she couldn't even stand up and was lying in her own feces and vomit. :( She was so depressed and has that mommy help me look so I helped her.
I could not afford the vet so I immediately searched and searched the internet an looked up hospital cures as well as home cures and did them all! Here's what I did I used fresh squeezed lemon juice, human amoxicillin (vet uses its sister penicillin), as well as a nausea pill for humans called Zofran (vet uses ondansteron generic for zofran) and lots of water and Pedialyte. I gave her 5ml of lemon juice in a child syringe twice daily, took the powder out of one 500 mg amoxicillin, and crushed one 8mg Zofran til it was powder mixed it with boiling hot water so it would dissolve an sucked it up with the syringe as well I did this 3 x daily.
You also have to be very positive around her and love on her if you believe there's hope she will too. If you don't believe neither will she and you don't want her to give up. Today is the 5th day and she is getting up and walking around and drinking water on her own. She is no longer having diarrhea nor is she lethargic. She is now peeing and a million times better then she was 2 days ago when I thought she was going to die. I definitely recommend this to everyone it will work and your dog will live. I will keep you posted as she improves. Have hope.
Answer

this Question
I do not have the money to go to a vet, but is there a way I can give my dog Ampitrexyl for the parvo infection? That is the best I can do. Please I love my dog dearly he is my baby boy. Will it help him?
Answers
July 12, 2017
0

found this helpful
There is an article about an alternative treatment at home:
csu-cvmbs.colostate.edu/.../parvo-puppies-new-protocal.aspx
The two drugs are Maropitant, an anti-nausea drug, and Convenia, an antibiotic. Both are given under the skin. The Maropitant must be given several times daily. This is intensive treatment, but at $300, is much cheaper than the $1500-$3000 for hospitalization.
A dog can die within 48 hours of catching parvo. If I were you, I'd ask the vet about this treatment, or work out some payment plan.
November 20, 2017
2

found this helpful
My 7 month old has been suffering for about 5 days..I have been forcing collide silver down his throat with a turkey baster.. I mixed with this some children Panadol and antibiotics 2 times a day. Plus I added electrolytes some black strap molasses and bi carb soda.. I mixed up what I gave him at the 5 or 6 times I feed him. But all were with the collide silver base.. I thought I had lost him on day 3 ... but persisted.. he now has a little more energy. Looks much better and has even drank some water on his own. I am still giving him the different mixtures plus a bit of chicken stock. I am confident that he will make it.. the next challenge is getting him to eat on his own.. but I am sure he will soon. So don't give up..persist ...even when you think it is no use and maybe even cruel to keep forcing fluid down there throat.. good luck
November 28, 2017
1

found this helpful
I am not certain that my 9 week old Pitt had or have parvo-she had the first 2 rounds of her puppy boosters,then fell sick I started pumping Pedialyte in her and she perked up and played and ate a little the next day.then a couple hours later we were back to being sick we took her to the vet paid 200 for meds but we were strapped for cash so I took her home and started the meds and looking for alternative treatments.I found activated charcoal-it helped a little-then I heard about sovereign silver.after 4 doses she was wagging her tail nd drinking on her own,not long after that maybe an hour she began eating then playing...still has dyareia but not throwing up this is day 5 ..I'm not sure if this is over or just a reprieve I'm still giving Pedialyte and sovereign silver.
January 7, 2018
1

found this helpful
Where do I get that stuff silver from
February 7, 2018
0

found this helpful
How much of the silver stuff did you give your puppy per dosage ?
March 5, 2018
2

found this helpful
What is sovereign? Also here is a list of meds you need for parvo that many professional breeders and rescues have used successfully for years.
1. Tami Flu. It kills the parvo virus in dogs. Its a human med that is prescribed. So you have to ask your doc or a vet for the script.
2. Cerenia, Zofran, or another anti nausea medicine to help them stop throwing up
3. Imodium AD given for diarrhea.
4. Fluids. Its best to do sub q fluids for the first couple days because most of the time any thing they ingest will cause vomiting or diarrhea. So in rescue we usually withold any food or fluids given orally except for meds to reduce possible vomiting.
Next two items are just recommended for their immune systems. I give it everyday.
5. Tomlyn High Calorie Puppy Gel
Works better then Karo syrup. The link is posted here. www.amazon.com/.../B000FO1QOU (Affiliate Link)
6. Dyne. Dyne is a thick, sticky and sweet nutritional supplement that every puppy who is growing and doesnt have all their vaccines should have. I give my puppies this once s day everyday. It does wonders for their immune system
Plus if you mix dyne and di-methox it makes generic albon which is used to treat coccidia. A nasty parasite that causes smelly diarrhea, lack of appetite and in bad bad cases in small puppies sometimes death. Link listed below. www.chewy.com/.../146099?utm_source=google-product...
Hope all this helps.
April 15, 2018
2

found this helpful
Perhaps the poster means Colloidal Silver?
April 27, 2018
1

found this helpful
I had a puppy with parvo. You can give 1 to 2 tablespoons of water (little bits at a time) into the rectum every hour they can absorb fluids that way. Just water or pedialyte.
July 11, 2018
0

found this helpful
This is for all who can't afford a vet when your dog has parvo. Go to a feed store!! You can buy the shots & give them yourself!!! Not sure what the cost us now but several yrs ago it was only about $8.00 a shot.
September 7, 2018
0

found this helpful
11.50 today @tsc..
October 6, 2018
0

found this helpful
Yes u are right it's a 9 in 1 shot . But the only thing u have to be careful of is the end up getting diluted . They ship it not refrigerated then they refrigerate it when they arrive at the feed store. If ur going to use it from there I suggest u give puppy the entire shot . Then repeat 2-4 weeks later to ensure ur puppy is safe. Another idea for cheaper shots is a lot of shelters administer vaccines a lot cheaper than the vet. They are done correctly with the correct shipping of product. The plus to this is ur also helping ur shelter in ur area provide food etc by paying them to give vaccines . So it's a two for one. Even if u notice signs of parvo give them the shot anyways it helps with curing ur dog. If u catch it quick enough u sometimes don't even have to administer other home remides it snaps them right out of it. I used Gatorade , pedalialyte, children's tylenol, zofran , antibiotics , oatmeal and kyro syrup. Meds every 4hrs and fluid every 2hrs . Plus I administerd the 9.00 shot from feed store the entire dose and lots of mommy love . He's a strong willed 8 week old Pitbull. I also suggest when getting a puppy u get it at 5weeks. Parvo doesn't occur until 7 weeks- 6mos. That way u are sure ur dog is vaccinated properly . Also ask if the mother dog was vaccinated for parvo . There immune system to parvo will be greater if she has had one. Just to be on the safe side I usually get pups at 5weeks they are already fully winged. U ensure ur dogs health .
Read More

Answers
can ampitrexyl, a natural antibiotic, be used for dogs?
Answers
October 8, 2018
0

found this helpful
Please, please, please, never give anything to a dog or cat without vet approval. Even natural items can be dangerous ... either on their own or if not dosed per the correct dose for the weight of the animal.
If the vet gives the OK, follow the instructions EXACTLY. Dosing is critical because you don't give a 5 pound dog the same dose as a 50 pound dog.
Prayers for your pup!!
October 10, 2018
0

found this helpful
Many drugs that are safe for humans are not safe at all in dogs. If it does not harm your dog it might not help the problem. The problem may get worse while you are treating it with the wrong drug. That would be too much risk for me.
Read More

Answers