If it should be that I grow frail and weak,
And pain should keep me from my sleep,
Then you must do what must done,
For this last battle can't be won.

You will be sad - I understand,
Don't let your grief then stay your hand,
For this day, more than the rest,
Your love and friendship will stand the test.

We've had so many happy years,
What is to come – can have no fears,
You'd not want me to suffer so,
When the time comes, please let me go.

Take me where my needs they'll tend,
Only stay with me until the end,
And hold me firm and speak to me,
Until my eyes no longer see.

Finally in time you too will see,
It is kindness you do to me,
Although my tail its last has waved,
From pain and suffering I've been saved.

Don't grieve that it should be you
Who has to decide this thing to do,
We've been so close, we two those years,
Don't let your heart hold any tears.
Note: The following may be substituted for a cat in stanza 5, verse 3
My upright tail its last has waved.
Source: 318 Prospect Rd Veterinary Hospital, Prospect, South Australia
By Roger from Adelaide, South Australia
By Roger
Ad
---
By Brenda 6 71 12/29/2010 Flag
Hard to write anything with tears rolling out of my eyes, this is just beautiful and I had to put my 18 yr. old cat to sleep last year and it nearly killed me, but I knew she was no longer in pain. I have 9 more cat's and 3 dog's so I am not alone. Thank you so much for sharing this. If the picture comes through. this is my youngest cat that almost died after I adopted him but he came through it like a champ.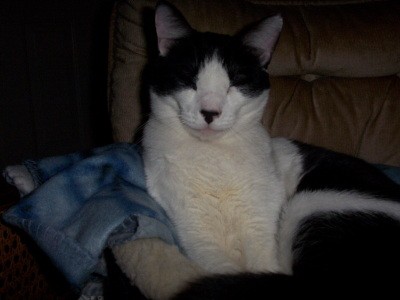 By Ruthanne 2 2 12/29/2010 Flag
I lost my best ever Goku last July that poem is right on the money on how we feel thank you, and we stayed by his side the whole time he was 12 yrs old. I have tears just talking about him he cried at the door for me, he knew when I was coming home, if I was sick he stayed by my side the whole time, he is surly missed love you Goku
By RockyBalboaFlynn 1 07/01/2011 Flag
I just had to put my Golden Retriever Rocky to sleep on June 29th. He had contracted lymphoma and fought so hard for 6 months. He was 8 years old and he was the sweetest, gentlest, best dog I ever had. Reading this made me cry really hard but it has also made me feel better. Thank You for a moving tribute to help heal others.