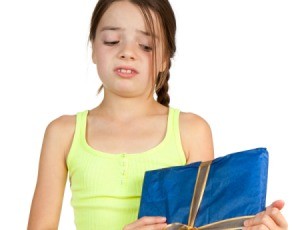 As I can't shop I usually give (fairly large amounts) of money to my children and grandchildren for Christmas. My children usually thank me in some way or another, but not my grandchildren. Some of my grandchildren live 20 minutes away, a few live 2 hours away (their ages range from 10 to 40). The problem is these grandchildren never come to see me, call me on the phone, not even a Christmas card, birthday card, no thank you notes, no school pictures, no acknowledgement of any kind.
I no longer wish to give money to them. My husband says it will cause a lot of family trouble if I don't but I really don't want to give to them anymore. What should I do?
By perplexed
Answers

December 7, 2011
9

found this helpful
Best Answer
The money is yours. Sounds like your grands feel entitled to your money, and that your own children do nothing to convince them otherwise. If my parents gave my kids large sums of money, and my kids were not kissing Grandma's hand, and visiting, and calling, I would smack them myself!
Gifts are gifts, just that and that only. They are not income, payments, dues, etc. People today need to learn to be thankful for what they are given.
Best of luck to you, and hope you can figure out what works for you. As to your husband saying that it will cause problems. It very well may, but that is the recipients' fault, not yours.
Answer

this Question

I'm a grandmother to my stepson's 5 kids ages 10-18. I've always gone the extra mile for the grandkids at Christmas because I love to see them happy, but their wish lists contain only expensive things.
They're taking advantage of my kindness and I don't get a call or visit showing appreciation all year. Can I stop buying gifts all together to show I don't feel they're entitled?
Answers

Judy
Gold Post Medal for All Time! 677 Posts
December 11, 2018
1

found this helpful
If this were me, I would send them a card with $5, and tell them why they are not getting the traditional gift. Tell them that you would love to hear from them, and you feel that they are not doing their part in keeping up the relationship. Things will either change for the better or they will not. In either case, you will know how to act in the future.
My children also started asking for expensive gifts. The gifts were way more than my budget allowed. I gave them the cash equivalent of what I had planned to spend, and told them they could put it towards anything they wanted. They are grown now, and I still continue this tradition.
Christmas is about family and religion, not about gifts. Do not feel any way obligated to become financially stretched or to give gifts that are not appreciated.

Pghgirl40
Bronze Feedback Medal for All Time! 196 Feedbacks
December 11, 2018
3

found this helpful
You and your family will be in my prayers that you find peace, joy, and gratitude for the holidays.
Gifts and the holidays create so much turmoil and angst. Kids ask for expensive items. Adults have limited budgets and want love and time with the family in return. It is a match to a tinderbox in many homes.
This may be the year to have the gift to the family be a special meal you all enjoy together, no gifts, no cell phones, and no controversy involved, with that known up front.
The invitation could read something like "the holidays are about family, gratitude and God. Our gift to you will be a lovely meal on X date at X time at Grammie's house. We can plan to attend mass (before) or (after) the meal.
"Instead of gifts, please bring a simple hand written list of three things for which you feel gratitude and we will share them over dessert."
Maybe this can become a new and loving tradition where everyone wins. God bless you and your family.

December 13, 2018
0

found this helpful
First of all, I would say that your issue is likely more with your stepson and his partner than with the children. Secondly, I would say that Christmas gifts should not be conditional, they are gifts given in love to celebrate the season. That being said, they also should not be dictated by the children (or even their parents).
I am of the opinion that you should have a conversation with the parents about feeling neglected and then you should give a modest but loving gift to the children with no strings or guilt attached.
I am wishing you and yours a Merry and Loving Christmas.

December 15, 2018
2

found this helpful
From your comments it does not appear that your grandchildren live in the same city as you or the conversation may be about no one coming to your house during the holidays.
I agree that you may want to discuss this with your son/daughter but I would wait until after the holidays. This may be better to discuss with your son/daughter in private without the in-law present or maybe they could join the conversation later on. Just be aware that this could turn out to be a little "hostile" and may cause more friction that you expect.
I do not know how much you normally spend for presents but I would suggest giving a gift card if you know their favorite stores or just give $10 with a nice note saying hope this will help you purchase one of the gifts on your list.
Sign it the same as usual and send it with a happy feeling that you are trying to help them understand what you really mean.
I just do not feel that being "ugly" during the holidays is the best solution. Try to work on all of this so maybe next Christmas will be a happier time.
I feel sure that you can get your feelings across to your son/daughter without having to resort to saying things you may regret (but can't take back).
I hope you and your children/grandchildren will have a very blessed Christmas.

December 28, 2018
6

found this helpful
My solution to grandchildren not being appreciative of Xmas or any gifts. I make candy or cookies, put in a small gift box with a card. If I'm not going to see them, I send a $5-10 gift card for Starbucks or some store they may like. Sometimes I send nothing. IMO it is important to not do the same thing every year. What or if they get something will be a surprise.
I did decide some years ago that the giving had to make me feel better about myself. So, I've stopped worrying about what or how much I give. If I decide not to give at all that's ok. Taking care of yourself and demanding self respect is one of the gifts of aging. I would say nothing, just do what is best for you. Grandmother of 7.

January 5, 2020
0

found this helpful
It's difficult to treat some grand or great grand children different
from the others who are more appreciative of your generosity.
Out of 8 adult grandchildren only two send "thank you" notes consistently. The others, after piles of money spent and sent-no
acknowledgement in an Email say nothing of a written note.

December 27, 2020
0

found this helpful
I have similar issues with grandchildren. A few years ago, I decided that each year, each grandchild under the age of 18 would receive a savings bond and a book for Christmas and a savings bond for their birthdays. When I get a "wish list", I remind them of this and ask for book titles that they might like. I still don't get thank yous, but I guess at this point I have resigned myself to not expecting them. This is what I feel is reasonable and I'm happy to help them with money for their futures.

August 12, 2021
1

found this helpful
In the same boat! Son and his kids that are teens live far away.. I never even know if they received what I send!! I got tired of asking .. I love doing nice things but some acknowledgment Im alive would be nice. Not even a birthday or Christmas card!! O well

November 2, 2021
0

found this helpful
We never know if cards or Christmas gifts are received either. I'm sick of ungrateful kids and grandchildren. I think this year it is going to be a contribution into their College fund that we started for them and that's it! They get so many gifts at Christmas time that they wouldn't even know if we sent anything!

November 23, 2021
0

found this helpful
I have6 children and spouses and 14 grandchildren ranging from 4-28. I always give everyone pjs as my grandmother always did. Its uncomplicated and appreciated by most. About half of those say thank you. Its not about the gift at Christmas I agree but I do believe its about the respect so this year Im starting to do what Judy suggested and give the great grandson a gift but $5 coffee card to the parents and we will see who says thank you and those that dont wont receive pjs next year only a $5 coffee card. Kindness and respect need to be reciprocated so joy and caring is taught. Merry Christmas
Answer

this Question