Jelly Bean Prayer Magnet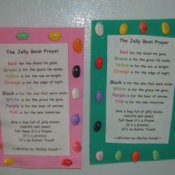 I made this magnet for Easter. It's very easy to do. Just go to this website and print out the jelly bean prayer: http://www.annieshomepage.com/jellybeanprayertext.html glue it to a piece of craft foam, and glue on "jelly beans" (these aren't real jelly beans they're painted dry beans) around the outside of the foam then glue a magnet on the back and you have an Easter decoration that tells the Easter story.
By luv2craft from Normalville, Pennsylvania
By luv2craft
Feedback
Read feedback for this post below. Click here to post feedback.

By
03/17/2009
Great idea. The magnet won't be too big for the fridge either. I like the idea of Carol's to put them in tiny bags with the prayer tag. So many ideas can come from one suggestion. The jelly bean prayer can also be put on an Easter card to print out on printer. Thanks for sharing this.

By Carole Hudson (Guest Post)
03/04/2007
What a wonderful, simple and effective activity. Thanks I will use this with my Nursery class at Blackrod Church School.

By Jodie (Guest Post)
04/13/2006
I love this. I am going to make up the little bags and attach this to them for the little ones in our church on Sunday. Thanks for the idea. May you all have a wonderful Easter weekend. God Bless

By IMAQT1962 (Guest Post)
03/29/2006
SINCE OUR FIRST GRANDBABY IS DUE THIS FALL I HAVE BEEN PRINTING OFF SEVERAL OF THESE CRAFT ITEMS. EVENTUALLY I WILL NEED THEM WHEN HE GETS OLDER SO THANKS IN ADVANCE FOR ALL THE GREAT CRAFTS YA'ALL HAVE POSTED

By Carol Tewksbury (Guest Post)
03/29/2006
You can also put the jelley beans in a tiny baggie and attach the prayer to the baggie. Then tuck it in an Easter basket

By Heather (Guest Post)
03/28/2006
That is awesome! And so easy! I think I will share it with my daughter's class at church to make.
Post Feedback
Add your voice to the conversation.
Related Guides
Related Posts