Personalized Stepping Stones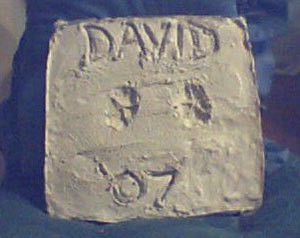 I am making stepping stones with each family member's hand (or paw) prints and name! We are including all friends and family who visit and will be making one of my bf's mother who is 70! These are really fun and easy. I use Sakrete which is a kind of brick mortar. You shore up a small pizza box with duct tape and line it with a garbage bag. The Sakrete is less than 5 dollars for 80 pounds and I'm using 10 pounds per stone.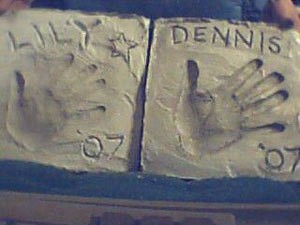 By Lily from South Bend, IN
By Lily 59
Feedback
Read feedback for this post below. Click here to post feedback.

By
10/22/2007
Say Lily, Where these thick and strong enough to walk on? I never heard of that materila, can it be bought in the U.S.? Since you drew in them, can items, such as beads, be put in it and will it stay? Thanks, granna

By
06/29/2007
my daughter made me one of these only she took pictures form her childhood to place around the outside of the stone. I will treasure it always

By (Guest Post)
06/29/2007
Great idea, they are beautiful. I wonder if you can color them somehow or maybe just paint them! I will be making them this summer for sure.

By Linda in Alabama (Guest Post)
06/28/2007
How cute! I think I'll do this with my 4 grandchildren and make new ones every year to see how they are growing!
Post Feedback
Add your voice to the conversation.
Related Guides
Related Posts