Getting Rid of Blackberry Bushes
Solutions
Share on ThriftyFunThis guide contains the following solutions. Have something to add? Please share your solution!
December 4, 2016
1

found this helpful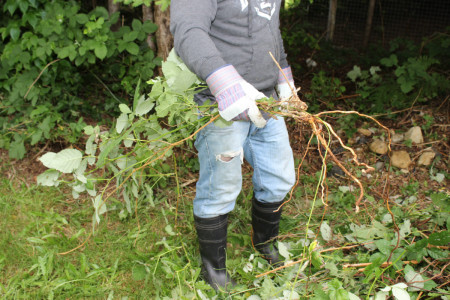 In some parts of the country wild blackberries can be very invasive, and difficult to get rid of without chemicals. This is a guide about removing blackberries without herbicides.
Read More...
April 4, 2017
0

found this helpful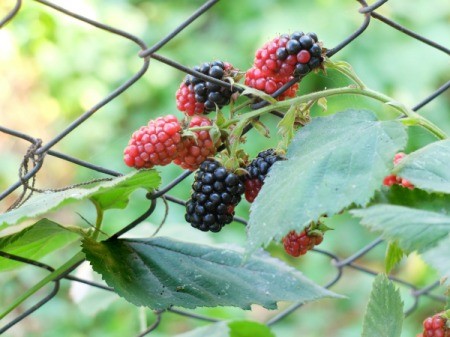 The key to chemical-free success in destroying blackberries will come with persistence. Without leaves to produce food for the roots, they will eventually starve and die. This is a guide about how do you get rid of blackberry vines naturally?
Read More...
December 3, 2016
0

found this helpful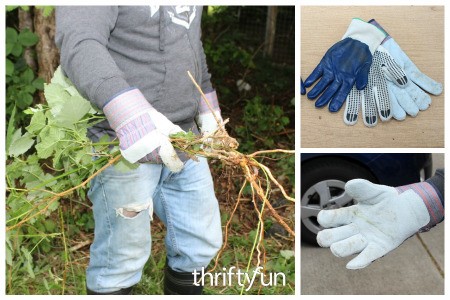 This is a guide about homemade blackberry pulling gloves. Removing blackberry plants manually can leave you with lots of thorns in your hands unless you protect them well.
Read More...
I don't believe in herbicides, they kill far more life than those intended. So, confronted with a backyard threatened to be comsumed, and deciding to limit the destruction. I bought and borrowed some good cutting instruments, both long reaching and shorter, sharp shovel, heavy duty gloves, old tough jeans & high boots. These last items limit the damage to you, as the bushes want a taste of you (defense on the plants part).

Taking a small area at a time, I cut as much as I could starting at the top, then cutting smaller sections, until the bottom. Then using the shovel, digging them up with more cutting as necessary. If reversing (bottom to top) is easier on you, do it. All the cut material can be mulched at the site or in a compost pile. Shred into small bits if possible.

You might contact a local nursery or plant group to see if anyone wants the roots or rooting plants. You might even make money! This is probably not a one weekend project.
The benefits are: You are rid of blackberries. You are being in touch with your yard and nature. You know you are keeping the world clean of poisons (herbicides do some very nasty things to other living beings after it leaves your property). It is excellent exercise and personal stress release.
Cursing in low tones recommended unless alone, though ocassional yells can bring help! Please keep in mind, the Good points about these plants. There are many. Good luck!
May 6, 2016
0

found this helpful
Crossbow will only kill the woody Stuff like Salomberry black berry etc.. its works very will
Questions
Ask a QuestionHere are the questions asked by community members. Read on to see the answers provided by the ThriftyFun community or ask a new question.
I'm from Oregon and we have thousands and thousands of blackberry bushes. However the ones that keep coming up year after year are threatening to take over my yard and my sanity...
Does anyone know of a homemade (preferably) or even a store-bought cure for these? I am on a limited income and not in the best of health, so paying a professional is out of the question along with digging them out (which was tried several times over the years). Please help..and thank you in advance!
Anna Moon
By guest (Guest Post)
June 8, 2008
0

found this helpful
I have 2.5 acres 30% of which is covered in blackberry vines. I've started to tackle a large cluster that has over grown my sceptic drainfield. Using just a rake and a pair of long handled pruners, I've made a good size dent withing 30 minutes of demolition. Going for their roots and treating them with vinegar and salt water does the trick.
May 4, 2016
0

found this helpful
If you know, or if you have a friend that knows someone that is a lineman for a power company. They have a weed and small trees killer that kills about anything they spray it on. Right at the time the fall of the year starts to come in, take an oil base spray paint and spray some paint everywhere you see where they are coming out of the grown. Wait until the follow spring when things start to turn green, and spray the shit out of the area that you marked with the paint. That weed killer the lineman use will kill those blackberry briars. about a month after you have sprayed them, have some to lightly till that area and burn it around the end of February 1st of March. You will never see them again. Have another light tilling done again in the spring and plant the area with grass seed. That was the only way I got rid of those sumbitches. They are hard to kill, but that stuff the power company uses will kill them, and everything else that was growing where you sprayed.
June 19, 2016
0

found this helpful
Cut them and pour salt on them. Make sure you never want to grow in that area again though.
Read More Answers
Who sells vinegar/salt killer?
By Elaine
May 3, 2013
4

found this helpful
You can mix your own vinegar/salt weed killer. Mix one gallon of white vinegar with one cup of salt and two tablespoons of liquid dish detergent. Shake/stir well, to dissolve the salt. Spray this on the plant/plants that you want to kill. It works best when the temperature is quite warm. Don't get the mixture on plants, that you don't want to kill! Buy the cheapest vinegar that you can find too!
September 21, 2016
0

found this helpful
Hey Sharon
do you just spray the mixture over the leaves and branches and you have to make it drink it over the soil, you will need lot of liters if i will need to water it ! thanks
When the young blackberries begin to grow up out of the 10 inch wood chip mulch, how do I till it without disturbing the mulch pile? Do I need to just redo the whole thing every time I spot some green?
April 28, 2015
0

found this helpful
Hello!
Blackberries are pruned in the winter by cutting to the ground all the branches that have born fruits and keeping only 5 or 6 new branches. These new branches should be pruned to less than 2 meters (the longest the branches will grow the less fruits they will bear). These new branches are the sprouts you are talking about. Let them grow to a lenght that will help you select the 5 or 6 strongest. Cut the weakest ones to the ground.This sprouts will the new branches for the next season.
Hope this helps!
Catherine
April 6, 2013
0

found this helpful
Most of the posts I've read for killing wild blackberry vines were from folks in the NW part of the country. My problem is I live in NW Florida and these things aren't working. I've tried some of the products from DIY stores and some of the ways that were posted on line. I loved the homemade ideas as I have 4 dogs. And yet, still they grow!
We bought an older home that sat uncared for and then empty for 4 years. Our lot is just over an acre and most of it is covered with the vine. Any advise on how to kill this stuff without killing what bit of grass and plants I do have?
By Keli
April 8, 2013
2

found this helpful
I live in the Central Midwest and I use this to kill poison ivy and oak, which is terribly invasive. Mix 1 gallon of white vinegar, 1 cup of cheap salt and 2 cups of Dawn dish soap and spray using a garden sprayer. You might have to cut the vines so the mixture will soak into the stem. But I have found with oak and ivy vines that are hundreds of years old getting the leaves covered will usually do the trick. You will have to reapply several times but it better than chemicals. The soap will make the mixture cling to the plant and the vinegar will burn it and the salt will dry it out. GOOD LUCK!
August 22, 2016
0

found this helpful
Goats love blackberry bushes.
For 10 years, I have been fighting off wild blackberry vines in my front yard. I've dug them up, going 8 inches down on the roots and I've salted the soil. I've tried gallons and gallons of vinegar. I have cut the vines down weekly, but they spring up faster than I can cut. They have horrible thorns and choke out anything we try to plant there. They have only flowered once, otherwise I wouldn't know what they were. I need to get rid of these! Suggestions?
By Natalie
February 1, 2012
0

found this helpful
I just moved into my property and the back garden is full of blackberry bushes. How can I kill the roots permanently?
By Annette from the UK
February 6, 2012
0

found this helpful
I moved to north east Scotland in 2010 and have spent the last two years trying to get all the blackberry canes out of my front garden where I don't want any kind of berries growing. I love brambles and have a patch in the back garden, but the front is for kerb appeal! So the minute I see a cane waving at me, I trace it to the ground and dig it out trying very hard to get every last bit of root.
I'm an American expat so I am still learning about gardening here in the UK, but I'm sure there is an herbicide I could spray to kill off the lot. However, there are other plants in that spot that I do want to encourage, so I hand dig the canes.
You might try asking at one of the garden centres what they recommend for killing off a large growth. Otherwise, the only way to get rid of this is by hand digging, and then staying on it every time you see a new cane. (Handy hint-wear stout gloves!)
It will take you a while to hand dig them all out, and even then you'll have to be vigilant because the birds will bring you pressies, lol, and you'll find you have volunteers of all sorts of thing:) Too bad they won't drop me off any raspberries, darn it-I had to buy those to plant in the back garden!
Archives
ThriftyFun is one of the longest running frugal living communities on the Internet. These are archives of older discussions.
March 12, 2011
1

found this helpful
Does anyone know how to kill off wild blackberry vines? I'm getting overrun. This bush is growing out of a tree stump that we can't get to. We cut the tree down to the ground just 3 weeks ago and this is how fast the blackberries have grown back. It's spreading into the lawn. I tried a grass and weed killer, but it hasn't phased it.

Hardiness Zone: 7b

By Cricketnc from Parkton, NC
Answers:
Getting Rid of Blackberry Bushes
In western Oregon we also suffer from the same problem. We've sprayed with Round-up and cut, cut, cut. I've never heard of anybody ridding themselves of blackberries totally. If you can you could burn the stump. (05/31/2009)

By Glenn'sMom
Getting Rid of Blackberry Bushes
I'm shaking my head watching my boyfriend trying to dig each plant up by the roots. He doesn't want to hear me tell him that he broke all the roots. Or use my no fail organic way. Cut each bush to the base. Make sure these cuttings are disposed of (by burning or removal) as you cut, put a drop of Tabasco sauce at the ground level cut. This will kill the root totally, and the bush will not grow back. This also works for scotch broom, morning glory, or probably any other deep rooted plant. (06/12/2010)

By lavaja
June 9, 2016
0

found this helpful
I'm going to try this on my bramble covered allotment. If it works I will contact my local park rangers and the National Trust for Conservation Volunteers. They use to be able to use ammonia sulfonate in the way you describe for foreign invasive species but because there were no lab test on dogs it was banned in Europe. There was no test because dogs didn't tend to go around chewing on stumps still in the ground and it worked immediately then broke down in the roots underground. But if Tabasco work so much the better. Of course it hasn't been tested on dogs but I suspect one sniff of either Tabasco or ammonia would discourage them.
May 29, 2009
0

found this helpful
By Ellen Brown
Q: I live in the Pacific Northwest where blackberry bushes can be a real pain to get rid of. I just moved into a house that had a backyard full of them. I am almost done cutting them back. What is the best way to keep them from growing back?

Thanks.
Patty from Washington

A: Patty,

Blackberry bushes can be tough so you need to be tougher. Here is what won't work: mowing, burning, or bulldozing. All these methods only stimulate sucker growth or sever stems and roots resulting in their spread. Short of becoming a goat herder, the most successful method is repeatedly tilling of the briars, keyword "repeatedly."

Although I'm not a proponent of chemical herbicides, some people report success by combining cutting back with Round-up or Bush-Be-Gone. If you choose this route, apply when the plants are moving sugars from cane to roots (after producing fruit). Avoid application when bushes are bearing fruit to keep birds, animals, and unsuspecting passersby safe.

About The Author: Ellen Brown is our Green Living and Gardening Expert. Click here to ask Ellen a question! Ellen Brown is an environmental writer and photographer and the owner of Sustainable Media, an environmental media company that specializes in helping businesses and organizations promote eco-friendly products and services. Contact her on the web at http://www.sustainable-media.com
Answers:
Getting Rid of Blackberry Bushes
They are evil. There are two things that I've found to work: Roundup Brush killer and animals such as pigs that root around and eat the roots. (10/25/2005)

By Jen
Getting Rid of Blackberry Bushes
There is only one, I've known to work "Crossbow".
There is a few catches:
Its expensive.
You have to use it as directed, "more" is not better and less isn't enough. More kills the plant too fast and won't allow the chemical to get to the root, too little won't be strong enough to kill them for good, so if it says use a 12 to 1 mixture that's what it means.
If you have them as bad as I have, you may have to treat the area once in the spring and again in the fall.
It is meant to kill leafy plants, so be sure to spray it directly to the weed (blackberry in this case). It does stick to what you spray it on to.
(03/30/2008)


By Ibbuzy_sam
Related Content