If you cannot see well enough to thread your yarn directly into a big eye needle, and have a hard time pinching the end to make it fit into the eye, you can make simple needle threaders using a piece of thin but stiff plastic, such as those that come in product packaging.

Just cut it into strips, up to two inches long, and up to one inch wide. Fold each strip in half, as you would a hot dog bun, making a permanent crease. Sandwich the end of the yarn into the strip, as you would put a hot dog into the bun, making sure the tip of the yarn does not go beyond the tip of the threader. Slide the strip-encased yarn through the eye of your needle until you are certain the yarn is threaded through, then pull the strip free. Alternatively, you can first slide the empty folded strip part way through the eye, unfold the other end, clasp the yarn inside it, then slide it through.

By Sharon from Nampa, ID
Ad
---
By lesley 4 79 10/02/2008 Flag
Sharon, could we please have a diagram? I am confused, if you can tread the palstic through the eye of the needle then why not the thread?

Lesley London UK
10/02/2008 Flag
Great idea! It gave me the idea to use one of the really thin dental floss threaders I need for a dental bridge :-) Thanks! This photo is of a more thick floss threader than I use.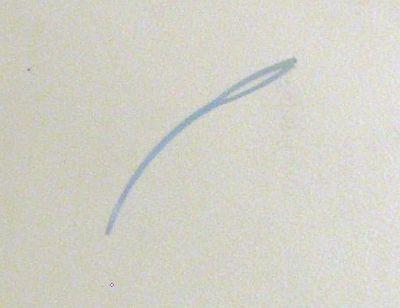 10/02/2008 Flag
For Lesley in London, UK:

It's very difficult to place thread or yarn into the eye of a needle when eyesight is poor so using an 'aid' with a larger hole/grip is awesome :-)

Here's an actual needle threader photo. It's hard to see the little wire in this photo but that's what the thread is placed through after the wire is pushed through the needle hole. Once the thread is put through the threader you just simply pull the threader back out of the needle eye and you're then 'threaded ;-) Hope that makes sense.
By Sheila Hendricks 2 66 10/03/2008 Flag
Having some difficulty myself, I merely dip the end of my yarn or thread into a little melted wax and before it cools completely, flatten the end, let it cool and it slips right through. Then I either peel off the wax or trim the end of the yarn or thread. I save my candle stubs, used birthday candles, etc. for just this purpose.

Source: My mother who did beautiful needlework, knitting & crocheting.
By blindquilter (Guest Post) 10/15/2008 Flag
Wet the eye of the needle.  Use one of those little wire needle threaders-- I get them from the Home Sew catalog, 10/$2.00. Slide a fold of dental floss through the eye, put the yarn in it, then pull through.